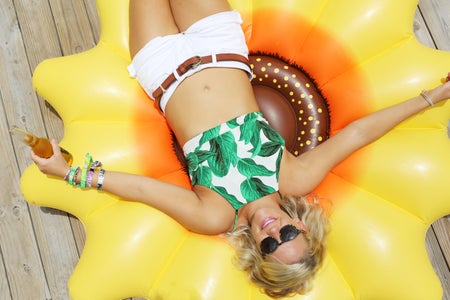 5 Ways You Can Still Have a Great Summer
With the coronavirus still spreading like wildfire into the summer months, you may be feeling slightly down in the dumps about summer 2020. Maybe your internship got cancelled, or you can't go out to restaurants and parties with your friends like you were planning to. And it's okay to be sad about it! But since we are all striving to have a positive mindset and make the most out of this unprecedented time in our lives, here are 5 ways that you can utilize this extra down time and still have a great summer. 
1.Learn a New Professional Skill.
Fairfield University offers all students access to Linkedin Learning, which is a fantastic feature to take advantage of. On those rainy summer days where there's nothing to do, log in through my.fairfield and take one of their easy online courses to develop a new skill. They have everything from Microsoft Office certifications to lessons on basic communication in the workplace. These are great additions to have on your resume to make you stand out from other applicants!
2.Practice Cooking and Baking.
Summer is the perfect time to try out all of the new fun recipes that you see in magazines and blog posts. Perfect your favorite summer salad, or learn how to grill the best burger around (and make your grill-master dad jealous). You have months to develop this essential skill, and it's super fun too! Delivering your freshly baked goods to your friends' houses or cooking dinner for your family is another great activity that can come out of this. 
3.Spend as Much Time Outside as You Can. 
It sounds like common knowledge, but people forget about it! Since this is the best weather we get all year, so try to spend as much time as you can outside instead of curled up in bed watching Netflix. This could be as simple as doing your virtual workout in your backyard or having your afternoon snack on your porch instead of the kitchen. Being out in the sunlight (with proper SPF on, of course) can improve your mood, better your tan and make you appreciate the great outdoors more than usual. 
4.Enjoy Time With Friends.
When it is safe to do so, spend quality time with your close best friends. Even if you can't do the things you normally would, there are plenty of alternatives. Have a bonfire, play yard games, hang by the pool, or go for hikes. After being in quarantine for weeks on end, it will be nice to enjoy your friend's company again and reconnect. Situations like these make you appreciate and love them even more than you already do. 
5.Work on Yourself.
There has never been a better time than now to focus on YOU. Try following the workouts you never stick with during the school year, read the book you never picked up, practice doing the hairstyle you always wanted to achieve. Honestly, the list goes on, and on! Come back to school in the fall as the best version of yourself. Your body, mind, and soul will thank you. 
Now more than ever, we have come to appreciate the little things in life. This list may seem simple, but truly taking the time to do each of these things will surely result in a productive and happy summer no matter what. Remember that your outlook and attitude towards things can change the whole situation. Congrats on finishing the semester, ladies! Stay safe and healthy!