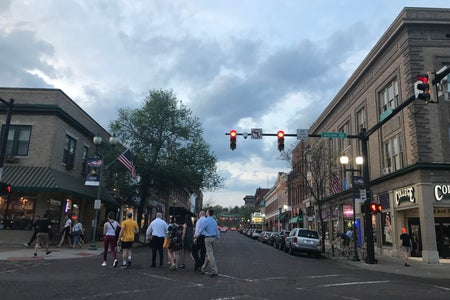 5 Local Fairfield Businesses to Support
Hi Collegiettes! As we're approaching the halfway mark of the semester, things on campus can start to feel old, and like you're stuck in the same routine. We're so fortunate to be located in the suburban area we are, so we have access to a lot of super cool local stores! With that, here are 5 local businesses you should definitely support during your time at Fairfield University! 
1.BD Provisions
BD Provisions has become a staple when going into town! It's basically a warehouse, but for food-you can either bring your own containers or purchase them there, and you buy your food that way! We love it because it saves so much plastic and is much better for the environment, especially as college students. They have literally everything from a candy selection to gluten-free pasta! It's also not that expensive either, which is great for all of us! The owners are so sweet and helpful and love hearing what else you'd like to have available there! 
2.Apricot Lane 
As a Fairfield student, Apricot Lane is pretty much a staple. It was one of the very first stores I went shopping in, and it's one that I always go back to! They have so many options, and it's where many Fairfield girls have gotten dresses for Formals or for Pres Ball. They also offer a discount for Fairfield University students and accept Stag Bucks, which is amazing! 
3.Las Vetas Lounge
One of my favorite things to do is to escape campus for a little bit and do some homework in a different setting. There're so many cute little coffee shops that offer seating and tables, but one I always go back to is Las Vetas Lounge. It's decorated in such a cool way and has a super relaxing vibe, which helps when it comes to grinding and getting work done! The coffee is great, and if you're not a coffee or tea person, their smoothies are great too! 
4.Grand Design Nail Salon 
Another great thing about going to school with an amazing downtown area? Access to nail salons! Being able to get your nails done during school is a blessing; you can use it as a way to treat yourself after a really hard exam, or just self-care. Grand Design is a great option in town, and it's honestly a hidden gem! It's in a shopping center right after Wild Rice, and it's a small location, but the workers are all so nice and do such a good job. A big worry of mine was being able to find a nail salon at school that I liked, and in all honesty, it surpasses the ones I like from home! 
5.Taco Loco 
Last but not least, we have a food staple: Taco Loco. Although it's technically not in Fairfield, Taco Loco is about 5 minutes from campus and in Bridgeport. The food is incredible, and the owner is so nice and loves when Fairfield students come by! Pro tip-if you mention you're a Fairfield student or show your stag card and order an entrée, you get free churros for dessert! What could be better than that? 
Those were 5 of our favorite local businesses to support! Fairfield is full of so many hidden gems, and there're many places I haven't been to yet and can't wait to explore! We definitely recommend going into town when you can, and explore-you'll find something new every time.