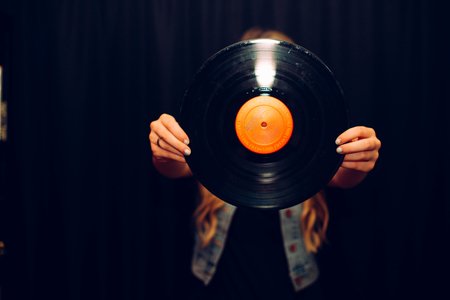 Breanna Coon / Her Campus
New Music Friday: My Favorites of 2020 So Far
As 2020 is moving quite along, you may have missed some awesome albums that have come out. Here are a few of my favorites so far and what to expect in the coming months!
1.

Soccer Mommy - Color Theory 

Soccer Mommy's 2nd album is definitely one to stream. Her mellow, indie sound with emotional lyrics has earned her worldwide success. Color Theory has a very different sound than her first album Clean. Color Theory takes us through her own personal, even dark, stories and emotions. From her Spotify page, she states "Color Theory explores three central themes: blue, representing sadness and depression; yellow, symbolizing physical and emotional illness; and, finally, gray, representing darkness, emptiness and loss." Take some time to listen to the album all the way through to hear her own personal, melodic, and colorful tunes!

Favorite song: "yellow is the color of her eyes"

2.

The Anxiety - The Anxiety 

If you're a fan of Willow Smith you are gonna LOVE this album! The Anxiety is a collaborative group featuring Willow Smith and Tyler Cole. Their breakout album debuted this March and is in itself a musical representation of that feeling of "anxiety." They worked to musically express the overwhelming feeling of a person on the brink of an attack. According to Spotify, "their universal goal for this project is to use their voices to advocate for mental health awareness and help those who specifically suffer from anxiety." This album breaks all genre-defining rules and is for sure one to check out!!

Favorite song: "The System"

3.

The Strokes - The New Abnormal 

And they're back with another great album! If you didn't happen to catch their show at the Bernie Sanders rally this February, The Strokes are for sure one to keep an eye on (if you weren't already). One of the most influential bands of the century, The Strokes have been a favorite of mine for a while. A cult favorite, their newest and highly anticipated album dropped earlier this month. Be sure to check this one out!

 Favorite song: "Selfless"

4.

Ryan Beatty - Dreaming of David 

If this name sounds familiar to you, yes, this is the same "disney poster-boy" Ryan Beatty from your middle school years. However, he has now resurfaced with a newer sound and newer image. Over the past few years, he has been working closely with the likes of Brockhampton and Tyler the Creator. This past January, he released his sophomore studio album, Dreaming of David. Dreaming of David dives into his own personal experiences with love and heartbreak. The soft and emotional melodies will make your heart melt. Definitely worth streaming! 

Favorite song: "Casino"

5.

The 1975 - Notes on a Conditional Form 

Those of you who know the 1975 know that this album is not out yet. However, I've included it in this to shed some light on some of their newest releases from the highly anticipated album. So far, people were originally taken aback from their first single release off the album, "People." The song was unlike anything they have ever released, generating more into the emo-punk genre. However, over the months they have released about 4 other singles that all bend genres in their own way. I for one, cannot wait until the debut of this album. With what they have released so far, I am certain they will exceed all expectations. Check them out and stay tuned for May 22nd!

Favorite song: "Me & You Together Song"