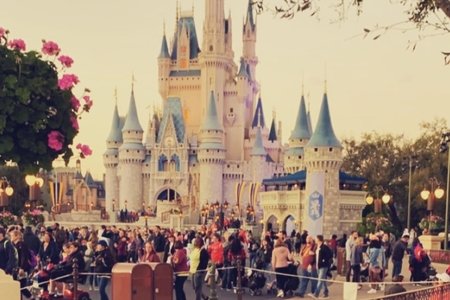 5 Things to Know Before Going to Disney World
Two weeks ago, my family and I traveled to Disney World to watch my sister run the Princess Run, a half marathon through Disney parks. We decided to make a trip out of it, and we stayed in Disney for 4 days. This was my fourth time going to Disney, so if you've never been, or if you're planning a trip sometime soon, here are the major tips I've learned about getting the most out of your experience.
    Disney has an app, called "My Disney Experience," that I basically lived on during our trip. The app puts all of your plans into one place—it keeps track of your hotel, dining reservations, fast passes, and any other plans you have set up. Not only can you keep track of your own schedule, but the app also has almost all the information you need. I would look on the app for the menus at the restaurants we were headed to, or to look up descriptions of the rides I wasn't familiar with. Perhaps the best part of the app though, was the map that included wait times for each ride, so we could evaluate which ride we should head to next depending on how long the wait was. I would've had a completely different experience if I hadn't used the app.

2.

Reservations are a must.

While we were in Disney, and since we often ate dinner on Disney property, we learned that having reservations was a must. Most of the restaurants in the parks are usually packed, so it was super convenient that we had made reservations ahead of time. Give yourself plenty of time before your trip to book the dining reservations, because they fill up fast!

3.

You'll need some patience.

Although you're there to have fun, walking around a super crowded park, with strollers crashing into your ankles, and people constantly bumping into you can wear on your patience. Sometimes waiting in line, and walking around in the heat (or worse—the rain), can be exhausting. It gets frustrating at times, but it's important not to let it bog you down. It's easy to get super impatient, because a lot of things in Disney require waiting, but try your best to keep smiling—it'll make your trip much better.

4.

Give yourself as much time in the parks as possible. 

Something that my family and I did that I would do differently next time, is to give ourselves more time in the park. We often had breakfast in the mornings and then leisurely headed over to the park for the day, but heading to the park right as it opens is the best option if you're looking for shorter wait times. By noon, many of the rides, especially the new ones, would have four hour waits, so we didn't end up getting on a lot of the newer rides. Also, we also had a lot of dinner reservations outside of the parks, so we would have to leave the park earlier to get to our reservation. Getting dinner inside the park, or getting there super early in the morning is a better option to give yourself more time to get on rides.

5.

When they say it's the happiest place on earth, they're not lying. 

 

    As much as Disney can definitely be chaotic and exciting, there's a reason we do it. Disney is just as magical as everyone says it is, so if you're going, enjoy it!