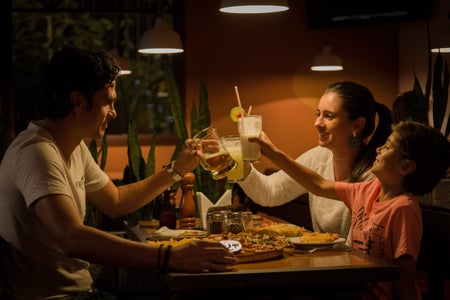 Why You Should Head South For Spring Break: Food Edition
Aside from the obvious warm weather (and the fact that I live there), one of the reasons I'm excited to head down South for spring break is Southern food! If you're searching for sunshine this spring break, here's some foods you should definitely try along the way!
My number one recommendation to any Northerner I meet is Bojangle's. Their menu consists primarily of good old Southern fried chicken, but that's not all they have to offer. The buttermilk biscuits and Cajun-spiced fries are to die for. Just FYI, this is not a Bojangle's ad, I really am this passionate about their menu. I also highly recommend the perfection that is BoBerry Biscuits, perfectly cooked buttermilk biscuits with blueberries and frosting to top it all off.
Another delicious Southern food is barbecue. Now, there's two main types of barbecue served in the South. Texas barbecue is usually brisket whereas Carolina barbecue is usually pork. While there are more types and even differences within these categories (i.e. Eastern Carolina barbecue vs Western Carolina Barbecue), Carolina barbecue of some variation and Texas barbecue can usually be found through various Southern states and definitely makes for a delicious and filling meal.
Another Southern staple, especially for college students on a budget, is Waffle House. A majority of Waffle Houses are open 24/7, 365 days a year. FEMA (The Federal Emergency Management Agency) even uses something called the Waffle House Index to determine whether or not a weather emergency is occuring, based on if the local Waffle Houses are still open. Other than being available almost anytime, any day, Waffle House is notorious for cheap breakfast eats. I personally recommend their chocolate chip waffles and hash browns, but there are many other tasty options as well!
If you're looking for a cheap non-breakfast meal, Cook Out is the way to go. Cook Out is well known for two things: milkshakes and giving you a ton of food for as cheap as possible. Cook Out has over 45 milkshake flavors, all of which can be mixed with each other to create even more flavors! Their menu is fairly expansive and includes some favorites such as burgers, quesadillas, and hushpuppies.
Now we reach the Southern food elephant in the room, Chick-fil-A. While their food may be delicious, if you're looking for a similar option that doesn't sacrifice your morals, Zaxby's is the place for you. Their chicken is just as deliciously tender and crispy as Chick-fil-A and they even serve their meals with buttered Texas toast that pairs perfectly with the chicken.
If you're headed South for spring break, I hope you enjoy some of these recommendations as much as I do! If you have to return to Boston after spring break like me, I've got one more recommendation for you. Raising Cane's is my one salvation here in Boston. They are a typically Southern chain famous for fried chicken and texas toast, like Zaxby's, but if you find yourself by Boston University anytime soon, there's one location there that ties me over between trips back home. Have a great break!