4 Podcast Recommendations
If you're looking to have a conversation running in the background as you go about your day, I've got some great choices for you.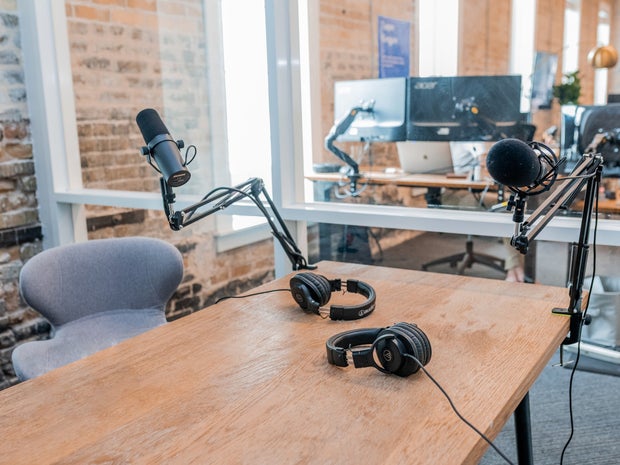 Photo by Austin Distel from Unsplash
1. Frenemies
If you've spoken to me at all in the past few months, you know I am obsessed with Frenemies. The show is hosted by the two most polar opposite people you could ever dream of. One could say they start out as enemies, but they've now become literal in-laws as one host, Trisha, got engaged to the other host, Ethan's, brother-in-law. The fact that Ethan and Trisha are so wildly different makes this podcast beyond entertaining.
Favorite Episode: #4 Is Trisha Smarter Than A 5th Grader?: As expected, Trisha and Ethan play Are You Smarter Than A 5th Grader. The results are a little shocking as Ethan loses more questions than expected to Trisha, despite her lack of general knowledge, such as not having heard about gravity.
2. Sweet Boys
Sweet Boys is the perfect show if you want to feel like you're hanging out with friends. The hosts, Garrett and Andrew, are longtime friends who've started recording their rambling conversations. They've become known for starting intriguing stories...and then entirely forgetting to finish them. Additionally, the sound effects and editing really enhance the listening experience.
Favorite Episode: #4 We saw a ghost while recording this!: This episode encapsulates exactly what it feels like to stay up late with friends to the point of delirium. Garrett and Andrew recorded this episode on very little sleep, and it definitely keeps you laughing.
3. What Say You?
While What Say You? has been somewhat abandoned, its repertoire of over 70 episodes is beyond hilarious. The hosts, Q and Sal, comedians known for the television show Impractical Jokers as well as being members of the comedy troupe The Tenderloins, tell endless stories from their childhoods, to what it's like being on the road. They embark on a wide variety of weird endeavours, including watching all of the Fast and Furious movies and recording an episode reviewing each one.
Favorite Episode: #19 I Have Your Pants: This episode was the first public retelling of Sal's experience receiving his neighbors package to his house and proceeding to try them on and send ransom pictures via email. It's now transformed into one of my favorite standup bits, but this original telling of it is one for the books.
4. Jenna & Julien
This podcast has also come to an end, but it's a classic. Jenna and Julien unpack any number of topics over the 280+ episode run. It's certain to make you laugh, but it's also a great podcast to leave on in the background.
Favorite Episode: #217: Shark Tank: Julien pitches his truly bizarre ideas to Jenna, Shark Tank-style, often creating a new, weird character for each pitch.