If you're looking to fill your social media feed with cute animals, calming content, and beautiful art, you've come to the right place. Are most of these animal accounts? Yes, yes they are—I hope that's not a problem. However, I can assure you that they're absolutely worth following if you, like me, need a daily (or hourly?) dose of happiness and peace across several online platforms.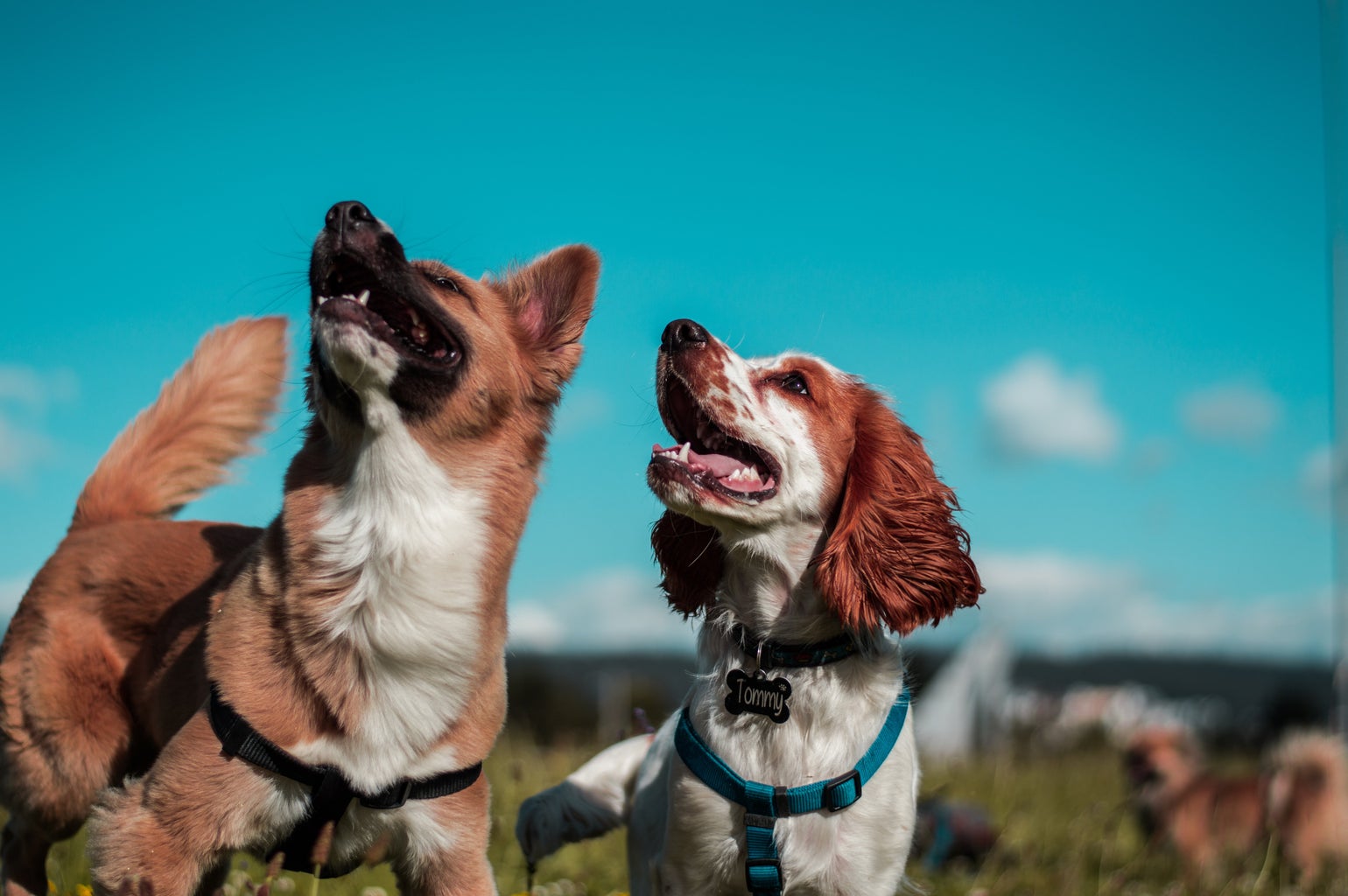 @TheGoldenRatio4 on Instagram, Twitter, Snapchat, and TikTok

@TheGoldenRatio4 is an account dedicated to Jen Golbeck and Ingo Burghardt's Golden Retrievers. They have had a few different squads of dogs, but almost all of them have been retrievers. The current squad includes five (yes, 5!) Golden Retrievers: Guacamole, Hopper, Venkman, Voodoo, and Chief Brody. Almost all of them are rescue dogs, and they all live in the Florida Keys, with their owners. Jen is a computer science professor at University of Maryland, who started the account because she thought dogs were a great way to bring positivity and light to people's lives. Her dogs are known for eating waffles on the weekends and carrots as snacks, as well as their adorable and happy energy. 

@byhappyal on Instagram

This account is run by Allison, a graphic designer who posts fun, bright content. Filled with happy, colorful graphics, @byhappyal is bound to make your day better. Posts remind you of your worth, love, and growth, as well as little notes to be proud of yourself, achieve your dreams, and to create because you love it. She also posts about social justice and topical issues like mask wearing and voting, in an eye-catching and informative way. She even has a hashtag, #creatinghapppy (yes, with three 'p's) that seeks to highlight and grow a community of artists and creators, connecting them with potential followers. Altogether, her account helps to build others up, whether it's been a good day or a bad one. 

@BlairBraverman on Twitter

Blair Braverman is a sled dog musher and author of the book Welcome to the Goddamn Ice Cube. She lives in Wisconsin with her partner, Quince Mountain and around 21 sled dogs. She is constantly posting cute dog pictures and Twitter threads about her dogs, including events like running the Iditarod, getting lost in snow storms, and the other adventures they have along the way. There are tons of heartwarming stories about the loyalty, resilience, and intelligence of her dogs, and it's clear that she loves them and the outdoors. It's common for dog litters in the dog mushing community to have themes, and Blair is no different. Some of the dog litter themes she's had include: the Journopups (named after various journalists), the Buffypups (named after characters from Buffy the Vampire Slayer), and the Photopups (named after photo journalists). Blair has built a wonderful community around dog mushing, her storytelling, and her dogs, and it's so touching to see. 

@milkmochabear on Instagram

Milk & Mocha Bear is a comics account made in Indonesia. It features two adorable cartoon bears, Mocha and Milk, who give each other food, hug each other, and are generally extremely cute. Both of them have their own personality quirks and funny habits. A lot of the comics are made solely of images, so they are easy to understand, and they are always translated into English and Indonesian if they do have words. Overall, it's a really wholesome account that wants to bring humor and happiness to people's life, as well as be relatable for any kind of relationship. 

Jun's Kitchen on YouTube

This YouTube channel is a food channel run by Jun, a Japanese man who lives in Japan with his American wife, Rachel. All of his videos are extraordinarily aesthetically pleasing, calming, and feature his cats in some way. He bikes with his cats in the basket to the store, picks vegetables outside, and cooks delicious food. He also always lets his cats sniff the ingredients he's cooking with and be curious about what he's using or doing. He mostly cooks classic Japanese food, but sometimes he'll put a twist on it, like making a sakura tree out of tempura, or making sushi for his cats. He may not post often—partially because his videos take a long time to make, and he and his wife run three different channels—but when he does, it's always fascinating to watch. 

r/aww on Reddit

The subreddit r/aww on Reddit is exactly what it sounds like—a place for people to post cute videos of anything. Literally anything goes, as long as it's wholesome. From animals like dogs, cats, bunnies, and otters, to babies, toddlers, and adults being endearing, r/aww has a wide gamut of content. The subreddit has 28 million members, so there are always new pictures and videos being posted. It even has a Discord server if that's more your thing, so people can chat with each other in various channels. It's a space for people to destress and enjoy happy moments together, so if you're new to Reddit or looking for a positive subreddit, follow r/aww for more. 

@oliviaherrickdesign on Instagram

@oliviaherrickdesign is a design studio that specializes in branding and visual aesthetic, and always posts soothing, reassuring content. It's perfect for those of you who need a reminder to breathe and chill out, with a focus on simplicity and love. Every post has something inspirational or motivational to say, and it feels like a breath of fresh air amidst all of the doomscrolling. If you're someone who enjoys looking at curated, complementary content, and need to destress, then this is an account you might enjoy. 

@WeRateDogs on Twitter and Instagram

If you haven't heard of @WeRateDogs, where have you been? No, but really, this account has millions of followers, and all for good reason. It's taken over the internet as a source for cute dogs, and excellent captions. Every dog is at least a 12/10 good boy, and some are good girls too! Run by Matt Nelson, @WeRateDogs posts dog content every single day, and promotes a different GoFundMe for someone's pet every week. Once the GoFundMe gets posted, it's a race to fulfil it, as most of them get fully funded within an hour or two. It's a great example of a large community coming together to help others out. Recently, @WeRateDogs even started donating to a different person's GoFundMe, funding it themselves, which is pretty amazing. You can even sign up to get text messages featuring a new dog, rating, and photo every single day (and get this, they're all beautiful and lovely and sweet too.). 

@rainbowsalt on Instagram

Bianca Sparacino, aka @rainbowsalt is the creative director at Thought Catalog, a publishing house based in New York City. However, when she's not doing that, she's posting profound, heartfelt, beautiful statements that are simply good reminders for people to hear. There's poetry about love, relationships, friendships, popularity, kindness, generosity, and every emotion under the sun. Some posts are short, others are long, but all of them are heart-enriching and make you self-reflect, or even look at other people in your life differently. Perhaps you learn to prioritize different things, or act more understandingly, or maybe you get rid of a toxic relationship. Whatever it is, @rainbowsalt is a space for all of those things.

@MorganHarperNichols on Instagram

Morgan Harper Nichols is an artist and poet on Instagram who has a unique source of inspiration: her followers' stories. She creates art and poetry based on followers' stories, feelings, and experiences. Many of her pieces help us remember that it's okay to not know where you're going, or not be where you thought you were supposed to be. She teaches us to seek the Light always, and that there is always hope. She even has an app, Story Teller, where people can subscribe to see new art and poetry, download wallpapers, and read daily messages straight from Morgan herself. It's a reflective and peaceful space, one for introspection and space for yourself.