As someone who is very fortunate (and very grateful) to have such a tight-knit bond with their mom, I thought a week of outfit-of-the-day ratings would be a fun idea. 
Some context here! My mom and I both possess quite a bit of color in our respective wardrobes, but our individual styles are very different. My mom loves anything shiny, sequined, or sparkly–basically, the brighter, the bolder, the better. My mom is very much about the glam (and fabulous shoes). Meanwhile, I like just about any print, pattern, or color but, I tend to understate my accessories. Essentially, a bright and bold minimalist? 
Due to our style differences, I knew there would be disagreements about her ratings of my outfits. I was most certainly right, but I was surprised at how few there were. Apparently, my mom likes my style more than I thought! 
Tuesday* (I forgot about Monday, okay?) 



Original photo by Lauren DeMicoli



Tuesday's outfit was probably one of, if not, my favorite outfit. While lazing around at home this past summer, I took up sewing and I handmade the cow-print top. The beret is very special because I bought it when I was in Paris. (Side-note: I studied abroad this past spring semester…until I was very tragically sent home.) The pants are true vintage Mom jeans. The belt is stolen from my mom (thanks, mom!), and the necklace is an old gift. 
According to Dale–my mom's actual name and what is, therefore, synonymous with mom–I received a 9 out of 10! It was mid-terms week at Duquesne so, she said, "Nothing says I'm coming for you mid-terms more than animal print!"
Overall, a strong start!
Wednesday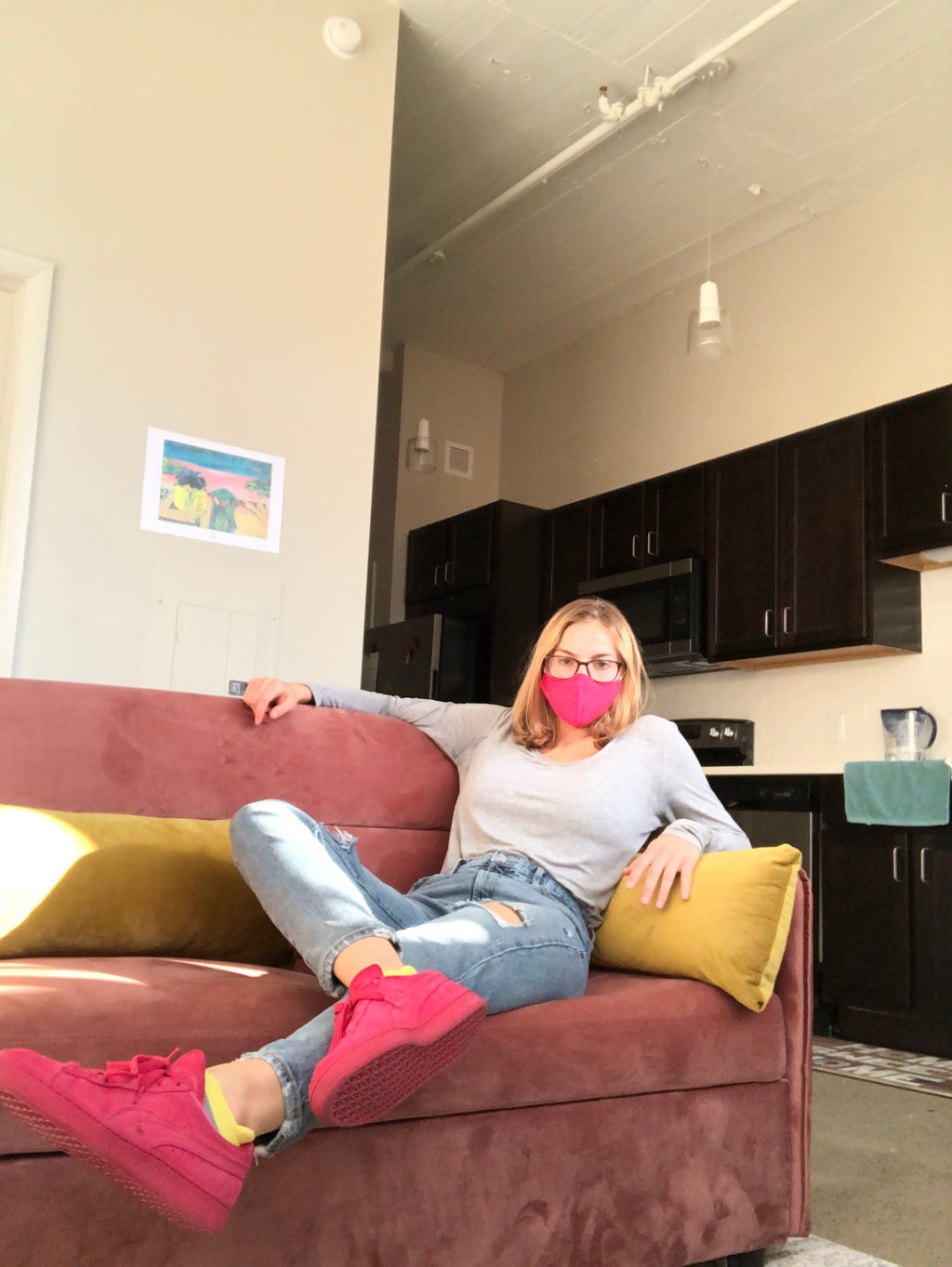 Wednesday…I'll be honest. I was rushing to class and threw on whatever outfit would be warm but not too warm.  Matching the Puma suede shoes to my facemask was my sole attempt to make a somewhat fashionable outfit. 
Dale took note of the laziness. In fact, she claimed, "4. The shirt is a layering piece, not a standalone. The hole in the jeans doesnt match the vibe of the shirt, [but] I do like the corresponding pop of color [in the] top and bottom!"
Do I agree? Not entirely. But, my mom is a tough critic and is always looking to push others to  improve and do better.
Thursday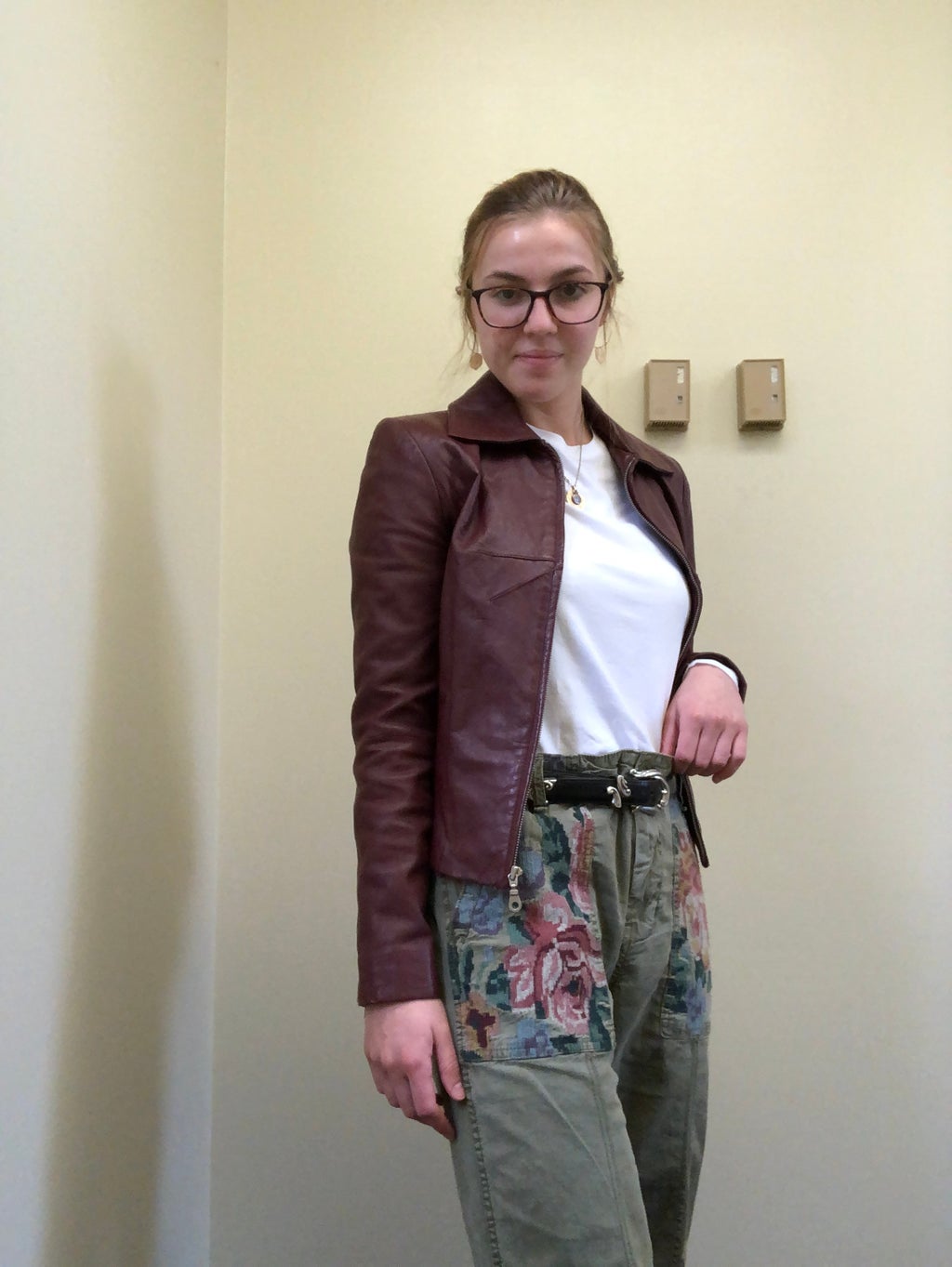 Was this photo taken during a Zoom class? No, of course not. 
I won't lie….I really like this outfit. I don't wear a lot of Fall colors/tones so I was happy to represent my favorite season a little bit with this outfit. The leather jacket is vintage and is, again, stolen from my mom. The t-shirt is (probably?) Gap and the pants were a gift. 
After the previous day's debacle, this outfit was received quite warmly. 
"She's back," said Mom. "Solid 8. A brown belt would have pushed you to a 8.5 but, I like the necklace and the earrings so it works!"
In my (not-so-humble) opinion, I thought this outfit was very, as my mom might say, "mom-appropriate." So, I really thought this outfit would be a 10/10 but, alas, Dale is (and always will be) a tough critic. An 8 out of 10, it is. 
Friday



Original photo by Lauren DeMicoli



Friday, I reunited with my best friend, Annie, who is taking a gap year and staying home. I was very excited to see her and dressed for the occasion! The leather jacket is from a department store, the sequined top and pants (hand-painted by yours truly!) are thrifted. The shoes are Nike Cortez. 
With Thursday's look, I dressed with more thought towards what my mom would like. In my defense, I wanted a 10 out of 10, okay?! Yet, as of Friday, with still no 10 out of 10 rating, I dressed exactly as I wanted to. Surprisingly, that day, I fared quite well. My best friend, on the other hand, not so much.
"Fun and casual Friday. I like. [You] get a 9. Annie did not fare as well. While I appreiate the fall-toned shirt and sweater, the absence of accessories grant her a 7."
Sorry, bestie! Should've donned a necklace. 
Saturday



Original photo by Lauren DeMicoli



On Saturday, Annie and I met up with our other best friend, Keelie. (Side-note: Aside from pictures, and dining, we always wore a mask out of respect, consideration and care for one another.) I love this outfit. The shoes were customized by an incredible artist and friend, Bella Lucy (find her work here). The pants were hand-made by yours truly and the t-shirt is thrifted. 
My mom seemed to have agreed. She said, "Your outfit is adorbs! Casual Saturday yet stylish. Love it!!!"
There was no numeral rating but I'll take it as a 10 out of 10. 
Sunday



Original photo by Lauren DeMicoli



This outfit is definitely my second favorite. I know I've previously professed how much I love this outfit or that outfit–but I have to admit that this outfit is a chart-topper. The Lee jeans are secondhand from Depop, the turtleneck is old and from Aerie, the shoes are Nike Cortez, and the tie-dye tank top is from sustainable brand, Pact.
Here's our biggest disagreement. While I claim this outfit to be a 'chart-topper,' my mother gave it a rating of 6. 
"I do not like the tank-top. It looks cheap. If you had just wore the navy turtleneck with the pants and a nice necklace then, [you] would have had a higher score."
Surprisingly, my ever over-the-top mom wanted this look to be more understated. Personally, I'm a huge fan of the y2k printed camisole trend and I love pairing these tops over long-sleeves; so, I couldn't have disagreed more. Agree to disagree, I guess!
Overall, this journey was really fun and really surprising. My mom and I are both very upfront and honest people but, we are not the most outwardly affectionate. So, when I started this experiment, I knew she'd be honest, but I didn't expect so much praise. That is not to say my mom doesn't often give encouragement and supportive words, she very much does. However, she only occasionally comments on my outfits–and that's usually to critique.  This experiment gave me a chance to see that, for the most part, my mom does like what I wear, which is nice to hear as I hold my mom in an iconic status–especially when it comes to her fashion.