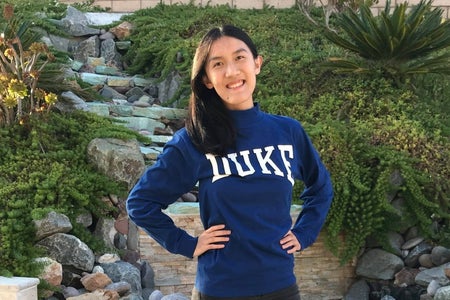 Original photo by Sophia Cetina
Name: Lucy Ren
Year: 2023
Major: Economics
Hometown: San Diego, CA
1. Why did you decide to come to Duke? 
The campus is beautiful, the food is pretty great, and the people I've met are incredible. I meshed well with the people I talked to at Blue Devil Days, whether they were current or prospective students. I know it sounds cliché, but something about Duke made it feel like home. Still one of the best choices I've made so far.
2. What has been the best thing about your Duke experience so far? Worst? 
The best thing about my Duke experience so far has been the random hangouts with my hallmates/friends. Going to the farmer's market on the weekend, driving to Chapel Hill to get Insomnia Cookies in the middle of the night, and ordering extra spicy wings from Heavenly Buffaloes at 2 AM and binge-watching Brooklyn Nine-Nine... I definitely miss spontaneous moments like those.
3. What groups are you involved in at Duke? 
Business Oriented Women, Investment Club, Energy Club, Duke Conservation Tech, and Chi Omega. I love being a part of these groups and meeting really cool people with different interests!
4. What's your favorite season, and why?
Definitely fall. I love when the air is crisp, the leaves take on beautiful warm colors, and people start decorating and bringing out all the pumpkin-flavored foods. It signals many holidays to come. Also, my birthday is in the fall :)
5. What risks are worth taking?
I believe a risk is worth taking if you know why you want to take it and you feel pretty sure you won't regret it.
6. If you had a theme song, what would it be? 
City Dove by Tori Kelly.
7. If you could shop for free at one store, which one would you pick?
When I was little, I used to dream of working at a bakery because I thought that meant I could try all the desserts for free… so I guess a store that sells every kind of dessert?
8. Any advice for women just starting college?
Stay creative and spontaneous. Now is the best time to start a new project or try out a new hobby!

Attend events and presentations that pique your curiosity; you never know if they might help you discover a new interest or career path.

Be your own hype woman and remind yourself of all the things you have accomplished and are grateful for. Everyone has their own path so there's no need to compare yourself to others. Also, four years will go by more quickly than you expect, so try to find joy in the little moments and do what's best for you!
9. How has this semester been different for you?
I have been taking classes from home in California, and it is pretty strange that all I have to do to show up to class now is to open my laptop. I miss the random run-ins and spontaneous conversations I used to have with people around campus. Nowadays, if I want to catch up with people, I have to seek them out and schedule a call ahead of time. I definitely miss being on campus!
10. Ideal number of people in a breakout room and why?
Four. Any more and there's a possibility that people no longer feel the responsibility to talk, and we don't want to be in a situation where everyone mutes themselves and there's an awkward silence. Any fewer and it will either become a one-on-one conversation that goes off-topic from the class material or it won't form an aesthetically pleasing box of four squares!
11. Describe a good memory from Duke
I remember being in the common room of my dorm when everyone watched Tre Jones make the game-winning buzzer-beater against UNC during overtime. The room erupted with cheers and everyone was hugging, jumping on couches, and shouting in triumph. The excitement of that moment was unforgettable.
12. Best thing about your hometown?
The fact that I can visit the beach whenever I want without sitting in a lot of traffic!