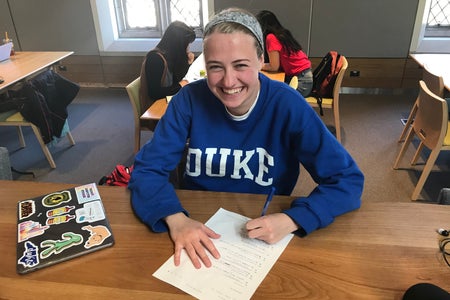 Humans of Duke: Caroline Petronis
Name:  Caroline Petronis
Year: 2021
Major: Undecided
Hometown: Charlotte, NC
Who has been your biggest influence/inspiration?
It sounds cliche, but my mom is definitely my biggest inspiration. She's so driven to accomplish her goals and manages a million things at once, as I'm struggling to walk and chew gum at the same time. Her empathy knows no bounds and no matter how inconsequential something I'm worried about is, she knows how to make me feel validated. She's also basically an encyclopedia for anything sports-related, which I'm super envious of and always trying to learn from. I couldn't build a better mom if I had an infinite supply of motherly attributes, and I'm so grateful that she plays such a big role in my life.
What's your weirdest quirk?
Physically, I have a weird nose- it has a cleft in it and my septum was so crooked I had to get it surgically straightened!! I think in terms of personality quirks, I'm pretty much one big quirk. I'm like an expensive cheese- I get moldier with age.
What has been the best thing about your Duke experience so far? Worst?
The best thing about my Duke experience so far is definitely basketball season, specifically tenting. As someone coming from a freshman dorm that wasn't as close as other dorms, I felt like K-Ville was much more home-y than my dorm on East. I loved hopping in and out of tents and the school spirit that permeated the air (even when it was 30 degrees and everybody had the flu). Tenting is one of the most unique things about Duke, and I think everybody should do it at least once.
I think adjusting to college during my first semester in college was really difficult. I didn't immediately love any of the clubs I saw around campus, and meeting people was really hard. I retreated into my shell a lot and was pretty unhappy for a good while. It took time for me to become comfortable enough with my new environment to reach out. I think that my experience is a common one, but it's not really a publicized one, so at the time, I felt like all of my high school friends were thriving while I was floundering. My message to incoming freshmen, however, is that it's totally normal to have trouble acclimating to college and that it's okay to ask for help.
If you were famous, what would it be for?
I hope I'd be famous for work in whatever field I decide to go into, because I think that's a more valuable kind of fame, but I also think it would be so funny to be a famous comedian. I have a pretty notable Instagram account (59 followers) where I tell stories vlog-style, so I think I'm well on my way to fame.
What's your secret talent?
My secret talent is I can make my left eye go lazy on command- very useful for comedic effect.
Why did you decide Duke?
Both of my parents went to Duke and had that storybook Duke romance everyone secretly dreams of (hung out in the gardens, got married in the Chapel, etc). Needless to say I grew up as a Duke-obsessed kid, and didn't really know other colleges were a thing until I was in the fourth or fifth grade. As I got older, I knew I wanted to be a part of the school that made my parents so happy, but I had doubts about whether Duke was my dream school. I visited six or seven other schools I was interested in, but none felt as welcoming as Duke. I decided to apply early decision, and it was definitely the best decision I've made to date. 
What are some of the things you do outside of class?
With regards to extracurriculars, I'm involved with Globemed, the global health organization on campus, Junior Panhellenic Council, the Inferno, which works to boost attendance to non-revenue sports, and (as of a couple days ago) I'm a line monitor. Outside of my commitments, my hobbies include distracting my friends in Perkins (or anywhere, really) and making Vine references.
What's your favorite smell?
I love the smell of the beach - there's no better smell than the salty air that you start to smell when you get close to the shoreline.