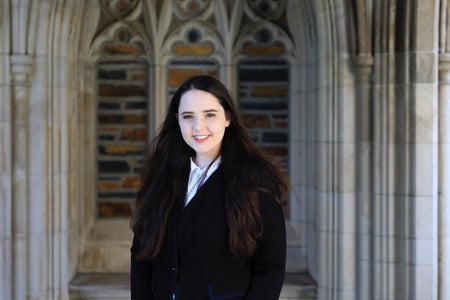 Humans of Duke: Alexandra Bennion
Name: Alexandra Bennion
Year: First-year
Major: Biology and Global Health
Hometown: Tampa, Florida
Who has been your biggest influence/inspiration?
My biggest inspiration is my family. Growing up, I have witnessed my parents give back to the greater good of the community through their small business. As owners of a small music school, I have witnessed my parents donate time, talent, and resources to help local middle and high schools raise money for music education programs. By participating in these events throughout my childhood and adolescence, I have learned that I am personally fulfilled while helping others. Witnessing the impact of leading community outreach events, I am inspired to continue my passion for service throughout my undergraduate professional career. 
Where do you see yourself in 5 years?
After earning my undergraduate degree, I plan on pursuing an MD/PhD in the pursuit of scientific discoveries to improve the lives of others.
Who would star in the movie about your life (they can play you or your love interest)?
I would love to have Emily Blunt star in a movie about my life. In terms of a love interest, I am a huge fan of Eddie Redmayne.
Why did you choose Duke?
I chose Duke because Duke fosters a culture of kindness and integrity. When I was touring Duke during my Junior year of high school, everyone I met reinforced the idea of the Duke family, which I could see myself becoming a part of. Additionally, Duke offers unparalleled access to undergraduate research and a fantastic STEM education, while also fostering the liberal arts.
What has been the best thing about your Duke experience so far? Worst?
The best thing about my experience at Duke so far has been the wonderful friends I have met and the lifelong memories I have made. Since arriving on campus, I have experienced both faculty and peer support, and Duke professors who are dedicated to teaching undergraduates. In addition, I live in a dorm with great support from both a faculty and resident advisor, and I have made a wonderful friend group within my residence hall. The worst aspect of my Duke experience so far has been being far away from my parents and twelve-year-old brother.
What groups are you involved in at Duke?
I am involved in Duke Wind Symphony, Duke Honor Council, Duke SMART, and I am the treasurer of Clever Endeavor. Additionally, I am a lab assistant in the Alvarez Lab where I assist with breast cancer tumor mutational signature research.
What's an event in your life that made you the person you are today?
The most transformative event of my life was when my mom was diagnosed with aggressive breast cancer in 2013. Confronted by the concern of her survival, I looked to the security of knowledge and redirected my fear of the unknown into a tangible understanding of the disease. I retreated into my science textbooks, researching terms such as "malignant" and "bilateral mastectomy." I became interested in STEM as a mechanism to assist my mother as she battled breast cancer. My mother's cancer battle truly taught me to appreciate each and every day. As I continue to watch my mother undergo cancer treatment, I am reminded of the fragility and sacred nature of human life. I strive to always be empathetic, kind, and a good listener to everyone I meet, as one can never truly know the personal struggles of others. In my career, I hope to help other patients like my mother through the fusion of cancer biology research and medicine.
What's your favorite smell?
My favorite smell is the aroma of freshly roasted coffee beans.
What are you most proud of?
As a young woman in STEM, I am most proud of my character of integrity and kindness as I pursue excellence, sometimes in the face of adversity.
What is your favorite song?
It is a tie between Golden Slumbers by the Beatles and Mozart's Clarinet Concerto in A.
What's your secret talent?
I can wiggle my ears!