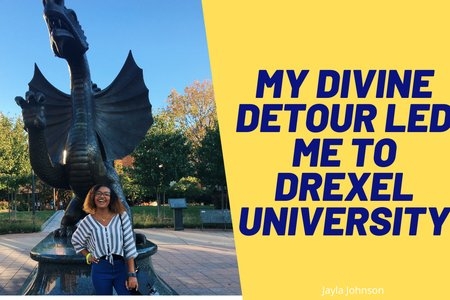 My Divine Detour Led Me to Drexel University
It felt like senior year in high school all over again, to be honest! I was a first-year student at Bucks County Community College applying to Drexel University. I call that chapter in my life My Divine Detour. It was never on my radar to go to a community college at all until May 1, 2018. My parents were very upfront with me when it came down to our financial situation and me attending Hofstra University. That would no longer be apart of my plan.  Everything happens for a reason. I know how cliché that sounds but it's the truth. During that one year at BCCC I learned a lot about myself:
1. I no longer wanted to study journalism
2. I did well in my classes, for someone who does not enjoy school whatsoever 
3. Skipping a class that your parents are paying for is not worth it. Every time I wanted to skip, I just thought about how much they are paying for tuition and how much money went into a textbook even though we weren't going to read it at all! I had to remind myself to get it together 
In high school, I was an average student, but once I went to community college, everything changed. I started to apply myself and take my education seriously. My grades were at its best and I also wrote for the school student-run newspaper. BCCC prepared me, and for that, I am so grateful I ended up going there. Community colleges are looked down upon and I'm not sure why, because at the end of the day you're still in college. Who cares if it's in your hometown and you see people from high school. Sis, go secure your bag however you must do so! Last time I checked I do not owe anyone an explanation.
I not only grew as a scholar, but I matured as a person. When May of 2019 came around, I knew it was time to apply to Drexel University. I wanted to follow my family's legacy. Having not only my father attend Drexel in 85'(Bachelor of Science in Commerce & Engineering) and 88'( Masters of  Science in Engineering Management), but my sister as well 18' (Bachelor of Science in Business Administration), I knew this was where I was supposed to end up. I submitted my application the day before it was due and submitted my Honors Application 30 minutes before it was due. Now maybe I didn't learn much about time management but look at me now! I'm here, aren't I?
I am Jayla Johnson, born into a Drexel family, and I am now making my own path here. I am a part of the Pennoni Honors College majoring in Arts and Entertainment Management with a concentration in Sports Entertainment. I would've never pictured myself here but I am happy that I picked Drexel. It's like an extended family, and I'll always have someone to call on for help. My advice to transfers is to make sure your credits transfer! Don't take classes that will not. I made sure all my courses transferred and that I would be accepted as a sophomore. Next, apply yourself. By getting above average grades it'll lead you to scholarships that are given to those with a certain GPA. Yes, it'll suck at the moment but it is very rewarding in the end to see all of your hard work being paid off. Furthermore, don't compare your path to anyone else's. We all have our own divine detour which comes at different times. Remain focused and most importantly have fun.
My divine detour led me here and I am just getting started, I am unstoppable.