On Wednesday, January 20th, Joe Biden and Kamala Harris were sworn in as the 46th President and Vice President of the United States of America. Their inauguration marked a peaceful change in power after a period of uncertainty in response to a global pandemic, an attack at the nation's capital, and the second impeachment of former President Donald Trump. This day featured not only wise words and messages of hope, but also iconic fashion that became sensational overnight. I dove in to examine the clothing worn by members of government, their families, and guests on Inauguration Day, exploring the hidden meanings behind the color choices and accessories of some of the most memorable looks.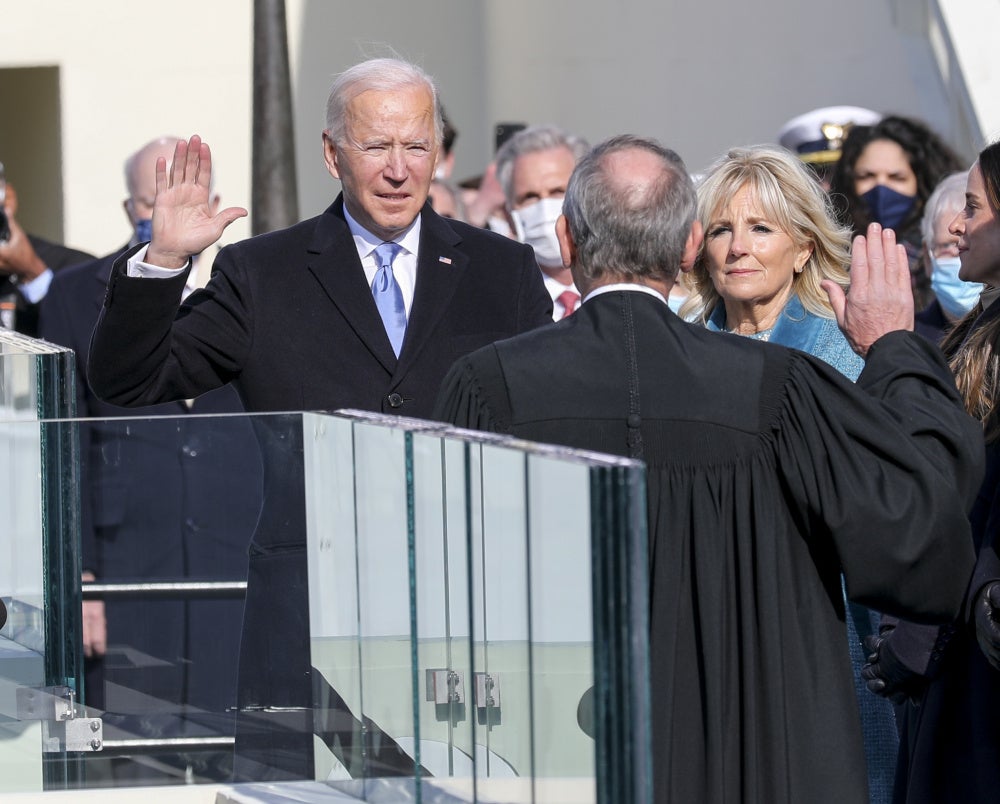 Vice President Kamala Harris, former Secretary of State Hilary Clinton, and former First Lady Michelle Obama made waves with stunning shades of purple in monochrome coats and pants. While this color is typically associated with royalty, it symbolized something else too, on this important day. Purple represents bipartisanship, or the cooperation between two opposing political parties, because it is a combination of the red associated with the Republican Party and blue associated with the Democratic Party. On this day, these powerful women chose to showcase this idea of unity of the right and left, a message that was repeated in the speeches given throughout the day. Purple is also representative of a degree in law, which each of these ladies has earned. Purple can also represent high values and lofty goals in a professional field, driving home a hopeful message coupled with the change in power: making the statement that this new administration has considerable goals for the future. Regardless of representative meaning, it was clear that these women stood out from their male counterparts on Inauguration Day, reminding millions of young girls that the future is indeed female.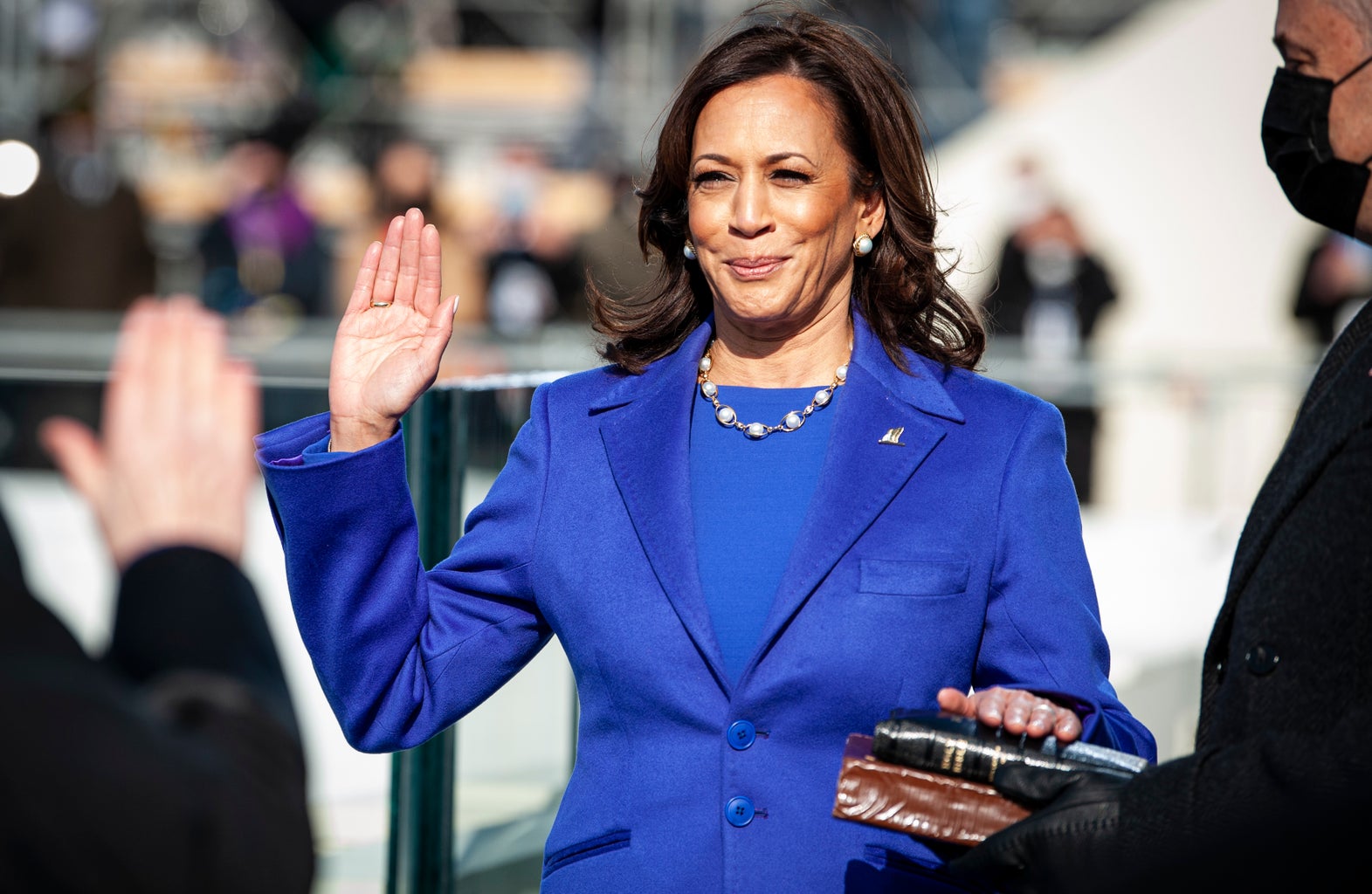 First Lady, Dr. Jill Biden sported a beautiful light blue ensemble, keeping up with the jewel toned theme of the other ladies on the balcony. This color is also greatly symbolic in many ways. It is representative of the Democratic Party, a degree in education, and hope. Light blue has also been associated with stability, wisdom, inspiration, and reliability. It is perfectly reasonable to expect all these things and more from this dignified doctor, who has already shown her commitment to excellence in her new role.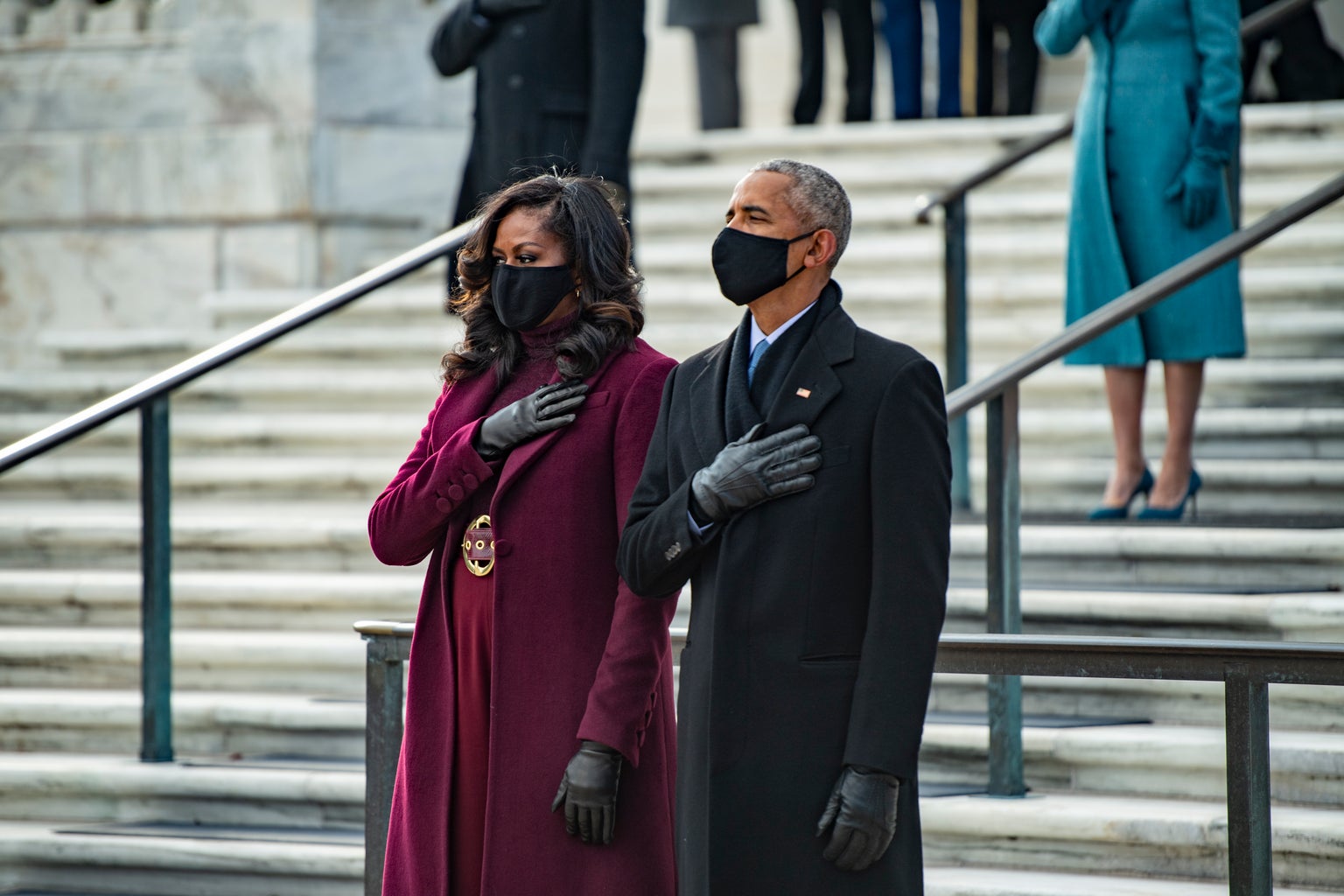 The colors yellow and white were also featured on Inauguration Day, worn by Amanda Gormon and Jennifer Lopez. Yellow is indicative of sunshine and joy, as well as youth. Amanda Gorman was bright and noticeable as she made history as the youngest Inaugural poet in history in a brilliant yellow coat and crown-like satin headband. It is fitting in a day stuffed full of firsts, including that of the swearing in of the first Black woman of Asian descent as Vice President, that Gorman also stood out. JLo wore an all white ensemble, a color typically labeled "suffragette white," as it was worn by the women who fought for the passing of the 19th Amendment.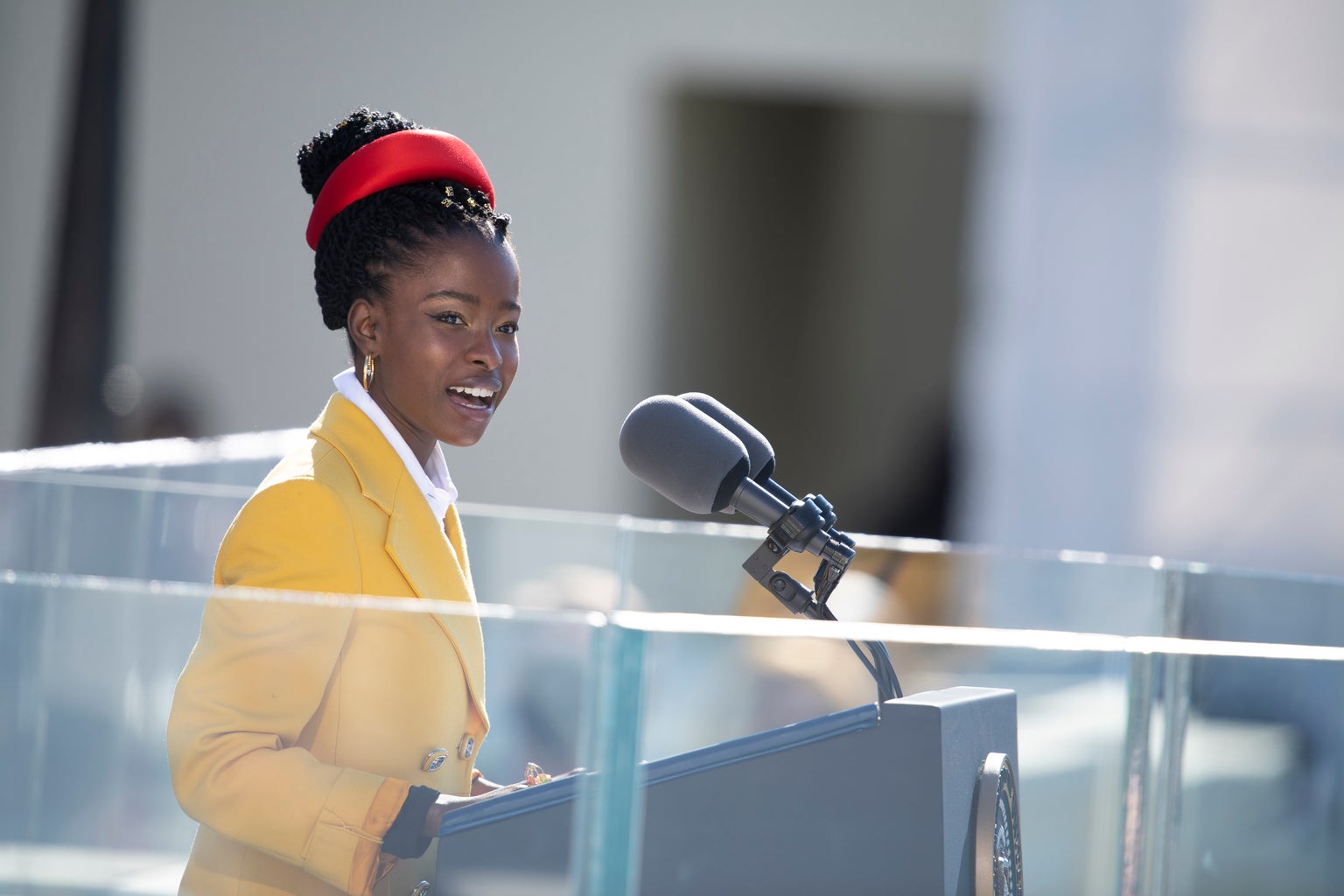 Our Inauguration honorable mentions are Lady Gaga and, of course, Senator Bernie Sanders. Many commented on the epic ball gown worn by the performer as she sang the national anthem, but it was her brooch that received the most online chatter. Although it was meant to be a dove carrying an olive branch, representing the peace and hope associated with the transition of power, many couldn't help but connect the large bird pin to the mocking jay pin worn by Katniss Everdeen in the well known Hunger Games series. While this was largely unintentional, it did cause many to connect the end of the Trump administration to the downfall of "the Capital" in this series. Lastly, the fashionably late Bernie Sanders arrived at the inauguration sporting a warm, green working coat and a pair of mittens that quickly transformed him into an internet meme. For those wondering, the coat is currently sold out and on back order, and the mittens are custom made. The story behind the now well-known mittens is incredibly sweet. These mittens, not gloves, were made for Sanders by 2nd grade teacher, Jen Ellis, in Vermont, who used repurposed wool to knit them and repurposed plastic for the lining. Sanders' publicity department quickly jumped on the public response, putting the circulated image of Sanders sitting cross legged and socially distanced on a sweatshirt on their campaign website. All the funds collected from the sale of this product will be donated to Meals on Wheels Vermont.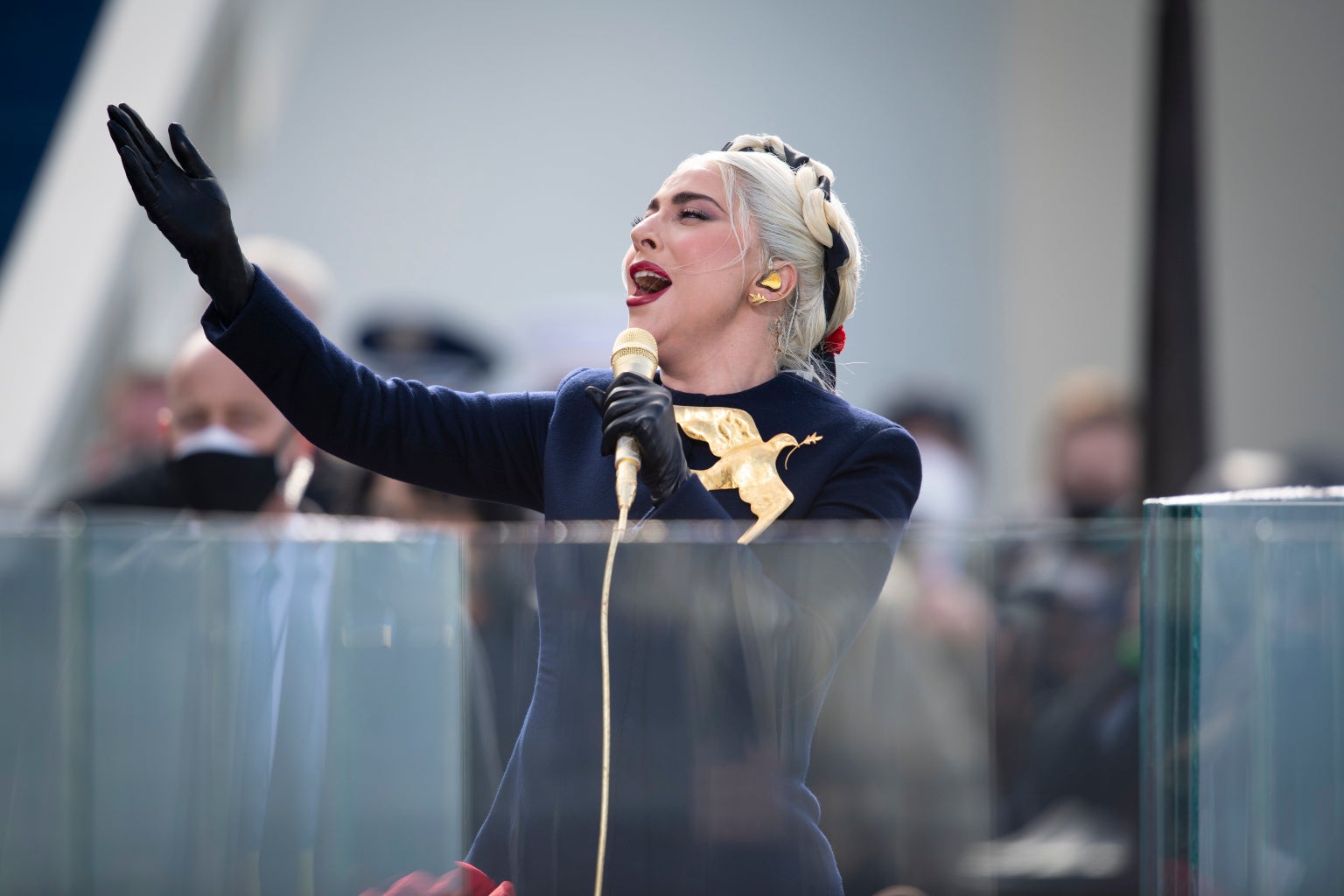 Despite the safety concerns and the instability of the current state of the country, Inauguration Day did not disappoint, and neither did the fashion. Our winning look goes to the iconic Mrs. Michelle Obama, with Mr. Bernie Sanders coming in as a close second.