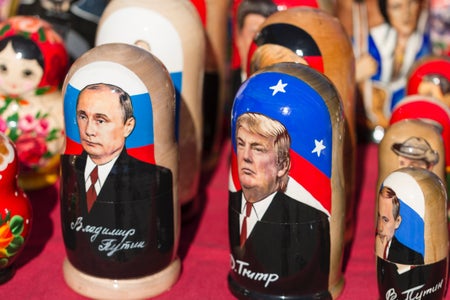 Manafort, Maidan, and Mass Murder
The name Paul Manafort has been flooding cable and local news broadcasts for many months now, but who exactly is this man, and what does his microscopic 47 months in prison really mean?   
It has now been proven in the court of law that Paul Manafort, besides working diligently as an intimate Trump advisor - he was Trump's presidential campaign chairman - was simultaneously acting as an unregistered agent of disgraced former Ukrainian president Viktor Yanukovych. Yanukovych fled to Russia in the dead of night on February 21st, 2014, where he has been hiding ever since. Manafort generated tens of millions of dollars in income as a result of his work for Yanukovych. In order to hide Ukraine payments from United States authorities, he laundered the money through scores of United States and foreign corporations, partnerships and bank accounts.
He was supposed to be sentenced to 19 to 24 years in prison, as dictated by sentencing guidelines. Instead, he is going to spend less than 4 years for obstruction of justice, conspiring to defraud the United States of America, and grossly disregarding lobbying laws. 19-24 years in prison - Manafort is 70 years old, and 70 + 24 theoretically could have resulted in deaths in prison - would have felt more appropriate. Technically, Yanukovych, who is 68 years old, was sentenced to 13 years in prison last month, and his prison term will begin once he's been found and detained.  
Besides the millions of money laundered dollars that passed through Manafort's hands, he also has the blood of hundreds of thousands of Ukrainians staining him.
The Ukrainian president Paul Manafort so dutifully supported was ousted after Ukrainians spent an entire calendar year protesting and occupying the capital's main square, called Maidan Nezalezhnosti (Independence Square for those who don't speak Ukrainian). I guess the Chicagoan equivalent would be if we camped out in Grant Park (where The Bean and Art Institute is) without budging. Over one hundred people died protesting, and more than half were killed in one day in a mass shooting massacre. Netflix has a fantastic documentary about the protest, called Winter on Fire.
The subsequent War in Donbass and annexation of Crimea, spearheaded by Yanukovych's close ally and supporter, Vladimir Putin, has resulted in the displacement and fleeing of over 2 million Ukrainians, and the catastrophic crash of Malaysia Airlines Flight 17, which was shot down by a Russian missile, and killed all 298 passengers and crew. I flew to L'viv, Ukraine with my mother to visit family the day after Flight 17 crashed - our tickets had been booked months in advance. I wasn't quite yet seventeen.