Machine Gun Kelly officially started his career as a rapper, releasing his first mixtape, Stamp of Approval, in 2006. Since then, MGK has released five studio albums and seven more mixtapes. He secured a record deal with Bad Boy Records in 2011 and went on to release his hit single, "Wild Boy" featuring Waka Flocka Flame. He then released his debut album, Lace Up in 2012 which debuted at number 4 on the Billboard 200 chart and it sold more than 178,000 copies. 
The rapper has been going at it for over a decade and seems to be gaining even more traction. What has the rapper been up to throughout his career? 
"Chip off the Block" and pre-record deal 
Born Richard Colson Baker, he was born to missionary parents and his family moved around a lot. Growing up, he lived in Chicago, Los Angeles, Denver, then finally settled down in Cleveland in 2004. He attended Shaker Heights High School in Cleveland and he soon garnered his stage name due to his rapid-fire delivery. 
In March 2009, MGK went to New York City and performed at the Apollo Theater and he had consecutive wins. He was the first rapper to ever win at the Apollo Theater. In early 2010, he released "Chip Off The Block," a freestyle single, and his mixtape, 100 Words and Running. He got his catchphrase and first album title, "Lace Up," from this mixtape. 
The Lace Up Era 
The Cleveland-based rapper made his national debut with the single "Alice in Wonderland." He soon released another mixtape titled Lace Up, which featured the hometown anthem, "Cleveland." 
In March 2011, MGK performed at his first SXSW show in Texas and he was approached by Sean "Diddy" Combs who offered him a recording contract with Bad Boy Records. 
Although, according to the rapper's song, "All Night Long," he had visited New York City and met with executives. He walked out of those meetings and left New York City without any type of record deal. He went home and he received a call from Diddy and the conversation went from there. 
After signing with Bad Boy Records, MGK released the music video for "Wild Boy," which featured Atlanta-born rapper Waka Flocka Flame. 
MGK also released an EP titled Half Naked & Almost Famous in 2012 and it debuted at 46 on the Billboard 200 charts. He announced his full album, Lace Up, and "Wild Boy"served as the lead single. The song would peak on the U.S Billboard Hot 100 at number 98. 
The rapper was named the "Hottest Breakthrough MC of 2011" by MTV in December of that year. The fans voted for the raper to receive the honor and he thanked them upon winning the award. He spoke with Sway on "RapFix Live" stating, ¨It's obviously an honor, but I want to be the hottest". 
In March 2012, MGK won the MTVu Breaking Woodie award. He also took the award the following year in 2013, beating out Kendrick Lamar, Fun. and four other artists. In his acceptance speech, he says, ¨I want to thank Jen Zeller, MTV, the city of Cleveland, my EST fam, my management and my beautiful daughter…" 
He was also featured on the cover of XXL magazine as part of their annual "Top 10 Freshmen List," which also featured French Montan, Roscoe Dash, Iggy Azalea, Kid Ink, and Future. 
Lace Up was officially released on October 9, 2012, and it debuted at number four on the US Billboard 200. 
What is EST? And what about EST Fest? 
If you have listened to MGK's music, you would notice that he constantly reps a movement dubbed EST. It's an acronym short for Everyone Stands Together and it's a fanbase that's more of a family. It's a rally cry that became a die-hard movement for the outcasts, the misfits, and the underdogs. 
His tour manager since 2011 Andre Cisco explained to Alt Press last year, "We always wanted to be on huge festivals, and he was like, 'Man, I'm not really booked for stuff…At the time, and we still have a crazy live show, but I think promoters were standoffish. It was hard for us to get as a company. We were just like, 'Man, let's just throw our own festival.'" 
Hence, EST Fest was born. The first EST Fest happened in 2013, held outside of Cleveland at Nelson Ledges. From then on, the festival grew quite quickly as more and more fans came each year. 
MGK explains: "It means something…It's become a tradition. There's a feel out there. There is no cellphone service. Everyone's just stuck together. [It's] like this speakeasy amongst this downtown of festivals. Some of the craziest stories of my life are at that festival."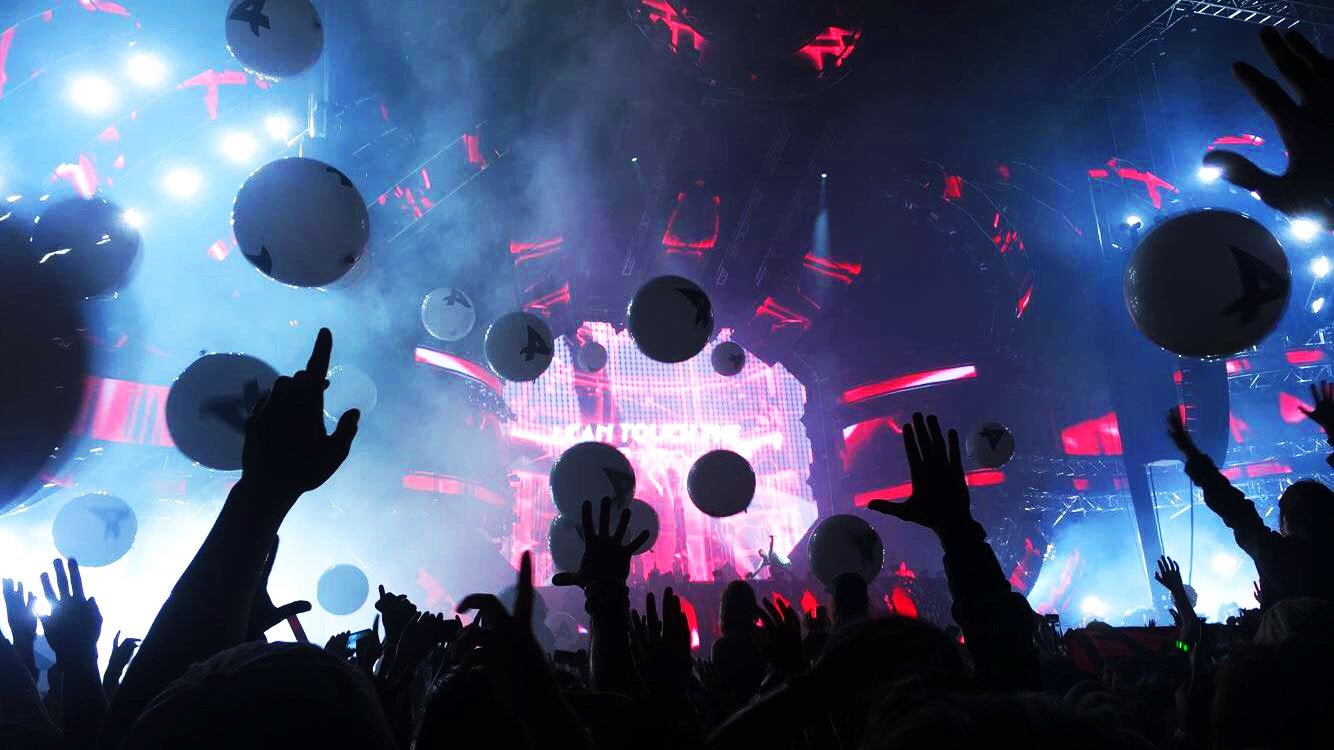 Black Flag, General Admission, and a movie career 
MGK released another mixtape in the summer of 2013, titled Black Flag. The project had features from Pusha T, Meek Mill, French Montana, Wiz Khalifa, and Diddy. Before the official release date, the project already had its first single, "Champions," which featured Diddy. The song sampled the instrumental from The Diplomats' "We Are The Champions." 
The rapper explained the passion behind the project, stating "I felt like I nearly got dropped from my label and felt this hunger that I hadn't had in a long time, and I just put it in worlds." 
In that same year, the film, Beyond the Lights, was released. MGK starred as a character named Kid Culprit, a performer and collaborator with the main character. The film grossed about $14.6 million domestically and worldwide. It received an 84% rating from Rotten Tomatoes (out of 92 reviews) while receiving a 6.9 out of 10 rating from IMDb. 
The next year, rumors arose, claiming that MGK was working on another album. He confirmed those rumors and promised that it'd be released in 2015. The first single to be released from the album was "Till I Die," which was an ode to his hometown of Cleveland. In June 2015, he released the title of his upcoming album, General Admission, as the album was to be released in September of that year. Though a month later, he released a mixtape titled F–k It, and it contained the 10 songs that didn't make it onto General Admission. MGK reportedly released the mixtape independently, as Bad Boy Records consistently delayed the release of the album. 
General Admission was eventually released on October 16, 2015, and it debuted at number 4 on the Billboard 200 chart. It also debuted at number one on the Billboard Top R&B/Hip-Hop Albums. 
Another album, an EP, and some rappers' beef 
In 2017, MGK announced that his latest album, bloom would be released on May 12th. The cover art was quite interesting as it shows the rapper's hand being pierced with thorns while holding roses in between his fingers. He explains in a tweet, "the thorns in my hand were done by a special FX makeup artist. [T]hat wasn't photoshopped." Over a year later, on August 31, 2018, Eminem released his album titled Kamikaze. The album featured a track, "Not Alike," that was aimed towards MGK. Eminem's diss track towards MGK isn't out of nowhere and the beef isn't random. 
It all began with MGK's 2012 tweet about Eminen's then 16-year-old daughter, Hallie. Three years after his tweet, MGK went to say that the tweet "played a role in him being blackballed from [Eminem's] Shade 45 radio station on Sirius XM and other places with industry ties to Slim Shady." In 2017, MGK mentioned the situation in a freestyle during his interview with Power 106's L.A. Leakers. He dropped a line saying: "I'm my favorite rapper alive / Since my favorite rapper banned me from Shade 45." Slim Shady's Kamikaze was an album full of digs and shade towards various artists. Unlike the many that Eminem targeted on his album, MGK decided to pen his own response via a diss track rather than through social media. He drops the scathing diss track, "Rap Devil," mentioning how Eminem went out of his way to impede the trajectory of his career. After MGK released "Rap Devil," Eminem responded with his own, titled "Killshot." 
Not only did the real Slim Shady come for the Cleveland-based rapper, another rapper did as well. G-Eazy dropped his own diss track titled "Bad Boy" aimed at MGK. In the diss track, the Bay-area based rapper threw shots at MGK's lack of sales, the potential jealousy of his relationship with Halsey, and he even refers to MGK as his "mini-me." The "Wild Boy" rapper stopped by Hot 97 on August 31 and went in with a hard-hitting freestyle. Throughout the freestyle, Machine Gun Kelly references G-Eazy and insinuates a romantic relationship with Halsey. MGK didn't stop there as he took to social media to troll the Bay-area based rapper; he posted a side-by-side comparison, showing how G-Eazy copied his style. 
During this time of diss tracks and beef, MGK released his nine-track EP titled Binge. The project includes "Loco" and his Eminem diss track, "Rap Devil." Despite all of the media attention, Binge sold less than 22 thousand units in its first week — 21,519 units to be exact, with nine thousand of those being pure sales. His previous album, bloom, sold 57 thousand units in its first week. 
What about his acting career? 
MGK has been in various films and tv shows. In 2016, he starred in Nerve, alongside Dave Franco and Emma Roberts. The film grossed $38.6 million in the United States and received a 67% rating from Rotten Tomatoes. 
In 2018, he starred in Netflix's Birdbox, which took the internet by storm. It inspired an entire internet challenge (#BirdboxChallenge). The film received a 63% rating from Rotten Tomatoes, with a 57% audience rating. 
Last year, he starred in a film about the heavy metal band Mötley Crüe titled The Dirt. MGK starred as the band's drummer, Tommy Lee. On Rotten Tomatoes, the film only received a 38% rating from its critics while receiving a 94% rating from the audience. 
What has he been up to since early 2019? 
In April 2019, he announced the name of his fourth studio album via Twitter: Hotel Diablo. He also announced that he would be going on tour for the album, called The Hotel Diablo World Tour. The tour would cover 51 cities in the United States, Japan, the United Kingdom, and other parts of Europe. Two dates of the tour would stop at his infamous EST Festival. 
The first single of the album was "Hollywood Wh–e" which was released in May 2019 and the second single would be "El Diablo," which was released in June 2019. He also released a single with Yungblud and Travis Barker the next month titled, "I Think I'm Okay."
As one can tell, MGK is drifting away from his hardcore, lightning speed rap that he's known for. The album officially debuted at number five on the Billboard 200 chart, becoming his fourth top 10 album. 
In the last month of the 2019 year, MGK teased a new studio album and said that it would be pop-punk rather than the typical rap. Tickets to my Downfall was released last month on September 25. 
Recently, the rapper opened up a coffee shop in Cleveland called 27 Club.