Spotlight: Gina Rodriguez
I first saw Gina Rodriguez in The CW's Jane the Virgin on Netflix a few years ago. Rodriguez plays the lead role, Jane Villanueva, who becomes pregnant (despite her virginity) after being accidentally artificially inseminated. Ever since then, I have loved watching her on and off screen as she builds her career in Hollywood and works as an activist for Latinx and female rights. Not only is she a wonderful actress, but she is proving herself to be a strong role model in today's Hollywood.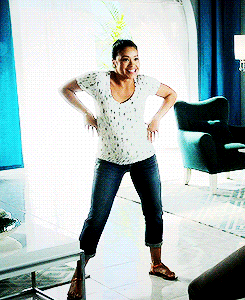 Rodriguez is most well-known for her Golden Globe-winning work on the previously mentioned satirical telenovela, Jane the Virgin, and has earned her place as a television actress with her quick wit, positive energy, and genuine smile. The show has had a successful run but will end after the fifth season. Fans should still be excited, however, because a spin-off is in the works and Rodriguez is set to narrate. Rodriguez has also lent her voice to the titular character in the Netflix remake Carmen Sandiego (season one now streaming) (also with Rita Moreno!! who was the original voice of Carmen in the 1994 series) as well as the character of Gina on season two of Netflix's Big Mouth.
As of February 1st, Rodriguez is no longer just a television star. She earned her first starring role in a major box office film with the premiere of the thriller Miss Bala. In this American-remake of the original 2011 Mexican film of the same name, Rodriguez stars as Gloria, a woman who is in Tijuana, México visiting a friend when she is captured by a drug cartel and forced into horrendous cross-border crimes. It hasn't been out for very long, but critics are already singing praises for Rodriguez's emotional work in the Catherine Hardwicke film. Before Miss Bala, Rodriguez has had roles in Deepwater Horizon (2016), Annihilation (2018), Ferdinand (2017), and Smallfoot (2018).
Gina Rodriguez was born and raised in northwest Chicago, Illinois to Puerto Rican parents. She attended NYU's Tisch School of the Arts and graduated in 2005 with a Bachelor of Fine Arts degree. Due to her hispanic heritage, Rodriguez has a special place in her heart for the Latinx community. With her increasing exposure, she has used her platform to promote opportunities for men and women with hispanic heritage. For example, on Jane the Virgin, not only are most of the main actors from a latinx background, but there have been plenty of cameos from people like Eva Longoria, Paulina Rubio, Adam Rodriguez, Rita Moreno, Juanes, and countless others.
Furthermore, Rodriguez has served on the Hispanic Scholarship Fund's Board of Directors. The HSF is the largest non-profit organization in the U.S. that supports Hispanic American higher education. In addition to multiple other philanthropic adventures, Rodriguez was one of many artists to record with Lin-Manuel Miranda on "Almost Like Praying." The song was inspired by West Side Story song "Maria" to raise money for Puerto Rico after Hurricane Maria destroyed the island in 2017.
Gina Rodriguez's contributions to television, film, and charity have been entertaining and inspiring. With her upcoming work (and recent engagement!!), 2019 should prove to be a bright year for the young actress and her fans.