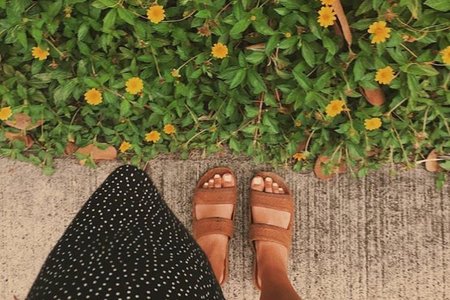 Tessa Pesicka / Her Campus
Easy Ways You Can Celebrate Earth Day
As an avid member of my high school's green team for three whole years, I urge you to celebrate Earth Day on April 22nd. We might be on lockdown but that shouldn't stop us from taking the time to appreciate the earth. Here are my suggestions for how you can easily celebrate Earth Day at home!
Watch a nature documentary. With all the free time you have thanks to social-distancing and online classes, why not watch a documentary? Nature documentaries are educational, investigative, and also really beautiful to watch. There are some really great nature documentaries on Netflix right now that you should take advantage of, including Our Planet, Oceans, and Night on Earth. I'm really excited to watch Chasing Coral, which discusses the disappearance of coral reefs throughout the oceans.

Take time to watch a sunset or sunrise. We tend to take the earth for granted. Humans pollute, exploit, and destroy the natural world around them rather than appreciating it. The earth is a beautiful place with amazing natural phenomenons, like sunsets. Appreciate the often forgotten beauty the earth gives us. Sunsets are one of my favorite things that nature gives us and I hope that other people will learn to appreciate them as much as I do. So take the time to stop what you're doing and watch a sunset every once in a while. 

Go for a walk (with a face mask). What better way to celebrate Earth Day than going outside and appreciating your local nature. Spring is officially here (thank goodness) so go outside and enjoy the budding plants! Be sure to take precautionary measures first, like finding a face mask to wear. 

Learn about the history of Earth Day. Earth Day is an underappreciated day of the year with a fascinating, rich history. To give you a basic history, the first Earth Day was held in 1970. Millions of people across the United States demonstrated in the streets, calling on others to help make the earth a better, cleaner place. From that point on, the environmental movement grew. Take some time to research more about the origins of the environmental movement and the first Earth Day.

Visit fridaysforfuture.org and see how you can be a climate activist during COVID19. The Fridays For Future movement, led by climate activist Greta Thunberg, has a great website full of information, including stuff about how you can take action now.