Hey there all you ghouls and goblins! Can you believe it? Halloween is just around the corner!  This year, we're adding a little twist to the costume list, making Halloween as safe and spirited as possible. With the full moon rising on Halloween for the first time in over 70 years, it would be a waste to not celebrate this holiday due to COVID. From DIY to store-bought, here's my top 10 favorite costume-mask combos to rock this year.
Note: Here's a pro tip! If you're using Avery Transfer Sheets, don't forget to mirror your image before printing it! It will look backwards when you print it out, but reversed back to normal once you iron it on!
1. Biker chick. Wanna be a bicker chic biker chick? What better way to add some edge to your fit than a bandana doubling as a mask! Whether this means digging through your drawers or heading out to your local CVS or DollarTree, there's nothing better than having your accessory and mask all wrapped up in one! To copy a look like this, all you need is a leather jacket, black top, bottom, or dress, and red accents! Accentuate the look with dramatic earrings, bold shoes, and a bandana mask! You can purchase these items at your local Marshalls or Walmart at discounted prices.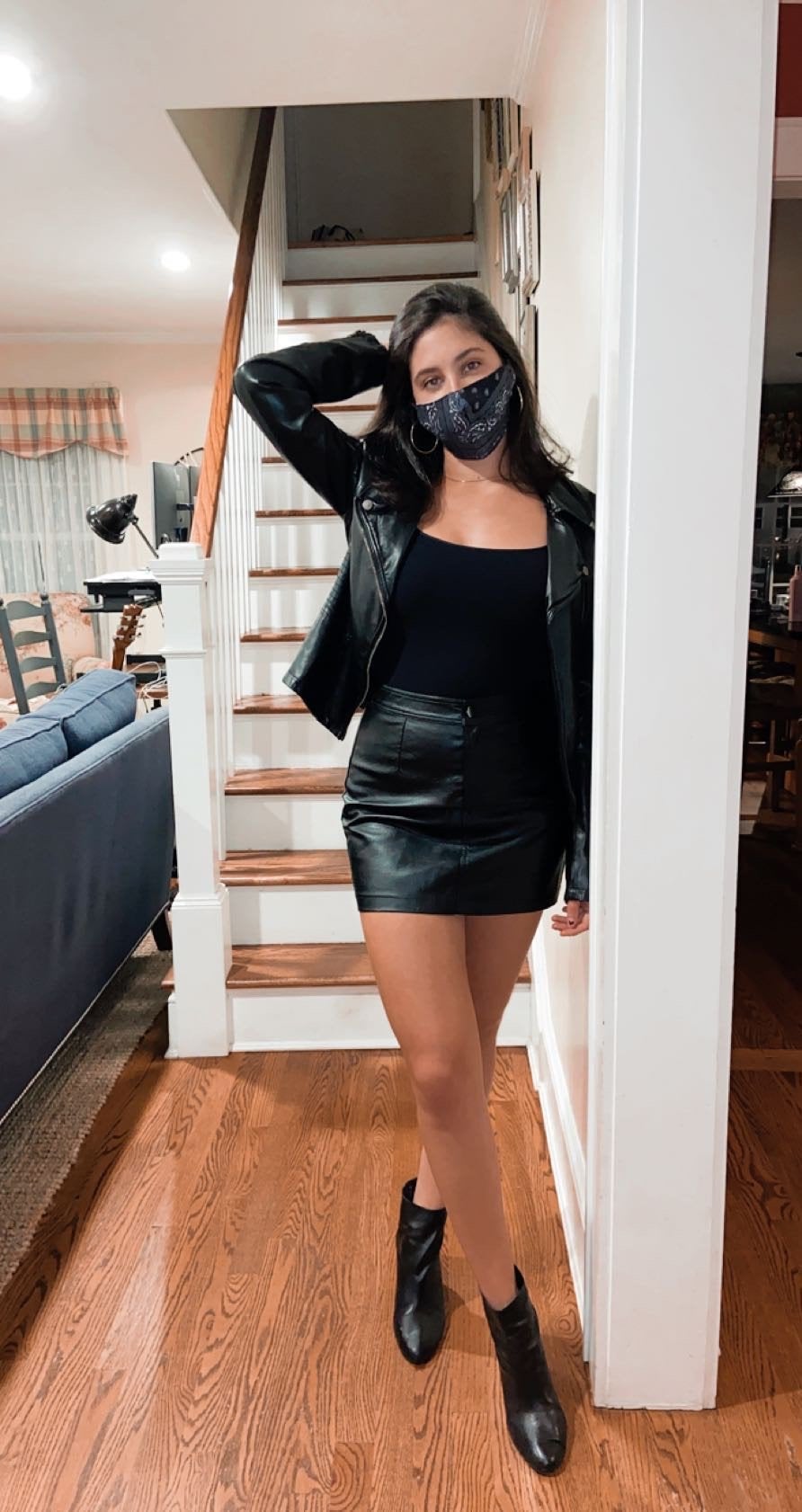 2. Ninja. Hiyah! Keep your super skilled identity a secret with a sleek mask like this! To mimic this masked look on a budget, dress in black from head to toe, with an optional red belt around the waist. Kick off your look with a trendy cropped black sweater and leather pants, or comfortable and cute with a black sports bra and legging set! Tie in a black or red face mask (as we did here) to add to your secretive look. Finish the look with black booties or sneakers and you're all ready to go defeat Halloween! Purchase these items from your local boutique, or order online from shops such as Aerie, or Lulus.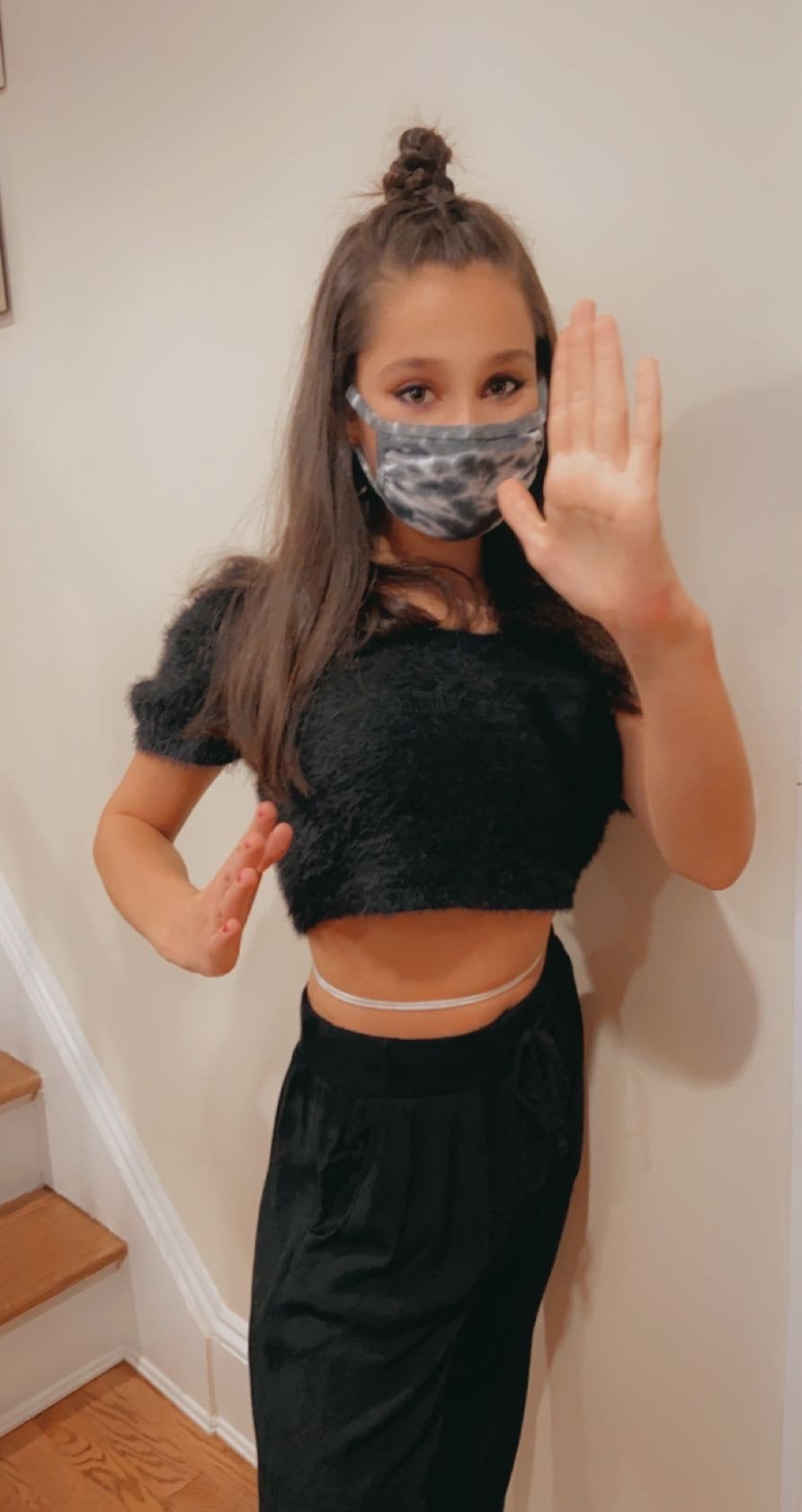 Modeled by: Mackenzie Brancaccio
3. Superhero. Save Halloween with this super look, while keeping the citizens safe!  Here's what you need to make this All-American look your own: a superhero top and color-coordinated skirt, leggings, or jeans. Seriously, it's as simple as that! Have a DIY night by creating your top using Avery Iron-On Transfer Sheets, or have a more store-bought look by purchasing your superhero look at Party City  Keep your true identity a secret with a pair of glasses and your mask (of course)! Round out the look with a cape, headband and sneakers (or patent-leather booties if you're feeling edgy).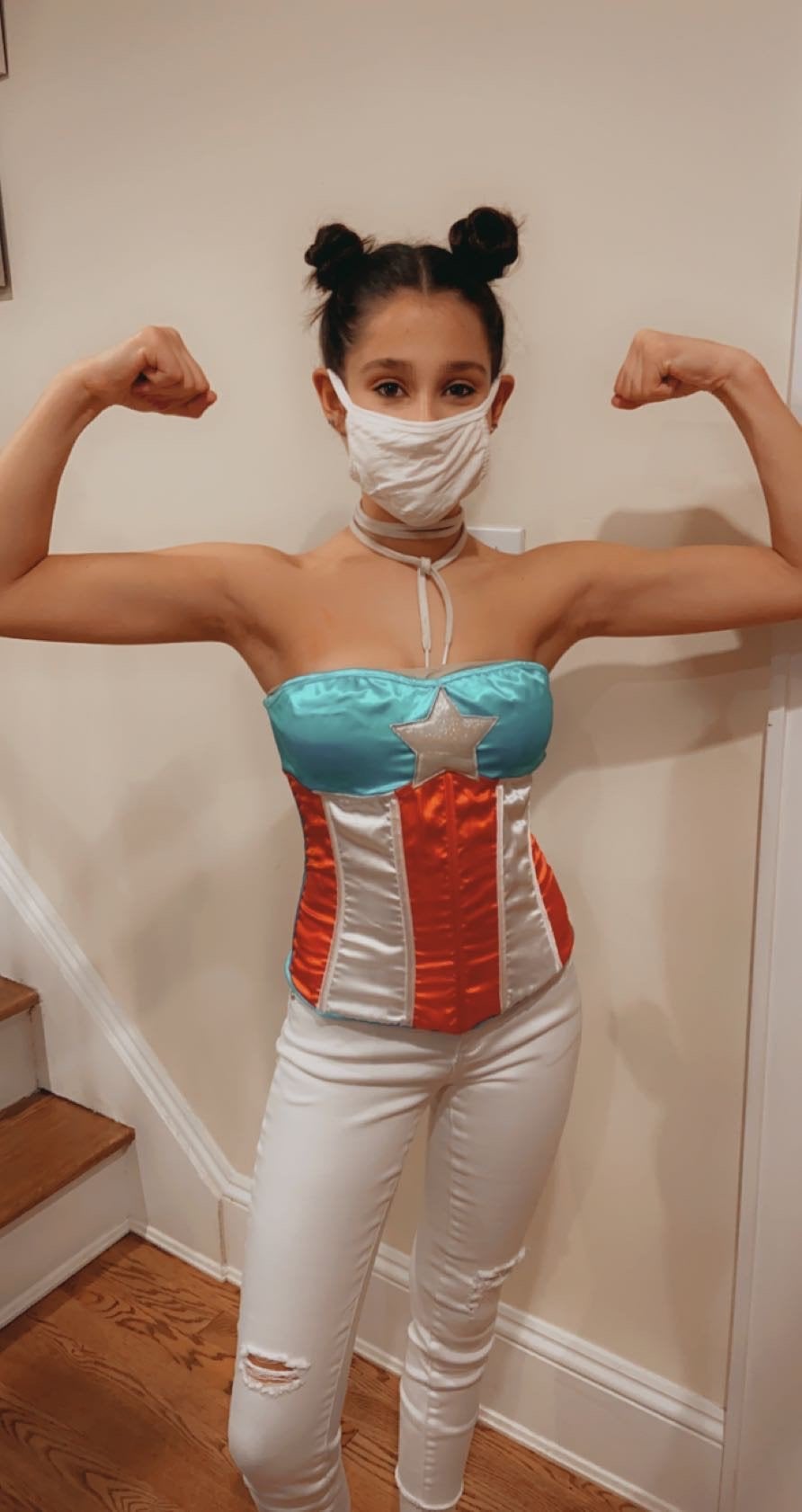 Modeled by: Mackenzie Brancaccio
4. Racing Flag Girl. Start your engines! Look like the hottest flag girl with an on-trend color coordinating mask, or go the extra mile with a checker-board print! To add to this look, pop on a zip-up crop top, lustrous leggings or a checkered skirt, and you're set to rock the track!  These items can be bought at your local TJ Maxx or Marshalls, unless you're in a DIY mood and want to sew the look yourself. Checkered accessories, red accents, a NASCAR jacket and flame sunglasses will make your look pop, all of which can be found at a Party City or Amazon. Complete your costume with leather, sneakers, booties or thigh-high boots. On your mark, get set, go hop on this look!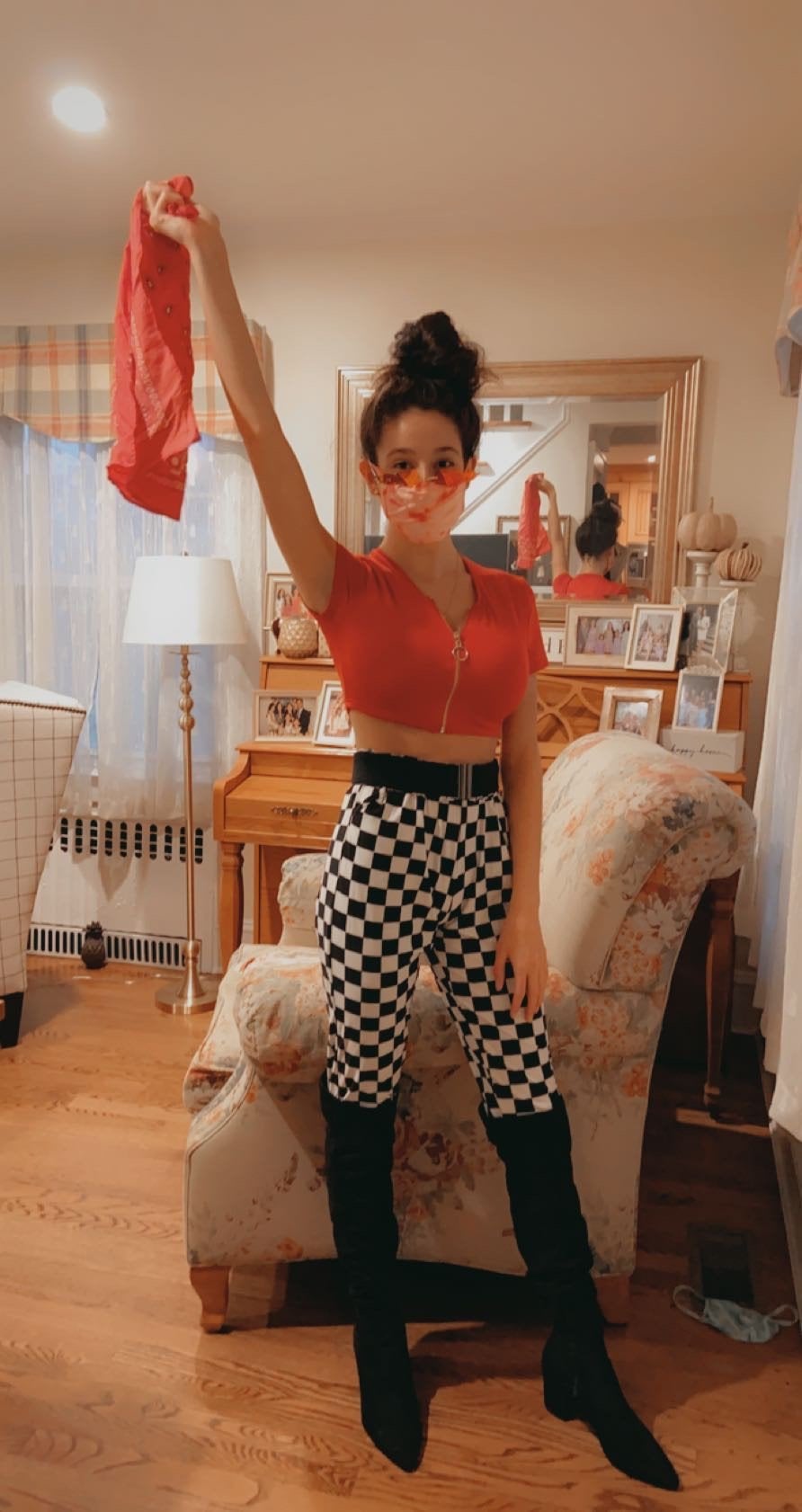 Modeled by: Sydney Brancaccio
5. Vampire. You'll drive your admirers batty with this soul-sucking costume! To look straight out of Vampire Diaries, pick up a bodycon dress in burgundy, deep red, or black, and style with a leather jacket. These key costume pieces can be found at TJ Maxx or your local boutique! Finish off the look with a blood-red mask, cute boots, and steampunk jewelry such as this long necklace and ball stud earrings, which can be purchased at stores in a local shopping mall. You'll look hungry for blood with red contacts, a smoky eye, and vampire bite makeup, which can be found at a Halloween shop or cosmetic store.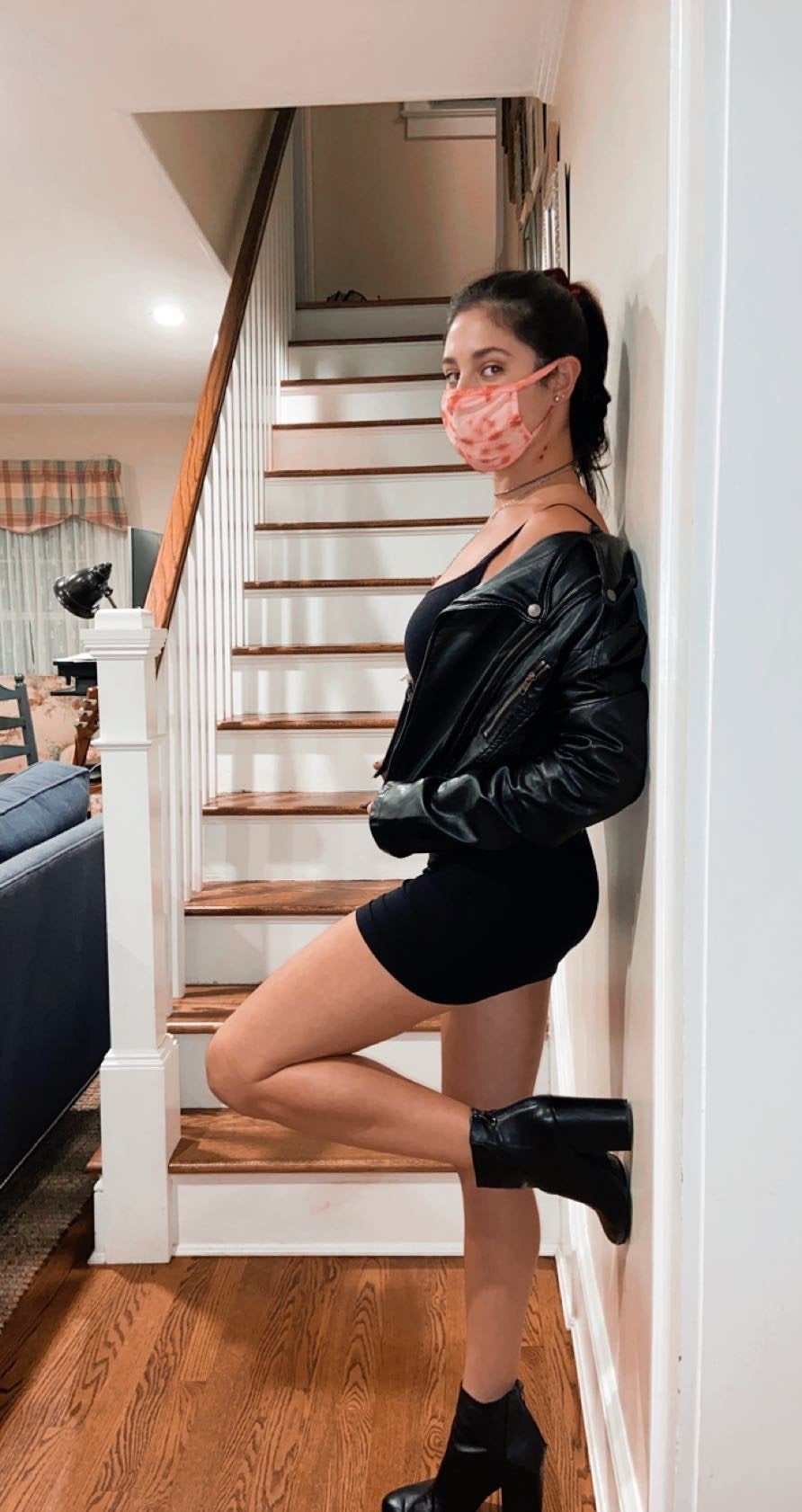 6. Robber. Keep your identity a secret & get away with the crime in this #MaskedUp look!  Take any black & white striped top and pair it with black jeans and white sneakers for the basic staples. Add a money bag (which could even double as a trick-or-treating bag) and a mask, or create these accessories yourself for a fun DIY craft! To create this look yourself, head to your local crafts store such as Michaels or JoAnn Fabrics. Or, purchase these items at a retail store such as American Eagle or Kohls!  You'll be sure to steal Halloween in this look.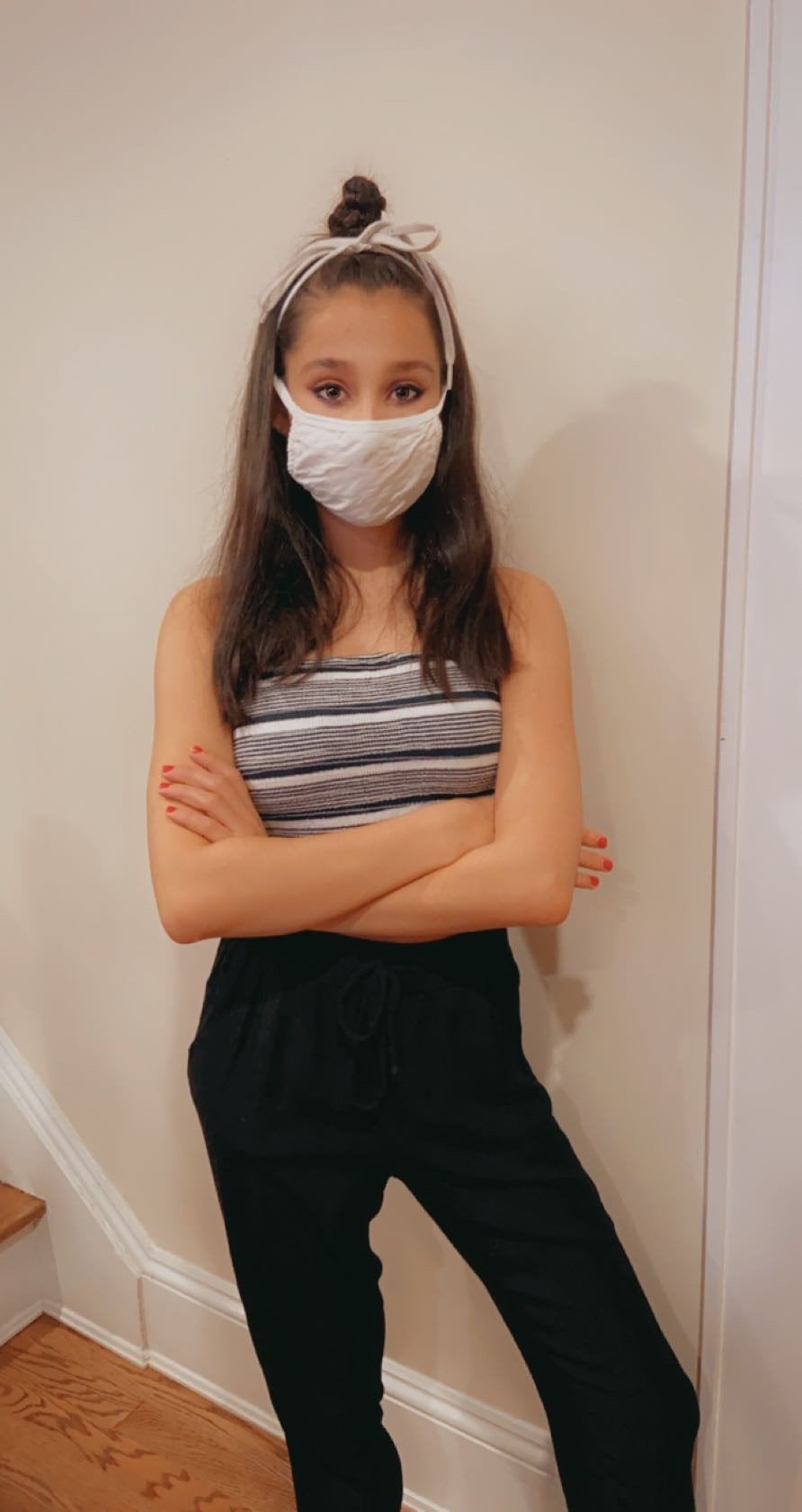 Modeled by: Mackenzie Brancaccio
7. Care Bear. Remind others that "Caring is What Counts" with a sweet & safe fit! Choose from characters such as "Funshine Bear", "Good Luck Bear", and "Wish Bear", as modeled above, to create a unique individual or group costume! To transform into your own Care Bear, create or purchase a color-coordinated top with your bear's special 'belly badge' from Amazon. Pair this top with a color-coordinating tulle skirt, leggings, and sneakers, which can be found at Party City or Target. If you'd like to add accessories, add in a bear ear headband or create space buns, and of course your mask!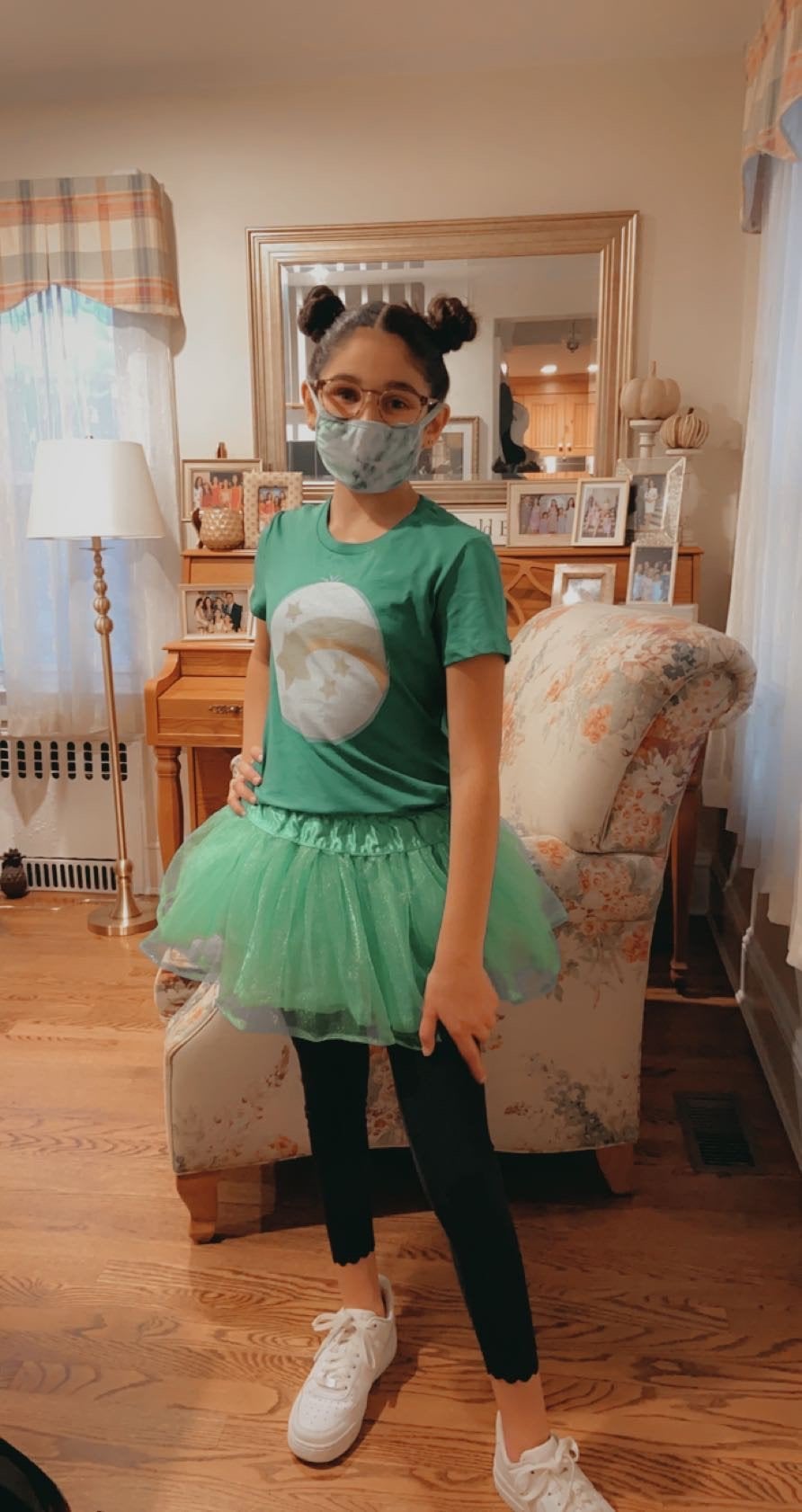 Modeled by: Gabrielle Brancaccio
8. Barbie Doll. Your Life in the Dreamhouse would not be complete without a hot pink mask to match! Steal the night in a hot pink look, or take a note from one of Barbie's many professions, and you could be a pop singer, princess or flight attendant! To copy this look, put on a bright pink dress or two-piece combo, which can be found at TJ Maxx (or for me, my closet).  Pair with a white jacket, heels or booties, and you're all set to rock the plastic life. But wait! What would Barbie be without her accessories?! Dress up the look with a statement necklace and diamond earrings, which can be found at any local jewelry store. Looking to add makeup? Bright blue eyeshadow is a must! And we can't forget about the winged eyeliner!  Find these products at your local CVS or Walgreens.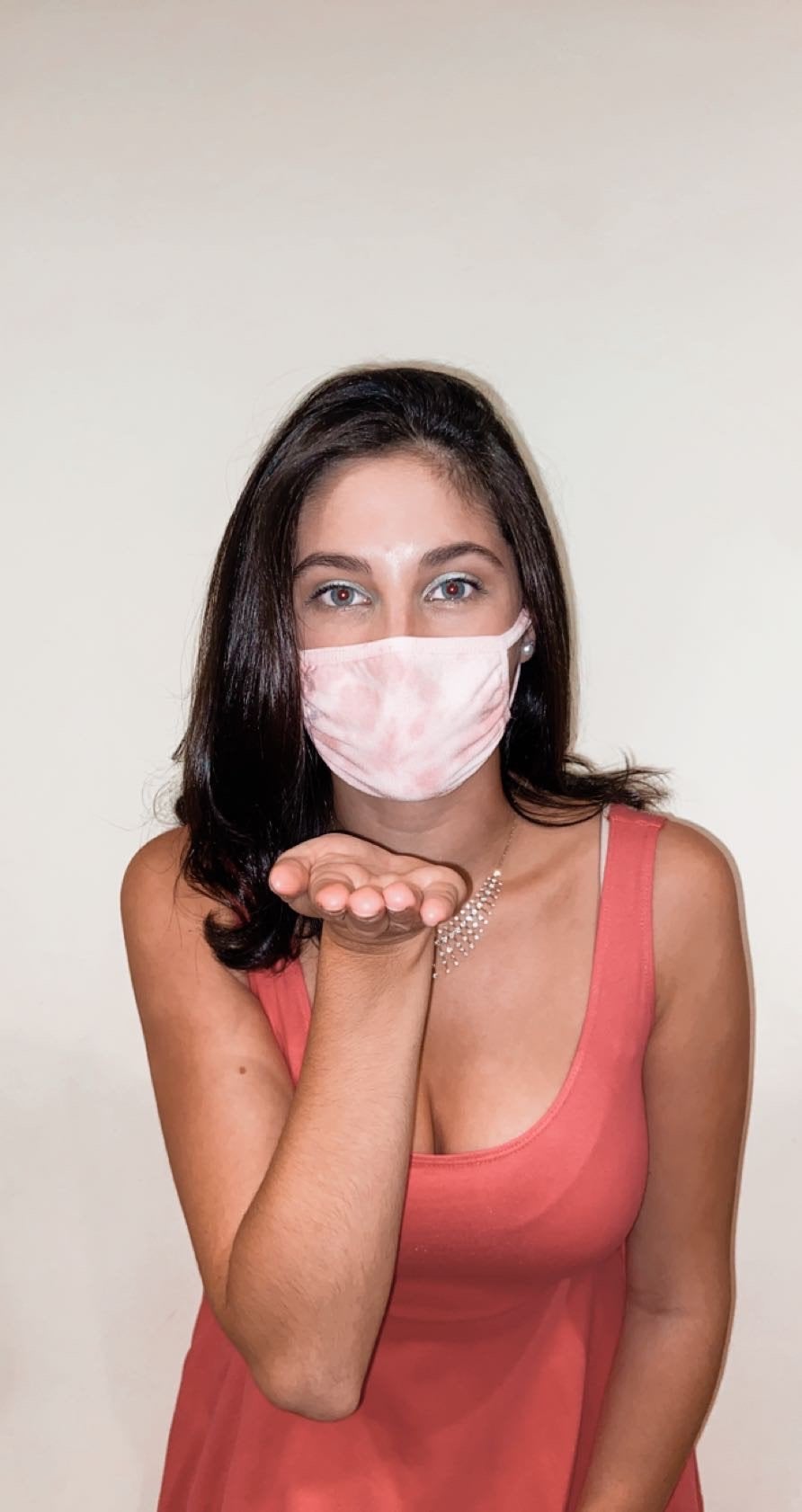 9. Bratz Doll. Watch out Barbie, there's a new doll in town! Not looking to be pretty in pink this Halloween? Look sassy in a fashionable two piece outfit, as modeled above. Start off the look with a 'Bratz' t-shirt and bodycon skirt in pink or purple, which can be found on Amazon, or create your own top with Avery Iron-On Transfer Sheets!  Bright eyeshadow from NYX or CVS, colored sunglasses from Kohls, and heels or booties from Steve Madden are the perfect way to round out this fit. Your bold look is all ready to hit the streets!
Modeled By: Mackenzie Brancaccio
10. Doctor/Nurse. Learn the art of the Meredith Grey eye flirt with this McDreamy doctor costume!  All you need is to nab a pair of scrubs from your local Walmart or medical apparel shop and you'll be ready for the OR! To perfect this look, slip on some sneakers, a scrub cap and medical mask and you're ready to go! Or, add some DIY to your costume by creating your own Grey + Sloan Memorial name tag and tie-dying a cotton mask!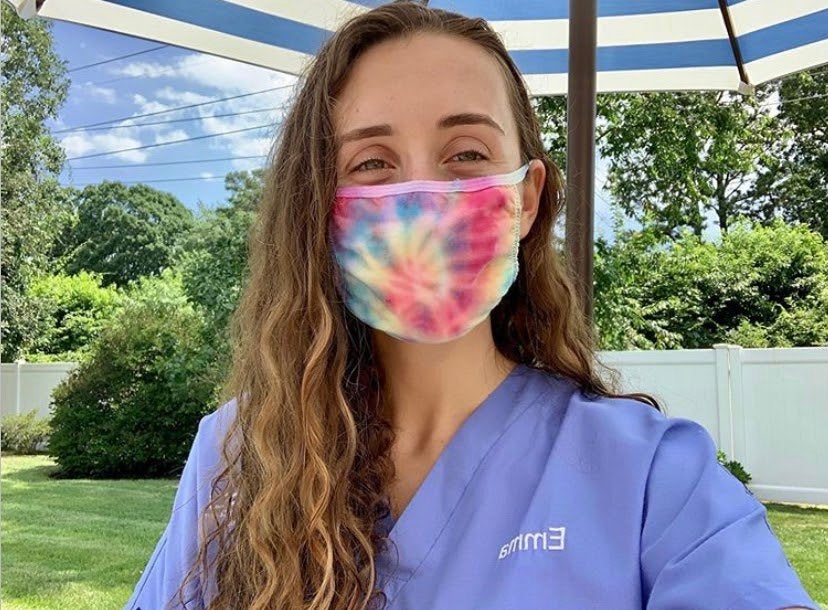 Modeled By: Emma Rigaud
Now it's your turn-break out the sewing machine and glue gun, or grab your jacket and head out the door to hunt for these styles! As the spookiest time of the year creeps to an end, good luck turning into these cursed characters with a safe twist. Have a haunted Halloween!