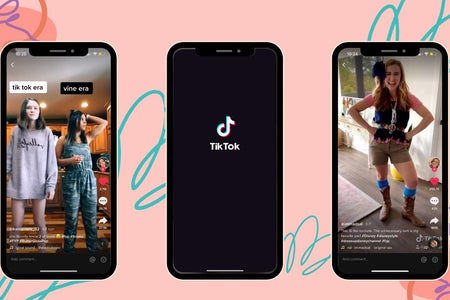 Interview with An Influencer: TikTok's Queen of Realistic Clothing Hauls, Remi Bader
Some of you may have seen Remi Bader in her recent interview with Vogue Magazine, or maybe you saw her on your TikTok "For You Page". She is a wildly growing content creator and is a signed model with Stetts Models. Remi is trending enormously in the social media landscape, having over 850,000 followers on the app TikTok, as well as her followings on other platforms like Instagram growing daily.
I recently had the pleasure of interviewing Remi and asking her some questions about her daily and professional life as a content creator:
Her Campus: Can you tell me a little bit about how you got started in your career and what inspired you to pursue it? 
Remi Bader: I always thought that I wanted to do Fashion PR growing up. I interned since 11th grade at multiple well known companies and when I graduated college, my first job was at Bravo TV on the PR team and as an executive assistant. I realized there that I didn't want to pursue a career in PR or TV, so I then started working at TIDAL, JAY'Z's music streaming service. I had a great experience there for a little over a year, but was let go due to COVID. After that, I was struggling to find a job and didn't really know what to do with myself and all of my free time. My dad gave me the idea to be a curve or plus size model and I thought I might as well try. I ended up hearing back of 1 of 10 agencies and signed with them pretty much right away. A month later things were still a bit slow for me because of COVID, so the curve modeling inspired me to start making TikToks related to my size 14/16 body. This then lead into the realistic hauls, which were really just made to be funny for my friends. Once they went viral, it all went up hill from there.
HC: Was social media always something you saw yourself doing? 
RB: I definitely never thought this would be what I would be doing. I saw my life planned out to be in fashion PR like and work my way up in that industry. I always felt like I had more to offer and wanted the world to see my personality, but really started giving up on it. It's still insane that this all happened out of nowhere.
HC: How would you describe your personal "brand"? 
RB: I describe my personal brand as realistic, honest, and authentic. I will always stay true to that and I think that is the main reason that people like my content and me as a person. 
HC: I and so many people alike love your TikTok and the content you create, why did you start posting and making videos on the app? 
RB: Like I said, the curve modeling and just seeing curvy fashion tiktokers on my FYP inspired me to create some celebrity style TikToks, but it never took off so I just did it for fun. One day when I got a big package in the mail and every single item of clothing didn't look at all like it did online, I was cracking up and sent videos to my friends. I ended up editing it and making it into a TikTok and people just loved the honesty and it started blowing up. Once I continued and realized how relatable it was to people, I just kept going with it. 
HC: You have over 900k followers on TikTok; that's a crazy amount of people watching your content daily. What was your reaction when you saw the internet's responses to your videos? 
RB: I was shocked. I still am to be honest. It's crazy how quickly my videos went viral and I have to remind myself every day it's really. I think the only reason is that I found my niche and did something no one really ever did before. It was new, but also real and people want to see more and more. 
HC: Some of your most popular videos on TikTok are your "Realistic Clothing Hauls". How did you come up with the idea? What made you think of that first one you ever posted?
RB: See above about the first package I got in the mail when I made my first video!
HC: When/was there an instance in which you knew you were making an impact on people with your work?
RB: After a few of the videos went viral, I started getting 10, 50, 1,000 and then 1,000s of messages about people privately messaging me their personal story and saying that I'm changing their lives. That was definitely when I realized how much I am impacting others. 
HC: There are often times when influencers talk about hate online. Do you think that social media has become a place of hate and negativity rather than positivity? 
RB: I think that there are definitely places for that on social media and it's hard to stay away from it. To be honest, my TikTok and IG community is a really positive one. We all boost each other up and want to help each other since we all struggle with the same thing. I don't have too many trolls and when I do I either just block them or respond sometimes when I feel necessary and then block them after the fact :) Trolls are trolls 
HC: What is your favorite thing you got to do for work within your content creation?
RB: Being on Access Hollywood was one of my most exciting interviews so far. Seeing myself on TV was really unbelievable. 
HC: What or with who would be your dream collaboration for either modeling, content creation, or both? 
RB: My dream collaboration would probably be with Good American or Skims or something with the Kardashians. I'm a huge fan of their brands and their family in general. 
HC: What keeps you motivated in both your work and daily life? 
RB: I think I've always been a naturally motivated person. I did tend to lose motivation in jobs or situations where I wasn't happy, but now I've found something that makes me happy and something I'm passionate about and it only keeps me moving more and more. I want to keep climbing up and am determined to do so. 
HC: What have you learned in the industry that you didn't know before? 
RB: I'm learning a lot about the influencer side of things, brand deals, negotiations, content creation, etc. Honestly I'm learning more than ever. There is something new every single day.   
HC: If there was one piece of advice you could give to either your past self or teens/young adults today, what would it be? 
RB: I would tell myself to not panic at such a young age about my career path and about where I will end up because not one thing that I planned has worked out the way I expected. Everything that has happened in my career happened for a reason to lead me where I am now, and all of those years of worrying truly was a waste of time.   
HC: It seems as though we've all been stuck in quarantine forever. What is your favorite show to binge watch, or something you do to pass the "covid" time? 
RB: LOVE ISLAND. I know it might sound silly, but it pulled me through quarantine. I am a big TV girl so I watch a million shows, but this one just makes me happy and I could watch it all day and night. 
HC: Thank you so much for taking the time to answer questions and talk with me. Lastly, I'd like to ask: Is there anything exciting coming in the future that you can't wait to share with your followers?
RB: I think there is going to be A LOT of exciting things coming in the near feature. I am not ready to share yet, but keep following me and stay tuned because there is so much more to come!  
Her Campus at University of Delaware thanks Remi for speaking with us and answering some of our questions!