When I first came to the University of Delaware as a nervous freshman, I, along with many others, was given a UD Bucket List of things to accomplish around campus during my four years as an undergraduate student. While getting sent home last March due to the pandemic halted some of these plans, there was one I was looking forward to the most: eating at our student-run, fine dining restaurant, Vita Nova.
Not only is Vita Nova a four-star restaurant, but what I love most about it is that it's run from front to back completely by UD students. A few weeks ago, my mom sent me an article about Vita Nova's fine dining takeout experience, and I was immediately convinced I had to experience everything this restaurant had to offer. Within a few minutes, I had not only ordered their lunch option for only 15 dollars, I had convinced my roommates to indulge and order as well.
I can say without a doubt that this meal was more than worth it! Below, you can see my meal in all of its beautiful glory.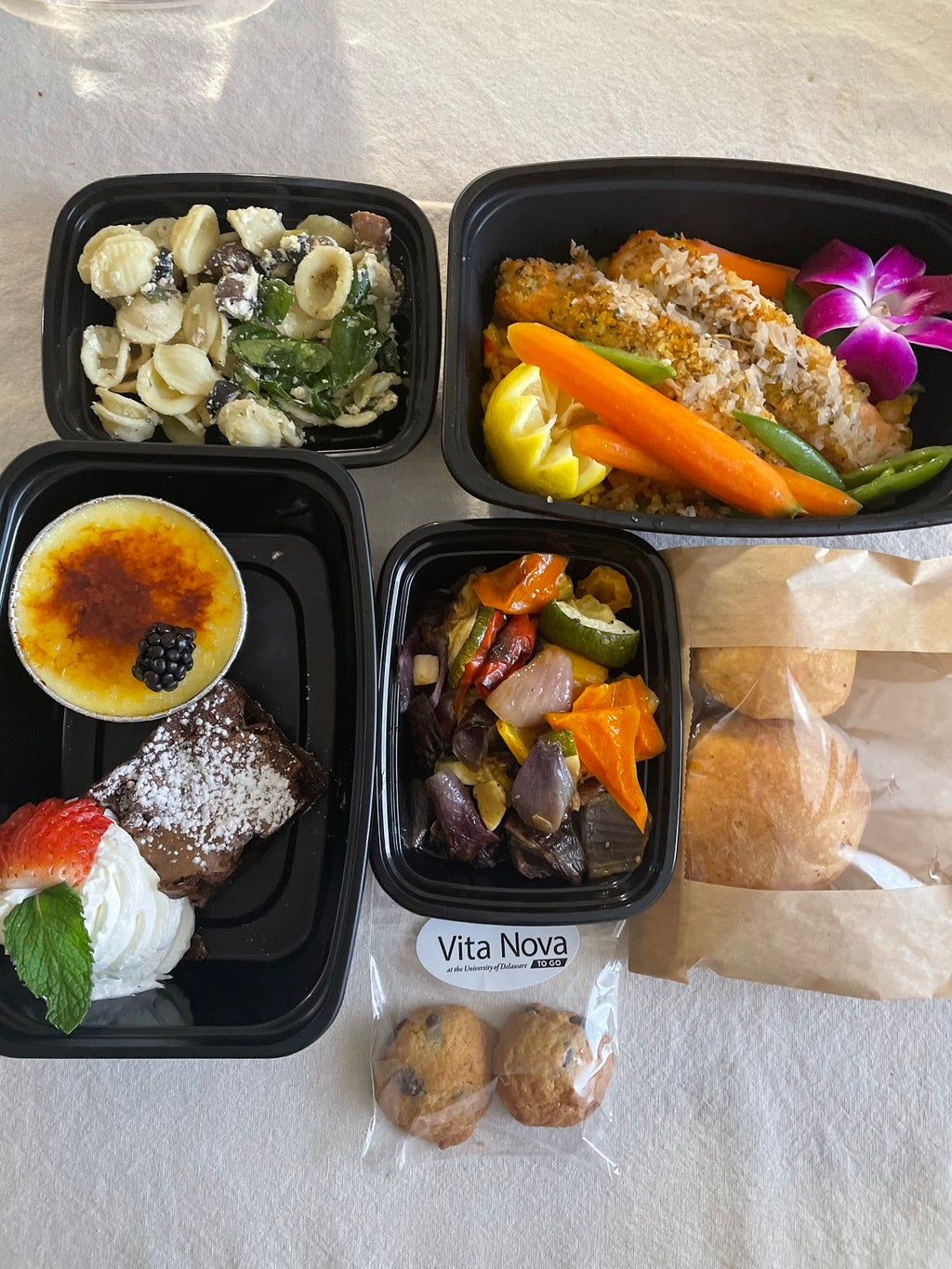 Entree: Panko-crusted salmon with citrus beurre blanc, rice pilaf, baby carrots and snap peas
Side (1): Roasted vegetable salad
Side (2): Greek pasta salad
Dessert (1): Crème Brûlée
Dessert (2): Vita Nova Brownies
Chocolate chip cookies
Bread rolls
How delicious is that? My mouth is watering just looking at this picture, but the staff gave us the full experience. Pulling up to the pickup location at Trabant Student Center, I waited a grand total of two minutes before uniformed and masked Vita Nova staff walked over to the car with our meals. They popped the trunk, placed our bags in the car, offered us cookies as a thank you for ordering with them and we were on our way! Arriving back at my apartment, I was eager to try this highly recommended meal and see if Vita Nova was really all people claimed it to be. This meal did not disappoint in any way – everything was cooked to perfection and was enough for two meals! I could not recommend this meal enough. This was a five-star fine dining experience from start to finish, not only in the way that we were treated by staff but the meal and presentation! I look forward to ordering from Vita Nova again and enjoying my meal on the Green in the springtime sunshine.