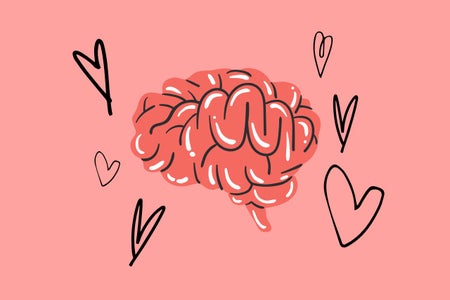 Original Illustration by Gina Escandon for Her Campus Media
What Does it Take to Become an Artist Today?
Armed with social media literacy, hard work and determination, artistic success can be conquered, according to Irish creatives Lola Donoghue and Aaron J. Hurley. 
In today's artistic landscape, nothing is guaranteed. Financial security can be precarious, working an extra job is common practice and an artistic breakthrough is often a presumed, romanticised guarantee of every artist's career. 
As of 2013, 83% of artists on the island earned less than €10,000 a year. This puts the majority of Irish artists living under the poverty threshold of €10,425, according to Visual Arts Ireland, an initiative that supports Irish artists.
Despite what we hear about the instability of an artistic career, Ireland boasts a repertoire of original talent that can defy any belief that making a successful artistic profession is a tale of the big screen. 
Such talent is in Galway based painter Lola Donoghue. Lola graduated at the top of her class with a first-class honours degree in Fine Art (painting) from Limerick School of Art and Design in 2002. Donoghue's talent is not easily ignored, as her ethereal style and cheerful quality boasts sales to famous names such as Sia and Marvel Studios.
Donoghue initially spent ten years as an art teacher before taking a career break. With no long term plan and no idea how she would get representation for her work, she began to sell her paintings on Etsy. The timeliness of this was just right, as a shift in the market meant artwork was beginning to garner sales online and artists could build their online presence. 
"I suddenly had people messaging me looking for paintings, so I painted during the day and spent my evenings researching successful artists online; what made them successful and what made their art sell," Donoghue said.
For Donoghue, the use of social media and online platforms to elevate her work kicked in shortly after. Her personal Instagram was converted into a business account to promote her paintings, document the progress, give behind the scenes snippets and show her finished works. This was followed shortly by her own website and online shop.
"In today's climate you need to be social media literate. Whatever platform you choose, you need to get on it and update it regularly. You have to self-promote, tell your story, create a buzz around your work, engage with people, build contacts and network with people," Donoghue remarked. 
Photographer Aaron J. Hurley confides in the same mantra as Donoghue when it comes to the power of an artist's online presence.
The reputable creative began his career at just sixteen-years-old by assisting various Dublin based photographers. This soon led to Hurley opening his own Dublin studio and building a clientele focused on editorial and commercial projects. His flair for fashion saw the young photographer shoot his first fashion week at seventeen-years-old.
"At the time it was unheard of, but I put my mind to it and made it happen. I either chatted my way backstage, or I  reached out to different contacts that could get me behind the scenes at the shows," Hurley said.
The nature of Hurley's work means his online presence is imperative to building a clientele and channelling different campaign and shoot opportunities. Now based in London, Hurley has worked with recognised labels such as Primark, Urban Decay, Michael Kors and Brown Thomas, while his editorial shoots include Xposé magazine, Irish Tatler and Irish Country Magazine.
Social media supplies a window to the world and by connecting with the right people "you can get anyone's attention," Hurley remarked. 
"The ability to connect with who you admire or want to work with is priceless. That is when social media becomes your shop window," Hurley added.
For Donoghue, the magnitude of her artistic work is something she never imagined. She has never relied on a gallery to showcase her work, despite selling her paintings to collectors in over forty countries. Her last four collections "sold out in minutes.'"
Hurley is equally humbled in his response to his successful career. The fashion world is forever changing and adapting new creative visions, so keeping an original, unique ethos is paramount, according to Hurley. The nature of this changing environment means there is no time to "sit back and wallow in your latest work," Hurley added. 
In the puzzle that is artistic success, ambition, determination and hard work are certainly core principles, yet social media might just be the missing piece in the profession.