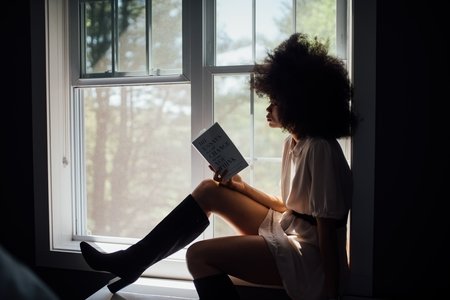 Book Lovers: What to Read This Year
During the busy college semester, reading is a great way to escape from the stress of assignments and deadlines. No matter where you are, if it's on the bus, in a café or at home, if you have a book in your hand or on your phone, you can go somewhere else for a while. As Stephen King once said, "Books are a uniquely portable magic." Here at Her Campus DCU, we've got some great recommendations for you.
Great reads you might have missed
The Perks of Being a Wallflower by Stephen Chbosky
This modern classic follows the shy and observant Charlie in his first year of high school as he realises that you can't always live your life from the side of the dancefloor. Each chapter in the novel is a letter addressed to an anonymous stranger, who Charlie trusts is a good person. The reader follows along as Charlie makes friends, tries new things and deals with his family life. It's an incredible story that lives up to the hype. Chbosky is an incredibly beautiful writer, and you'll likely recognise some of the more famous quotes from this novel already. It also has a great movie adaptation featuring Logan Lerman and Emma Watson.
The Hate You Give by Angie Thomas
Inspired by the Black Lives Matter movement, The Hate You Give follows a black teenage girl named Starr, who witnesses her childhood best friend Khalil being shot by a white police officer. Khalil was unarmed. This makes Starr question whether she should stay silent about that night, or use her voice to make a change. This book is incredibly impactful, and sadly very relevant to today's society. #OwnVoices stories, which are books about characters in marginalised communities by authors from those communities, should be an integral part of publishing and culture. Again, this novel has a film adaptation starring Amandla Stenberg that's worth a watch, after you've finished the book of course.
Hot off the presses
City of Girls by Elizabeth Gilbert
If you love New York city, theatre, historical fiction and romance, City of Girls is the book for you. The delinquent Evie is kicked out of boarding school and sent by her strict parents to live with her free spirited aunt in Manhattan. What a tragedy indeed. There she meets an incredible cast of characters, from showgirls to actors to writers. The story is narrated by 95 year old Evie as she looks back on that time in New York and how it changed her life. It's a very compelling read with beautiful writing.
She Said: Breaking the Sexual Harassment Story That Helped Ignite a Movement by Jodi Kantor and Megan Twohey
In this non-fiction, two journalists from the New York Times, Jodi Kantor and Megan Twohey, recount how they investigated allegations of sexual misconduct and harassment against Harvey Weinstein. It's a fascinating read for anyone with an interest in journalism, as Kantor and Twohey have included real emails and memos from their investigation. The reader follows along as Kantor and Twohey interview women, some of whom are celebrities, and men during their investigation. In an era where the integrity of journalism is called into power, She Said highlights the power of the profession.
Coming soon
My Dark Vanessa by Kate Elizabeth Russell
In 2000, 15 year old Vanessa Wye was in what she felt was a relationship with her 42 year old English teacher, Jacob Strane. Fast forward to 2017, and Strane is accused of sexual abuse by a former student. When that student approaches Vanessa, she is forced to re-examine her past. It hits the shelves in March 2019. Irish author Louise O'Neill said it's "the book everyone will be talking about," so it's worth giving it a read next month.
Chain of Gold by Cassandra Clare
Chain of Gold is the first novel in a new series of Cassandra Clare's Shadowhunter Chronicles. However, you don't need to read the other series to start this new one. Set in Edwardian London, it follows a new cast of Shadowhunters, or demon hunters, as they try to save the world yet again. If you enjoyed Clare's Infernal Devices trilogy, you'll love this as many of the characters are the children of those in that series. Clare is a fantastic writer, with the ability to create characters that will feel like old friends. Her books are funny, romantic, action-packed and very importantly diverse. Definitely pick up this novel when it comes out in March or one of her other books if you get the chance.
With so many books to choose from, we hope you'll find at least one you can get lost in this semester. Happy reading.