My Obsession with Organizing Thanks to Netflix's Get Organized with The Home Edit
Organizing has taken a whole new meaning thanks to Clea Shearer and Joanna Teplin from The Home Edit. These ladies take you inside the homes of the rich and famous and other typical households to show you how to organize your space from top to bottom. I thought I knew how to organize but all was completely out the window after I got sucked into their Netflix series. The pair originally started their organizing over social media. That later branched out into an amazing book as well as a great product line to inspire people to organize just like they do. Probably the most well-known organizing style that the Home Edit has created is the rainbow. They use it for every organizing project. It's smart, functional, orderly, and so beautiful to look at. 
These ladies teach you to edit down your space and how to have designated zones for your home. A simple system that they always use in every space they transform; edit, categorize and contain. Edit, purge some items that you do not use. Categorize, everything has a place. Contain, it can go in some sort of container. It is literally a foolproof system! Clea and Joanna give each of their clients and Instagram followers the tools to be smart, sustainable, and to make the space aesthetically pleasing to look at when it comes to the organizational factor. 
When watching the Netflix series, you will pick up on some easy space-saving tips to get you inspired to make these changes in your everyday spaces. Want to make the most of your closet? Adjust the shelving to create more space, and make your own custom labels on clear sticker paper to label the beautiful storage boxes you choose. Not sure how to store your boots? Stand them upright and use shapers to make sure they continuously look just as fabulous as when you need to throw them on. An easy one, match your hangers! It gives your closet a polished, put-together look. Finally, one of my favorite closet organizing tips, the donut scarf fold. I was surprised by the name because it really does not look like a donut, but it is so genius! Wrap your scarf around your hand then tuck the last bit inside creating a donut/bun shape. Add it into a cute storage bin and it is all contained and ready for the next use!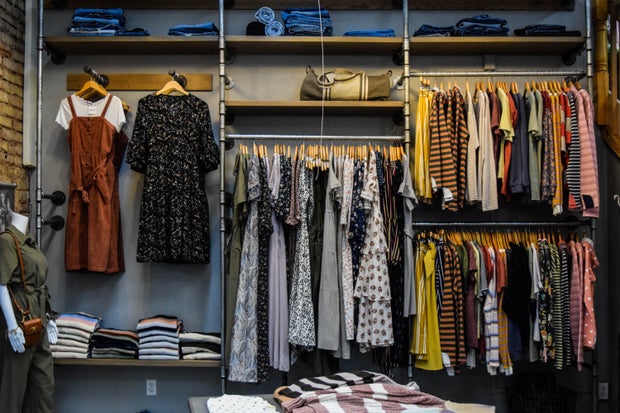 Photo by Burgess Milner on Unsplash
            My favorite space to watch The Home Edit organize is the pantry or fridge. Their pantry organizing skills are next level and make you feel like your pantry looks like a beautiful storefront. Items are carefully labeled with box information or pictures so that you know what everything is along with the nutritional value. They focus on that rainbow appeal to make your space look stunning.
            If you're looking for a new Netflix show to binge over the weekend, check out Get Organized with The Home Edit. These ladies are so much fun to watch and inspire me to want to have a clutter-free and beautiful looking space. Learn some of their other great tips about what you can do to your space!