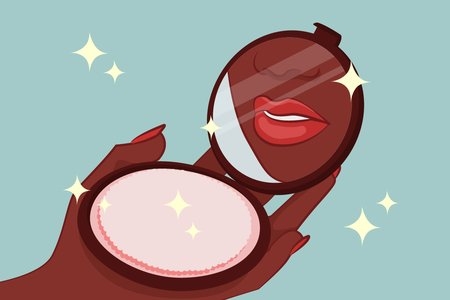 Adebusola Abujade / Her Campus Media
Is Blood Lust Worth Lusting Over?
The queen of makeup has done it again! Jeffree Star announced on February 11th his latest addition to Jeffree Star Cosmetics. Star uploaded a video to his YouTube Channel called Blood Lust Palette & Collection Review, and I was so excited to see what Blood Lust could be from the title alone. With this video being uploaded less than a month after his public break up with Nathan Schwandt, I was not expecting him to drop an entire collection. I was also hesitant since his last collection with Shane Dawson was so big and popular, I figured JSC would have a larger gap to let that media die down. However, being the boss lady that Jeffree is, of course, he would already have another stunning product ready for his fans. Watching the product review made me wonder, is this collection even worth it when compared to his other products? So, I figured you all must have the same question, and I'm going to help you decide if this purple lover's dream is perfect for you.   
Right at the beginning of the video, Jeffree states that this follow up collection to Conspiracy is part three in his line of "Blood" pallets. His other two being "Blood Sugar", his first pallet to be released on JSC being comprised of several red shadows, and "Blue Blood", his pallet consisting of several blue eyeshadow shades. Red and Blue make purple, so naturally, this pallet was destined to be purple. Historically, purple has been a regal or grand color dating back to the royal families. To fit the theme of this color, the whole collection is very royal with the signature logo being a crown. The first product to be introduced is the Blood Lust Artistry Pallet, consisting of 18 purple-toned shadows. This pallet is slightly different from the other Blood pallets with its shape being a hexagon rather than the traditional rectangle. The exterior is also different, with the whole pallet being wrapped in purple velvet material. Traditionally these Blood pallets are made from wood material while also having two large clamps to open the pallet, this one, however, has one jewelry clasp, a design style that we have never seen with JSC. I have to say, the packaging alone is enough for me to consider buying the pallet since it is so unique, this pallet seems like more of a collector's item than an actual product.   
I'm not going to lie, purple is not one of my go-to colors in an eyeshadow pallet. Purple is hard to pair with other colors, and you must be very intentional with its placement. You may feel differently about this, and that's okay! If you love purple eyeshadow, I admire you, but I'm more of your "everyday glam" kind of gal. So, I don't think the $54 price tag is worth it for me, I already have a couple of purple shades from JSC in the Conspiracy Pallets and the Jaw Breaker ones. JSC is not new to purple shades, and unless you are a dye hard fan or purple, you could probably save some money and get a smaller, more colorful pallet from JSC.   
Some of the other products within the collection are new shades for "The Gloss" consisting of five unique purple tones. I enjoy these products the most out of the collection. I think you get a good amount of product for the $18 price tag, along with some adorable and not too pigmented shades. However, the new shade for extreme liquid frost is ridiculous. Let me start by saying, the price tag is $50 for a pan of highlight. Now although the shade is beautiful, I would never pay $50 for one product that has limited use and isn't very different from what's on the market. And to be clear, I am a huge JSC fan, but I believe the pricing is too much here, and if the price were to be lowered by $20 I would totally buy it. But unfortunately, I'm on a college student budget and don't have $50 to spend on one product. I understand that the whole Extreme Frost line is retailed at $50, but I think specifically for this collection alone, you should save your money girl and get a Liquid Frost.   
​
The final makeup product in this collection is a mini liquid velour lipstick bundle, retailing at $52. I don't see this as a bad price for 8 mini lipsticks that last for quite some time. However, I was a little disappointed that most of the shades are not new to JSC, I was just hoping for something new in the lipstick department, but I'm sure Jeffree was just pressed for time after the Conspiracy launch. This collection did come with a lot of new merchandise such as grinders, jackets, hats, mirrors, and straws. If I'm being completely honest, I may just get a mirror, again I'm not a purple makeup gal, but I do think that these new JSC merch products are super cute. Most of the products are around $30-$40 and you do get a good product for that price.   
So, there you go, that is the new Blood Lust Collection from Jeffree Star Cosmetics, scheduled to be released on February 21st at 10 am. Although I'm not the biggest fan of this collection, I still believe that Jeffree did a great job with packaging and theme development with this part of the three-part pallet collection. I'm so excited to see what JSC has in store for this year, in the video Jeffree gives some hints, and I recommend that you watch the video to find out since I don't want to spoil any surprises for others. What do you think about this purple collection, and would you use it? Let us know on our HC social media!