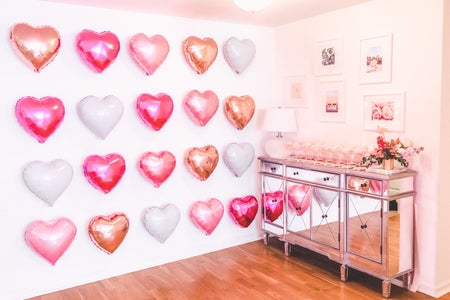 How to Throw a Galentine's Day like Leslie Knope
It's time to pull out your most powerful blazer and channel your inner Leslie Knope because the best day of the year is here...Galentine's Day!
Coined by the ultimate boss babe, Leslie Knope, Galentine's Day is the perfect way avoid mediocre Tinder matches who will toss a Dollar Tree box of conversation hearts your way (does anyone actually eat those?). 
Here's how you can give your besties the best Galentine's Day ever, Leslie Knope style. 
Giphy
We're channeling Leslie Knope this February 13th, which means that no detail will be spared. It's time to shoot for the extreme side of extra. This means that you should try to make some real invites! Start by putting together a list of your most supportive girlfriends.

Once your list is made, you have a few options. Mail invites are one of them, but let's be real, your girls probably never check their mail if they live on campus. Instead, try making an Evite! This site allows you to make custom, adorable and FREE invites to send out to all your friends. You can even add the option to RSVP so you know how much heart-shaped food to purchase. 

If you don't want to stray from Snapchat, make a cute event announcement with stickers then send it out in the GC!

And if you're REALLY feeling like going the extra mile, include an itinerary. You know Leslie would. Your friends will either hate you for it or respect your grind. 

Personally, I have received both reactions.

Planning a nice dinner will give you and your friends the opportunity to dress up in your cutest pink outfits (and take pics, of course). Here are a few restaurants with good food and a nice atmosphere that won't break the bank: 

-Modern Market (I ate here for my Galentine's day and it was perfect! Lots of choices and options for those with dietary restrictions)

-Olive Garden

-The Corner on the Hill (Boulder specific)

-Illegal Pete's 

-Pasta Jay's on Pearl (Boulder specific)

And if you really ARE like Leslie, check out an IHop or Cracker Barrel for some waffles!

If restaurants aren't your style or your girls are trying to save money, have everyone pitch for groceries and cook a nice meal at home.

No one gives better presents than your closest friends. Add some spice to the night by playing a gift-giving game like White Elephant. If you haven't heard of White Elephant, it's super easy to play and adds some fun competition to the night. Of course, if you ARE channeling Leslie Knope, be careful to not let the competition get out of control ;)

Here's how it works:

1. Everyone comes prepared with a gift (with a spending limit of course). Some of the gifts can be cute like mugs, fuzzy socks, or chocolate. Your goofier friends might buy a "joke gift." For example, I bought a CSU Rams t-shirt for my last White Elephant gift (everyone who played was a Buff of course, so this present made things VERY interesting. 

2. Have everyone put their gifts in the middle of the room, then randomly draw numbers out of a bowl, hat, etc. The number you receive determines who picks their gift first.

3. Number one will begin by picking and unwrapping any gift from the pile. Number two then has the option to steal number one's gift, or pick a new gift of their own.

4. This goes on until the last person gets a gift. The catch, however, is that a gift can only be stolen twice. After that, it is LOCKED DOWN!

This game is a super fun way to bond with and challenge your girlfriends, and most of you will come out of it with a great present!

The rest of your Galentine's night should be unstructured and open to whatever! If you feel like keeping with the romantic theme, cuddle up with some blankets and turn on your favorite rom-coms. Here are a few of the top rom-coms, according to Rotten Tomatoes:

-Love Actually

-10 Things I Hate About You

-The Wedding Singer

-Hitch

-Isn't It Romantic

-Sleepless in Seattle

-Wedding Crashers (this isn't as romantic, but it is funny AF)

Don't forget to pop all the popcorn and eat all the Oreos you can, because as we all know, Galentine's calories NEVER COUNT!