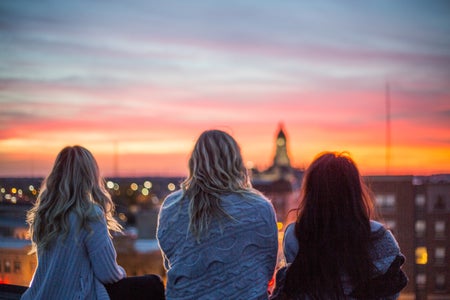 The End of an Era: "Keeping Up With the Kardashians" Cancelled After 14 Years
Most modern Americans, like yourself, are at least somewhat familiar with the Kardashian family. Their fame, wealth, and influence in present-day popular culture. But where did all their affluence come from? Many could argue their hit reality TV show "Keeping Up with the Kardashians" is what spurred the extreme fame and attention onto this unique and dramatic family. After 14 years since it first aired on E! network, the era of "Keeping Up with the Kardashians" is finally coming to a close.
I have personally watched and reviewed countless hours of "Keeping Up with the Kardashians" over the last 14 years, I follow most of the Kardashian clan on social media, and I consider myself to be an expert in all things Kim, Kris, Kourtney, Khloe, Kendall, and Kylie.
The Kardashians have taught us many life lessons these past 14 years mainly due to "Keeping Up with the Kardashians". I would personally like to commemorate the most iconic moments captured of the Kardashian clan over the past 14 years and highlight some positive takeaways that "Keeping Up with the Kardashians" have shown us over the years. 
1.

"Kim, There's People That Are Dying."

In season six episode 12, the Kardashians take a family trip to Bora Bora and then-boyfriend Chris Humphries throws Kim into the ocean, causing Kim to land on her side and lose a $75,000 earring. In the midst of her panic attack and hysteria, older sister Kourtney comes out of her hotel room and yells, "Kim, there's people that are dying," to Kim. Even though Kim continued down her path of anxiety-ridden sobs and drama, Kourtney was able to look past the situation and lead a good example for all of her younger sisters. There's more to life than losing an earring and there are a lot of people in the world who have it a lot worse than Kim Kardashian.

2.

"ABCDEFG, I have to Go."

In an episode that aired in 2015, Kourtney is arguing with baby daddy Scott Disick about whether or not she should take their son to get a haircut. As the argument progresses, Kourtney shuts it down by saying "ABCDEFG, I have to go." After Scott asks what the heck that even means she responds by saying "It's just a phrase I like to say. It means this conversation is over." This interaction went on to become a very famous meme and millions of people used the audio to make Tik Toks with it. Kourtney taught the world to not waste your time arguing with people about insignificant issues, just get up and move on. There's no use fighting about it.

3.

"Don't Be F***ing Rude!!"

In the beginning stages of the show when the Kardashian fam was gaining their first sense of reality stardom, Kim had finally saved enough money to purchase her very first luxury vehicle, a Bentley. While Kim was waiting for the final details of her hard-earned car to finish up, sisters Khloe and Kourtney decided to show their jealousy by ditching Kim at the car shop, leaving Kim basically stranded. When Kim finally catches up to her sisters, she bursts through their apartment frantically swinging her purse to hit Khloe and then going on to punch her rather aggressively in the arm all the while shouting, "don't be f***ing rude!" and "I'll f***ing hurt you, don't do that." This was one of the very first discoveries of Kim's overdramatic personality and has gone on to become one of the most iconic KUWTK moments.

4.

"You're Doing Amazing, Sweetie."

In the first season of KUWTK, Kim gets the opportunity to model for Playboy magazine. Even though she is on the fence about posing nude for the magazine, momager Kris Jenner interjects by motivating Kim to shoot for the magazine, regardless of the nudity. She boosts Kim's confidence and eventually convinces her to go along with the photoshoot. Was Kris really trying to hype up Kim's confidence or was she just wanting that 10% cut from Kim's Playboy involvement? Regardless of the internal motivations, Kris ended up going to the shoot with Kim and repeatedly said "you're doing amazing, sweetie," as Kim posed fully naked with a couple strands of pearls over her body. Would your mom do this for you? There's no one quite like Kris Jenner.
The Kardashians' entire lives have been broadcasted for the entire world to see and we can collectively learn a lot about life by watching someone else's. The Kardashians have taught the world through humor, drama, and love to focus on the people and things that matter, value your family above all else, and never accept anything less than what you deserve. Even though their personal lives have been made very public through their hit reality TV show that is now coming to an end, this family has been able to reach an immeasurable amount of people. They have taught all viewers of the show many positive life lessons and shared hundreds of family memories with the world.