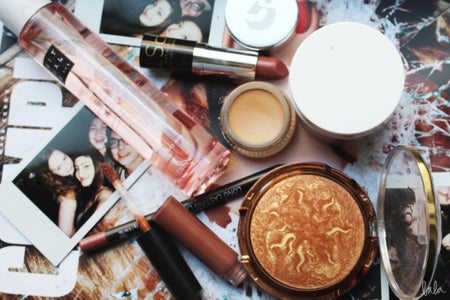 Alanna Martine Kilkeary / Her Campus
Beauty Must-Haves this Fall Season
With the turn of the season comes many wonderful things. The yellow trees and falling leaves, pumpkin spice lattes, and sweater weather. One of these things are some great beauty products you have to get your hands on! Below is a giant list of goodies, both old and new, that will make your fall even better. You're sure to find something that works for you!
Favorites from this list:
Too Faced Pumpkin Spice Eyeshadow Palette
The Ordinary Coverage Foundation
1.

e.l.f Poreless Putty Primer, $8.00

This primer has become all the rave due to the insane pay off for very little pay. It guarantees the reduction of pore appearance, a smooth look, and the promise that your makeup will stay intact all day. What more can you want?

2.

Tula Brighten Up Smoothing Primer Gel, $34.00

I think we can all agree that the cold weather brings drier, duller skin. This primer ensures your skin looks bright and hydrated so your makeup can go on nice and smooth!

3.

Too Faced Hangover Replenishing Face Primer, $35.00

There are a few products that will never leave the "must-haves" list. This primer will always be one. It quenches and replenishes your face, leaving it ready for makeup that will look wonderful for hours to come.

4.

The Ordinary Coverage Foundation, $6.90

My skin and I have not been on the best of terms lately. Every time I put on foundation, I'd receive a few new, red friends. This foundation has completely changed the game for me and seems to be getting along with my skin. It is full coverage yet very light and that price cannot be beaten!

5.

L'Oréal Infallible Fresh Wear 24 HR Foundation, $14.99

This foundation has taken the makeup industry by storm because it applies smoothly and offers great coverage while still providing a luminous glow. Check it out today!

6.

Morphe Morphe 2 Hint Hint Skin Tint, $17.00

Something we call agree on is that Tik Tok has revolutionized all of our lives. Charli and Dixie D'Amelio (who?) have collabed with Morphe and this skin tint is the amazing result of that! It is lightweight, has buildable coverage, and feels beyond comfortable on the skin.

7.

bareMinerals Complexion Rescue Tinted Hydrating Gel Cream SPF 30, $33.00

As we say bye to beaches and tans, many of us also say hello to heavier makeup. However, not everyone enjoys a full coverage foundation. This tinted moisturizer is perfect if you're looking for lightweight coverage, and it also helps your skin stay hydrated as you wear it.

8.

Anastasia Beverly Hills Luminous Foundation, $38.00

This foundation > anything else. It is full coverage yet leaves your skin looking dewy and healthy. All other products sit beautifully on it, and it will look intact even after a long day of Zoom.

9.

CoverGirl TruBlend Undercover Concealer, $8.39

This concealer has become quite popular lately and I'm not mad. It brightens up the under eyes, hides blemishes, and is budget-friendly.

 

10.

Tarte Shape Tape Concealer, $27.00

I'm sure by now you've seen this concealer mentioned 1,000 times. I'll gladly make it 1,001 because it is that good. A classic.

11.

Maybelline Fit Me Loose Finishing Powder, $6.79

This powder locks in makeup for hours brightens the face, and smooths all lines and wrinkles. Are you sold yet?

To me, there is nothing more fun than trying out some new makeup. This powder, however, will stay a staple in my makeup bag for the rest of my life.

13.

Physicians Formula Butter Bronzer, $15.99

14.

ColourPop Super Shock Blush in 2 Cool 4 School, $8.00

This blush shade is perfect for fall. It is a beautiful peach color that will have you matching with the trees.

15.

Morphe Morphe 2 Wonder Tint Cheek and Lip Mousse, $12.00

16.

Ofra Cosmetics Rodeo Drive Highlighter, $35.00

This will always be my favorite highlighter. It is bright, it is bold, and it is blendable. I've also never met someone it didn't work for so you're sure to love it too.

17.

Morphe Continuous Setting Mist, $16.00

You need a setting spray to set all of this makeup with! Even if it cannot ensure your bank account doesn't move, it will make sure to keep your makeup in place all day.

18.

L'Oreal Voluminous Lash Paradise Mascara, $10.99

This mascara will make your eyelashes look long, voluminous, and keep the curl all day. It is perfect and affordable.

19.

L'Oreal Brilliant Eyes Liquid Eye Shadow in Bronze Light, $11.99

This liquid shadow is the perfect pop for your fall looks! The shade Bronze Light is especially perfect for this time of year.

20.

Morphe Warm Neutral Palette 9D Painted Desert Artistry Palette, $12.00

These eyeshadow colors are perfect for the cooler weather. It has the perfect amount of mattes and shimmers, all of which scream fall.

 

21.

ColourPop Sweet Talk Eyeshadow, $18.00

As saddened as I am that I was not timely enough to get my hands on ColorPop's Hocus Pocus palette, I strongly believe this is their next best thing. These eyeshadow colors range from peach to a burnt red, and it slightly reminds me of apple cider.

22.

Makeup Revolution Nightmare Before Christmas Eyeshadow Palettes, $22.00

Can we please talk about how cute these Sally and Jack palettes are? The Nightmare Before Christmas is such a spooky season classic and you can now have it on your eyes.

23.

Benefit Cosmetics 24 HR Brow Setter Gel, $24.00

24.

Too Faced Better Than Sex Waterproof Mascara, $26.00

This mascara is a classic. It will make my list of products I can't live without for as long as I have eyelashes.

25.

Too Faced Pumpkin Spice Eyeshadow Palette, $49.00

Pumpkin Spice Lattes cause such controversy every October. I personally am a HUGE fan. Even if you aren't, I'm sure this palette is the one thing pumpkin spice we can agree on no matter where you stand on that *very important* debate.

 

26.

ColourPop Lippie Stix in Goldie, $7.00

Nothing speaks fall to me like a rich, dark red lipstick. This lippie is creamy and comfortable but packed with color that is sure to last all day long!

27.

L'Oreal Infallible Pro-Matte Liquid Lipstick in Cowboy, $10.99

Yes. Fall is a perfect time for some deeper tones. However, that isn't everyone's vibe and that's okay! This color is a subtle, warm-toned nude that is sure to become your new best friend.

28.

Lano Coconutter 101 Ointment Multi-Balm Lip and Skin Treatment, $13.50

Fall is definitely the time to sport some fun lip colors, but it is also the time where your skin begins to crack and become dry. Allow your lip to combat this by picking up this moisturizing lip balm! It is without a doubt the best I've ever tried.

29.

Tarte Sugar Rush Sugar Coat Velvet Liquid Lipstick in Sprinkle, $15.00

This deep berry color is perfect for fall. Not only does this formula smell beyond sweet, but it is also sure to stay all day. Not eating it might be a bit hard! 

 

30.

Buxom Full-On Plumping Lip Cream: Fall Collection, $21.00

Shades: Autumn, Hazel, PSL, Spiked Apple Cider

I'm not going to lie. I think my obsession with these glosses might be a bit crazy. They smell like my favorite fall goodies, they plump and the colors are to die for!

31.

Ofra Cosmetics Me Myself and I Lip Set, $50.00

This three-color set comes with all of the lippies you need to sport some fun colors this fall! The colors range from a deep pink to a purple berry, and all are perfectly paired with a PSL.

32.

The Ordinary Hyaluronic Acid 2% + B5, $6.80

This serum will leave your face looking radiant and smooth. It will truly be your skin's best friend this fall.

33.

Cerave AM Facial Moisturizing Lotion SPF 30, $10.99

34.

CeraVe Hydrating Facial Cleanser, $13.49

Taking care of your skin is crucial, and this is the time of year where we tend to forget to. Pick up this cleanser to ensure your skin looks radiant year-round.

 

35.

Tula So Pumpkin Exfoliating Sugar Scrub, $34.00

This festive smelling scrub is packed with potent goodies to make your skin as smooth as a baby's bottom!

36.

Supergoop Unseen Sunscreen, $34.00

SPF is not just a summer fling. It is crucial for the health of your skin to pop it on every day and this is a cult favorite.

37.

Tree Hut Shea Sugar Scrub, $8.99

During this time, your body needs as much love as your face. Be sure to treat yourself to some self-care with this luscious body scrub. It comes in many scents, but my fall favorite is Tahitian Vanilla Bean.

38.

The Body Shop Vanilla Pumpkin Shower Gel, $10.00

This to me is fall in a bottle! It smells beyond yummy and leaves your skin feeling smooth, clean, and refreshed.

39.

The Body Shop Vanilla Pumpkin Body Butter, $21.00

Though the shower gel is great on its own, the combination of it with this hydrating body butter will have your skin thanking you.

40.

Lano Rose Intense Hand Cream, $14.95

The amount of times we pop on hand sanitizer and wash our hands has increased exponentially. Be sure to offer them some hydration with this delicious hand cream.

41.

Essie Nail Polish, $9.00

I love having my nails done. The variety, longevity, and pigment Essie offers will always put it first in my book. Be sure to check out the Fall 2020 collection and the shades Kaf-Tan, Check in to Check Out, Yes I Canyon, Rocky Rose, bad Rock and Roll, In stitches, and Swing of Things if you're looking for a pop of fall color.

42.

Dashing Diva Ultra Shine Gel Strips, $7.99

Not everyone can be bothered to sit down and apply nail polish, wait for it to dry, all for it to be smudged three minutes later. These are a GREAT alternative with tons of cute designs.

43.

Touchland Power Mist Hand Sanitizer, $12.00

Hand sanitizer is a must-have this fall season. This specific one makes it fun and something to look forward to!

44.

Old Navy Variety Face Masks, (pack of three) $12.50

I know lately my favorite thing has been some cute face masks. Old Navy has hundreds of patterns, many of which are perfect for some cute fall outfits.

45.

Kitsch Blush Cotton Face Mask, (pack of three) $12.99

If those don't speak to you, be sure to check the Kitsch masks out. They have wonderful reviews and offer comfort and breathability without sacrificing fashion.

46.

Velvet and Satin Holiday Scrunchies, $10.00

Scrunchies are super trendy right now. This pack is perfect for the fall season, and they are super comfy!  

47.

Batiste Waterless Cleansing Foam, $9.99

Move over dry shampoo! This waterless cleansing foam is taking over! Fall means less washing your hair, and this is a wonderful solution to tame those oils.

48.

Biolage Advanced Oil Renew Shampoo and Conditioner, $22.00

Our skin is not the only thing to become dry due to the colder weather. Our locks suffer too, but this shampoo and conditioner combo will have your hair smoother than ever before.

49.

Pattern Argan Oil Hair Serum, $25.00

This serum is a miracle worker! Kiss split ends and dry, dull hair goodbye with this magic little bottle.

50.

Revlon One-Step Volumizer Hair Dryer, $59.99

I don't know about you, but I hate leaving the house with wet hair on colder mornings because it gets icy and weird. I also hate blow drying my hair. Well, this is where this brush enters the picture. It is a blow dryer combined with a brush, and it has truly made my mornings so much better.
Let us know what your favorite fall beauty products are!