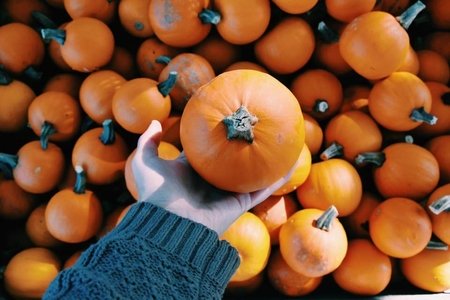 Anna Thetard / Her Campus
6 Cute & Affordable Fall Date Ideas that Will Have You FALL-ing in Love
There's just something about that cool, crisp autumn air that makes dating extra-special around this time of the year⁠—from the endless layers of sweaters, pumpkin-scented everything, the smell of spice in the air and cinnamon-red leaves. The number of places you can go to and the activities you can do with your significant other are endless during this season. And with the temperatures cooling down, it gives you the perfect excuse to curl up under some blankets with your partner. 
If it were up to me, I'd forever stay in a place where fall existed year-round. Unfortunately, with the season lasting only a couple of months, it's a must-have to take in every second of this season while it lasts.
Here are six cute & affordable date ideas to (pumpkin) spice up your fall season!
1.

Build a fort and have a scary movie marathon inside

Who says you have to be 10 years old to build a fort?! This is the perfect way, not only to embrace your inner child, but to give you an excuse to stay in and be lazy. There's really no age limit when it comes to building a fort, and anyone who says otherwise is honestly just missing out on all the fun. And if scary movies aren't your thing (same, girl), whip out some of those classic Disney Channel Halloween movies.

2.

Take a scenic drive + picnic to see the fall leaves

It's not fall until you take some time to enjoy all of the vibrant leaf colors! These colors can fade a lot quicker than you think, so it's best to take advantage of these sights while you can. This date can easily be turned into a day trip, which I highly recommend you do in order to fully admire all the beautiful bursts of red and orange colors. Having a picnic during the drive is a must-have as well, because you'll be able to have a stunning view during your meal.

While some of the country's best apple orchards are located in the Northeast region, there are still a handful of local farms throughout the states that give their visitors the option to go apple picking! One of the best places in Colorado is Ya Ya Farm & Orchard, which is located in Longmont. Depending on what orchard you choose, some farms host a ton of fall events during the season like festivals or contests, so it's wise to look into all the events they are hosting before you go!

4.

Make some baked goodies 

There's a countless number of things you can bake when it comes to this time of the year—pumpkin chocolate chip cookies, apple pie, pumpkin bread, pecan pie, and so much more. Even if you aren't the greatest baker out there, it'll still be fun learning how to make all these different goodies. Plus, it'll make for a huge laugh if you end up making a big mess.

5.

Spend a night under the stars 

There's nothing quite like seeing stars lit against the night sky. The best thing about fall weather is that it's typically not too hot or cold outside, which makes it the perfect season to go stargazing. You can create a cozy little set-up in the bed of a truck, or find an area to set up a blanket. Luckily, there's a ton of great spots in Colorado to go stargazing. Some spots include Grand Lake (Rocky Mountain National Park), Golden Gate Canyon State Park, and Garden of the Gods.

6.

Read scary stories by a bonfire 

Let's face it―no bonfire is complete without some s'mores. Keep a stock of graham crackers, chocolate, and marshmallows on hand. If you don't own a fire pit, this date can also be done indoors by a fireplace. Similar to singing songs around a campfire, this date puts a little twist on this tradition by switching it out for some scary storytelling instead. You can read some stories from a book―like Scary Stories to Tell in the Dark—or you can make up some of your own.
With that said, get out there and start recreating these fall date ideas!