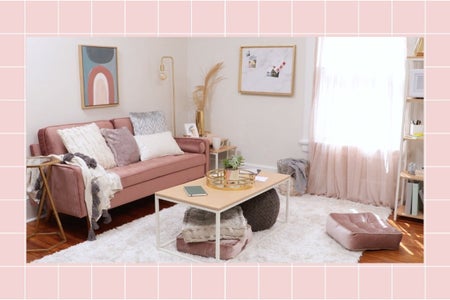 5 Ways to Make Your Dorm Room Feel More Like Home
Your college dorm is definitely a lot different from your room at home. Especially in our current times, you will probably have to spend a decent amount of time in it.  That being said, it doesn't have to seem sterile, and with a little bit of decorating work, it can easily be an enjoyable place to hang out. Read on for five tips on how to liven up your dorm room. 
1.

Keep fresh food in your fridge.

No matter how awesome your dining hall is, it's still probably not exactly the best food you've ever had. In addition, there may be a significant lack of fresh foods available, or you may not have time to run over between classes. To make your life way easier, keep a mix of fresh foods and easy snacks in your dorm fridge. Personally, I recommend a mix of some of your favorite fruits and vegetables, granola, yoghurt, trail mix, coffee, tortillas, bread, string cheese and really anything else you could see yourself craving twenty minutes before your evening lab class. If you want to get really fancy, consider buying a mini blender and making smoothies in your room. 

Much like the dining hall, the lighting situation in your dorm probably leaves a little bit to be desired. The good news is, you don't have to live with just fluorescent lighting all year. Fairy lights and small lamps go a long way towards providing soft lighting and can make any space seem far more cozy. Warm-toned lights are always nice, and if it's your vibe, go for a fun color-changing light as well! If it's allowed in your dorm, also consider light-up signs. 

Live plants, especially succulents, are having a moment, and for good reason.  Nothing can liven up a space faster than including some greenery. Craft stores and garden shops sell an abundance of small planting containers, or you could DIY your own from terra cotta pots or mason jars. Some of the best plants for dorms include small succulents, small ferns (such as Bird's Nest Ferns), orchids, Aloe vera, and bromeliads. If you have space for it, a small Aerogarden is also a fantastic edition. 

4.

Utilize throw blankets and pillows.

Your bed is probably the biggest piece of furniture in your dorm room, so go all out and stock up on pillows, throw blankets, and maybe even a bed skirt or a headboard! If you're a fan of thrifting, you can often find cute and unique pillows at secondhand stores, and if you're big into DIYing, consider crocheting a blanket, or constructing a simple headboard. 

5.

Use wax warmers and diffusers.

Anyone who has ever lived in a dorm knows that they can often develop odd smells as the year goes on. Due to fire hazard concerns, you probably can't light candles in your room, but most dorms allow scented wax warmers. You can buy so many different scents, and fair warning, they're totally addictive. If you're the festive type, you can also match them to the season. If wax warmers aren't allowed in your dorm, or if they're just not your thing, essential oil diffusers are another great option. Try orange, lavender, or chamomile for a relaxing twist.
Hopefully these tips help you decorate your dorm room in a way that you love, and that they help to make it a happy and habitable place to be!