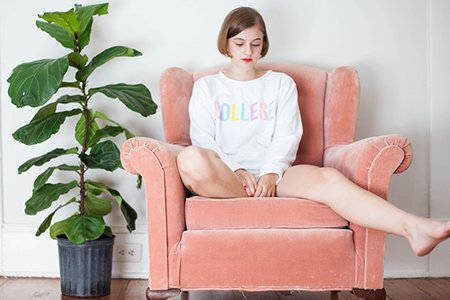 Kristen Bryant / Her Campus
14 Lounge Sets to Keep You Cute and Comfy During Quarantine
Spending weeks on end in social isolation is no easy feat. Many of us may be missing our daily routines of getting ready in the morning: picking out outfits, washing our faces, or even just putting on a bra.
Personally, I'm a little sick of wearing the same sweatpants every day and forgetting that I own a hairbrush. In times like these, even the tiniest bit of feeling "put-together" can make all the difference in our moods. A new matching lounge set can motivate you to clean the house, do your homework, or just feel better about binging Netflix all day.
Here are a few lounge sets to add some style into your quarantine routine!
1.

Staying Chic With PrettyLittleThing

Slay the "Zoom University" fashion game with this cute high neck set from PrettyLittleThing.

2.

A Beige Dream From Asos

The button down top in this set gives an otherwise plain look a fun and classy twist!

3.

A Zen and Minimalist Look From Beyond Yoga

No better way to calm your mind than with this cozy, minimalist look from Beyond Yoga. 

4.

Edgy Neutrals From Asos

5.

Electric Feels From Boohoo

I am LIVING for this electric green color right now. Throw in some chunky sneakers for the most fashionable dog-walking outfit ever. 

6.

Boohoo's Soft Girl Spring

Once again, Boohoo is killing it with the green shades. This knitted mint green set is the perfect way to celebrate spring from home. 

7.

Culture Your Closet With Urban Outfitter's "iets frans"

Literally translating to "something french", Urban's collection of iets frans athleisure features all kinds of soft looks. 

I think @leah_behr's Aerie outfit, completed with fluffy slippers and coffee, is what all of us need right now.

9.

Ardene Says That Sweatpants Can Be Shorts, Too!

Thank you @wearsashley for introducing us to this warmer weather set from Ardene that we all needed!

10.

Be a Rebel With This Unique Set

It's like wearing a Snuggie all day, but make it fashion. @ashamauricio knows what's up with this set from Rebellious Fashion. 

11.

Boohoo Knitwear for the Living Room and Anywhere Else

This cozy lounge set has more style than every outfit I own. Wear it around the house now, and show it off when social distancing is over! Thanks @angellturner for modeling this unique find from Boohoo.  

12.

Fashionnova Curve Pink Paradise

@misskay_22 is serving some STUNNING quarentine looks with this pretty in pink Fashionnova Curve set. 

13.

Our Lord and Savior, Target

I don't know about you, but I have NEVER been dissapointed in Target's style game. This tie-dye set is so trendy and great for a lazy day (or month) at home. 

14.

Summer Skies From Vicidolls

Thank you @taliacupcake for putting me on to the brand, Vicidolls. This set has me dreaming of summer skies and fresh air. 
These lounge sets are the perfect new PJs to wear all week while still slaying the fashion game. Enjoy!