The Joys of Putting HC Beauty Packages Together
This is a sponsored feature. All opinions are 100% our own.
The Her Campus CampusTrendsetters program recently shipped me a shareable package — how nice! I imagine sharing beauty products would be a super fun way to make friends in college, but I'm not on campus (yet!). Most of my high school friends have already moved to their college campuses though, and who doesn't love getting a package?! I figured they could use a little pick-me-up, so I ran out and grabbed some bubble mailers to ship the products in.
Since I received so many different products, I was able to personalize the packages for each of my friends. When I opened up my box, the first product I saw were the Beauty Blender Bounce Liquid Whip Long Wear foundations — in four different shades! I know those are a coveted item; all my friends love the BB sponges and were eager to test out their makeup. The girls who have reported back tell me they love it — it's super lightweight and stays on all day. Next, I saw a little box of all natural tampons, from the brand Lola. One of my friends is super committed to female empowerment initiatives and improving women's healthcare, so she received those. I'm a self-admitted makeup addict, so when I saw the Absolute New York 3-in-1 makeup brush, I immediately called it, overjoyed with the product I'd received. One of my friends also received the makeup brush — it has simplified her routine by fifteen minutes! — and the other received the Absolute New York lip gloss, which looks absolutely gorgeous on. It's shiny, without being sticky, and moisturizes at the same time!
My friends and I used to study together in high school, but now that we're all taking different classes we can't! It's a struggle. However, I also received a water bottle and hand sanitizer promoting Bartleby in my package. Bartleby is an online homework help service, which has been insanely useful when my friends and I are studying. Sometimes we just can't understand a certain concept the way the professor teaches it, but Bartleby saves the day!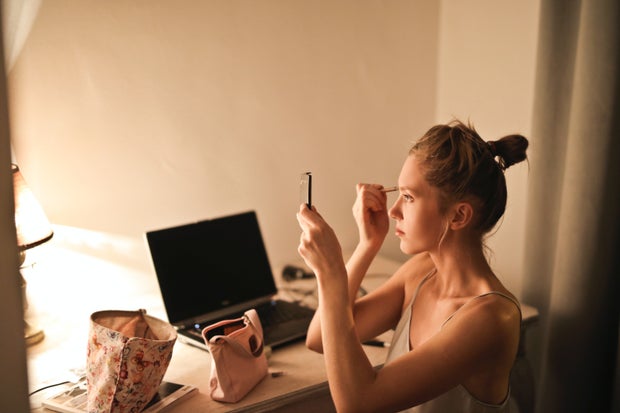 Photo by Adrienn from Pexels Lastly, there were two brands which included enough products for me to send to everyone! CeraVe shipped me a box of their Hydrating Cream-to-Foam cleanser. Their cleanser makes getting ready for bed after a long night of studying so much easier; it moisturizes my skin and it's dermatologist recommended! I know my stress levels have been way higher since my classes started, which led to more breakouts, but I was able to get my skin back under control with CeraVe's Hydrating Cream-to-Foam cleanser. Batiste also sent me enough products for every package, so all of my friend's hair looks amazing(!!) now. We all got to try their Waterless Cleansing Foam in Cleanse & Shine with coconut milk and at least one of their dry shampoos. Their dry shampoos are a classic sitting on any girls' vanity, but I'm a particular fan of the tropical one. Its scent makes me feel like I'm on vacation! Their cleansing foam, a newer product for me, is also amazing. It cuts down on the dryness of dry shampoo while still refreshing my hair; it's perfect for cooler climates where your hair is going to be less hydrated.
I shipped the packages out last week, and half the girls have already tried everything. Clearly, the packages were much appreciated and enjoyed by everyone—some friends even shared the products with other girls on their floors! I had fun picking out what products to send to which friends, and they loved what I had selected. Hopefully you're able to try some of these products soon too!