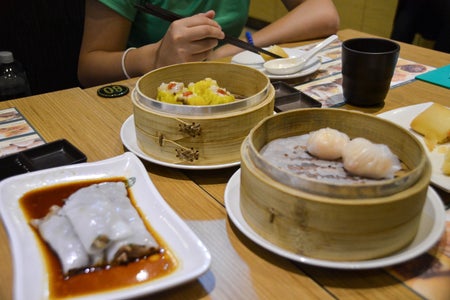 11 Asian Restaurants to Visit in a COVID-Affected NYC
It's the start of another academic year. For many first-year students at Barnard and Columbia, this might not be the start they imagined. Some may be new to New York, and instead of exploring the city, they're stuck in apartments or dorm rooms. While this may be a disappointing start to the semester, it doesn't have to be! I am here to provide a list of some of the coolest Asian restaurants in New York.
If you are a ramen lover, then you've got to try Ichiran. Located in Times Square, Midtown, and Brooklyn, the restaurant specializes in tonkatsu ramen. Come for the rich-flavored soup with customized fillings that will make you feel warm and fuzzy, and keep on coming back for another bowl of ramen. 

The Brooklyn location is open for outdoor dining and you can order DIY kits to be delivered to you. 

Golden Unicorn is a Cantonese-style restaurant located in Chinatown that specializes in dim sum. It's a little pricey, but the food is delicious and authentic.

Golden Unicorn is offering delivery and takeout services.

This hotpot chain store is top-rated in China, so if you are a hotpot lover and want an authentic meal, you should definitely check out the Haidilao in Flushing. 

Haidilao is offering outdoor dining and takeout services.

For Japanese barbecue fans, Gyu-Kaku is the place to go! Not only can you enjoy the barbecue, but you can also order Japanese dishes. Gyu-Kaku has locations in the East Village, Flushing, Times Square, and Midtown.

The East Village and Times Square locations currently offer outdoor dining. All locations are offering delivery and takeout at this time.

If you're busy and want to eat from a more casual ramen restaurant, Ajisen could be an excellent place to consider. Located in Chelsea, Chinatown, and Flushing, Ajisen offers an array of specials and combinations that allow you not only to fill your stomach, but to do so at a low price. 

Ajisen's Chinatown location offers limited outdoor dining. All locations have takeout and delivery services.

If you love both barbecue and hotpot, then this is the spot for you! 99 Favor Taste offers an all-you-can-eat buffet so you can enjoy barbecue and hotpot at the same time. 99 Favor Taste has locations in Flushing, Brooklyn, the Lower East Side, and the East Village.  

The Lower East Side location has outdoor hotpot dining available. You can also place orders for pickup online.

This restaurant in Koreatown specializes in Korean fried chicken. I personally recommend the soy garlic combo, but that's certainly not your only option. You could order your crispy fried chicken wings and drumsticks with soy and garlic, as spicy, or as half and half. If you want to treat yourself, order a bulgogi or kimchi stew on the side. 

BBQ Olive Chicken is open for pickup and delivery services.

If you are a lover of spicy food, then Chow House should be a place on your list. This restaurant in the New York University area primarily makes Sichuan gourmet. I would recommend the red braised pork belly or braised fish with pickled vegetables. 

Chow House is offering delivery now.

Barn Joo is another Korean restaurant with locations in Koreatown and Union Square. I strongly recommend the fried chicken with truffle fries. However, if that's not to your liking, you could always order the sizzling stone bowl or japchae. If you like Korean food, definitely give this eatery a try. 

Barn Joo is currently offering delivery, pickup, and outdoor dining through reservations.

For buffet and Chinese/Japanese/Korean food lovers, here is another restaurant to add to your list. Located in Queens, Mizumi would — in non-pandemic times — be packed with people. It's not surprising because you eat all your favorite food in one go!

Currently, Mizumi is offering outdoor dining and delivery, but not the whole buffet. The menu is more tailored to Japanese sushi, bento, and lighter food at present.

This Japanese restaurant with locations in Midtown and Union Square is a great option if you want to share your food with family or friends. The food is served in large portions, and the restaurant offers discounts for ordering. More importantly, there is a wide variety of Japanese dishes to choose from. I would recommend the beef sukiyaki, which has a promotion for buy one, get one free right now. 

TsuroTonTan is open for delivery and reservations for outdoor dining.
If you're an Asian food lover like me, there's no need to stick to this list. There are many incredible Asian restaurants in the city that you should try. And if you're new to the foodie scene, I hope this list helps you take your first steps!