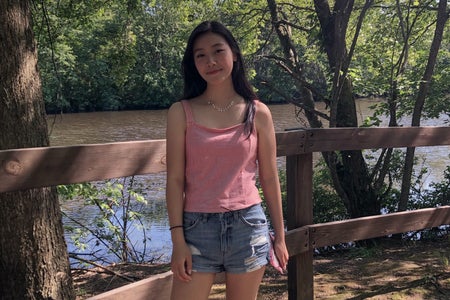 Original photo by Liya Yang
HC Colby Profile: Meet Liya Yang
Liya is one of our writers here at HC Colby! She's majoring in Econ and double minoring in Data Science and East Asian Studies. In addition to Her Campus, she's involved in a variety of business clubs, including Women in Economics and Finance, Colby Consulting Group, and Colby Student Investment Association.
What is your favorite… 
Dining hall? Dana Dana Dana
Place at Colby? The Spa! I used to love studying there (until they expanded it into an extended "Take 4" system this year). I really liked the busy ambiance and energy of students walking in and out of the spa. It's a nice central location–a great place to bump into people.
Thing to do at Colby? Quarantine has made me more in touch with my mental health, and taking a hike in the lower arb with some friends is one of my favorite ways to reflect and heal. 
Movie? Hard question! A recent one I watched and liked was Little Women. Inception is also really good.
Song? Changing constantly, but currently "Strawberries and Cigarettes" by Troye Sivan. 
Thing to do off-campus? Thrifting at Goodwill!
What is your dream job? An actress–would love to attend The Oscars, just once, to meet all my favorite movie stars. 
What is your best Colby memory? Moving out of my old freshman dorm and into Piper 105 to live with one of my closest friends. 
Fun Fact! I'm Canadian :)
Check out her articles here!