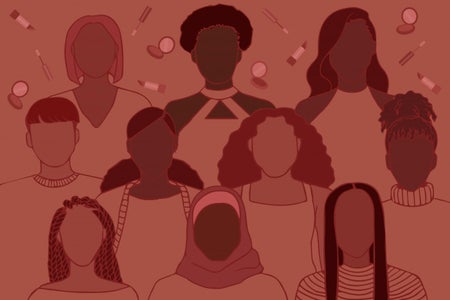 #WCW: Chimanada Ngozi Adichie
"We teach girls to shrink themselves, to make themselves smaller. We say to girls 'You can have ambition, but not too much. You should aim to be successful, but not too successful. Otherwise, you will threaten the man.'"
While many people may recognize these words from Beyonce's song Flawless, they were originally spoken by Chimamanda Ngozi Adichie in her TedTalk, "We Should All be Feminists". With the topic later being turned into a book length essay, she explores the idea of feminism through her perspective as a Nigerian woman. After going back and listening to this talk in its entirety, it is clear that Adichie's view on feminism and what it means to be a woman is relevant to this day. 
Calling herself a "happy African feminist", she starts the talk by explaining how she was offended when called a feminist and how feminism doesn't have a positive view in the Nigerian culture. She discussed equality between men and women and how the ideas of gender have not changed. I can only speak for myself but I think many will agree with me and Adichie with that statement. I do get angry at the idea that men are paid more than women and that there are people who genuinely believe that women are less than men. I'm angry that women are expected to give up more than men and receive less. While this anger is discussed, Adichie remains hopeful because people can remake themselves for the better. She speaks on unlearning the lesson and stereotypes that gender has taught us and seeing women and men as equal. 
While being a feminist is a big part of who she is, Adichie is also a writer known for her three most popular books Purple Hibiscus, Half of a Yellow Sun, and Americanah. Her worldwide fame has allowed her to reach many audiences and gave many readers, like me, a broader view of the world. Telling stories through her Nigerian, feminist point of view, she has provided her readers with ideas of what it's like to be a Nigerian in America and how others view our country. As a reader, and a sucker for young adult romance, I've become used to reading stories through the eyes of American teens. I have recently opened my library to African American fiction and Adiche has been an important part of that. Not only has she given me, and many other readers the ups and downs of romantic drama, she also shows us the real, unfiltered view of Africans living in America. 
As her books are becoming increasingly popular, Adichie continues to speak out about feminism and gender inequality. While many hope to remain positive during these conversations, she understands the importance of being honest as she writes about rape and sexual assult within her books. These topics can be uncomfortable to read about, and for her uncomfortable to write about, but as an activist she understands that it is her job to bring these issues to light through the characters in her books.