What Your Spotify Wrapped Says About You
It's that time of year again where everyone is boasting about how much music they've streamed, broadcasting their favorite songs, and showcasing their favorite artists. Flipping through my friends' stories, I'm definitely seeing some patterns and commonalities. 
Here is what your top Spotify Wrapped artist says about you: 
Taylor Swift
You are a chill and confident person who can't be brought down by any man, but you didn't start out this way. You put a lot of work into yourself through self reflection and dedication, and you came out stronger because of it. 
Giphy
The 1975
You are out here to have a good time. You are naturally funny in a way that never dies out, and people genuinely enjoy being around you. You are probably also hot as hell with killer eyeliner, so good for you. 
Megan Thee Stallion
You are comfortable in your body and your sexuality. You are free from the limitations that society puts on people, and would rather put your energy into have a good time than into fitting anyone's perception of who you should be. It probably took a lot of growth and evaluation to get here, but you are much happier now. 
Phoebe Bridgers
You are depressed or anxious, but you have known this for a while. You are probably seeking treatment or want to better yourself, but the pandemic hasn't really helped. You mainly listen to her at 3 in the morning when you can't sleep. Bonus points if Moon Song or Killer is your top song. 
Hozier 
You are highkey into cottagecore. You want to be one with nature and just disappear into the mountains to become a local cryptid. The pandemic hasn't stopped you from exploring the local scenery and taking in the sublime splendor Mother Nature has to offer.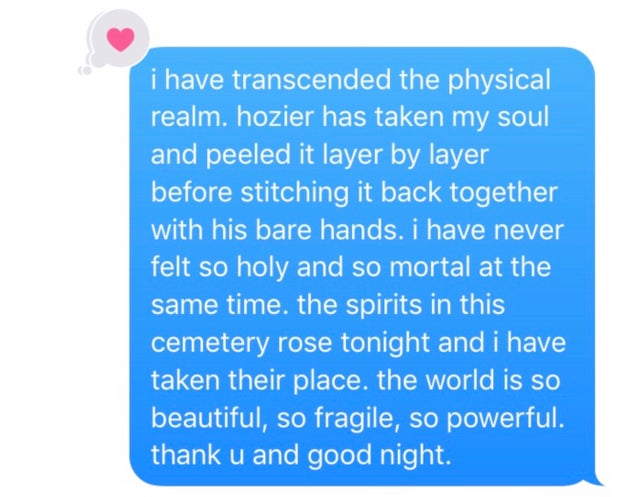 Ariana Grande
You are going through a breakup, but you are ready to move on and grow from it. You recognize the good parts of this relationship, but you also see the not so good parts. You will cherish the good, and learn from the not so good. 
Harry Styles
You are gay. You are in college and you have fairy lights on your wall, dreaming about spending a cute movie night under the stars with your significant other or your crush. You prefer fantasy to reality. Fine Line or Adore You is probably the soundtrack of your life. Because honestly, it's about the longing 
Until Spotify Wrapped 2021!