COVID-19, a strain of the coronavirus that is sweeping across the world has finally found its way to Virginia. As of March 12, 2020, there are 15 presumptive cases confirmed in Virginia. There are 3 cases from Fairfax County, 1 case from Arlington county, 1 case from Loudon County, 1 case from Spotsylvania County, 1 case from Hanover, Richmond, 1 case from Longwood University, 1 case from Alexandria, and 2 cases from the Virginia Beach/Hampton Roads/Norfolk region. However, information on the other 4 cases in Virginia is limited at this time. 
Many Universities in the state are moving to online only classes, such as James Madison, Longwood, Old Dominion, Virginia Commonwealth, and Northern Virginia Community College, it is expected in the coming days that many more universities and colleges will follow. Despite some articles reporting that Fairfax County Public Schools will be closing due to the virus, the Fairfax County Public Schools official website and twitter only confirm a student holiday on the 16th of March to "...provide an opportunity for staff to prepare for the possibility of distance learning in the event of a school(s) closure.". Loudoun County Public Schools are following Fairfax County's footsteps, but the county is closing for seven days between March 12 and March 20. 
The most important thing to note is that this is a precautionary measure, and according to the Virginia Department of Health, "Currently the risk to the general public in the United States is low…" and majority of the confirmed infected in Virginia came into direct contact with the virus overseas or were in contact with someone that obtained the virus overseas. However, officials are unsure of how one case, a 50 year old patient living in Spotsylvania County, came into contact with the virus.
There is no information, currently, on Christopher Newport University's plan concerning this virus. Professors are taking action into their own hands, moving from in-person classes to online. There are rumors circulating that a student traveled to a level 3 country but did not self quarantine. A professor, who shall not be named, canceled classes due to showing flu like symptoms. CNU's campus is most likely already spreading infection and students feel frustrated at the lack of information and cohesion from the administration.
Potential Infection in Norfolk:  On the morning of the 10th of March, a couple who traveled to Egypt on a cruise is presumed to have the virus, bumping the number of infected in Virginia up to 8 at that time. A man from Fairfax county and the second confirmed coronavirus case was also on the same Nile River cruise. The 50-year old wife is stated as saying that she began to show symptoms on her flight back to the states, but the couple checked into a hotel at the Dulles International Airport that night. This couple then drove to a Norfolk hospital, around 35 minutes away from CNU, and was detained at the hospital for 6 hours without getting tested for COVID-19. At this time, hospitals in Virginia cannot test for the virus but it is hoped that by the end of this week in-house testing will be a possibility. This couple was then tested in Virginia Beach two days later and confirmed by the Virginia Department of Health to be infected, however, their case is still considered "presumptive" due to the CDC not officially confirming the results at this time.  
Beware of Clickbait:  Information on COVID-19 has spread far and wide, but not all of it is factual or accurate. It is easy to fall down a rabbit hole of quasi-scientific findings related to this coronavirus, but before anyone believes any news source, always fact check with the CDC, WHO, or VDH. If reading really isn't your thing, check out Doctor Mike's playlist of Youtube videos on the coronavirus. Although labeled as the "Sexiest Doctor Alive" in a 2015 issue of People's magazine and propelled to internet fame, Dr. Mikhail "Mike" Varshavski earned his doctoral degree at the New York Institute of Technology College of Osteopathic Medicine and he delivers informative content fact checked with the CDC and WHO.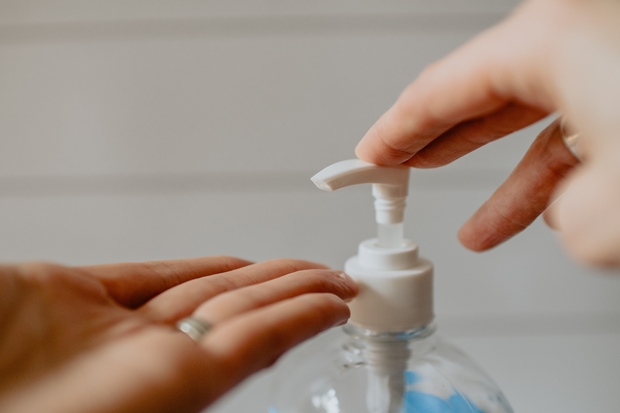 Prevention: 
Wash hands for 20 seconds 
Wash hands every time you come back to your room
If available, use sanitation wipes on high traffic surface areas, such as door knobs, faucets, counters, remotes, and toilet handles. The virus may be able to live anywhere from a couple of hours to days outside the human body. 
Only use hand sanitizer if it is at least 60% alcohol
Do not touch your mucus membranes (eyes, nose, mouth) 
Avoid areas with large amounts of people when possible
Stay 6 feet away if you believe someone is sick
Clean and disinfect 
Only wear a face mask if you are sick
Avoid sharing items and food
Avoid direct contact with people (shaking hands, kissing, etc...)
If you experience shortness of breath, fever, or cough, call your doctor or hospital before you visit to notify them that you believe you may have COVID-19. 
The CDC, WHO, and VDH are the authorities on COVID-19. 
There is no evidence to suggest that you can get COVID-19 through your pets, however, WHO suggests that you "avoid direct contact with animals and surfaces in contact with animals. Ensure good food safety practices at all times. Handle raw meat, milk or animal organs with care to avoid contamination of uncooked foods and avoid consuming raw or undercooked animal products."
If you believe you may have COVID-19 quarantine yourself for 14 days to avoid spreading the infection.