Here at HCCAU, we are big on political engagement. As a result of the remote semesters of spring and fall 2020, our staff hosted Instagram Live interviews with various candidates who ran for for Student Government Association (SGA) and Royal Court positions. The interviews generated some of the highest engagement that out organization has seen, and we are extremely grateful for the candidates that stepped up to the plate and allowed us the opportunity to interview them.
Following the inaguaration of the first Black woman vice president of the United States, we decided to catch up with some of the campus leaders to see how they're adjusting to their positions and find out the advancements that have been made on campus. We spoke with Coretta Cannon, Kaleila Taylor, Shekinah Burden and Christian Williams.
Coretta Cannon: 2020-2021 Miss Junior


Photo by Coretta Cannon



For the early childhood education major, Coretta Cannon, serving her university as Miss Junior has been of the highlights of her life. Although the position in itself is extremely rewarding, it does come with its challenges.
Cannon, like most, is a full-time student during a global pandemic. However, she also simultaneously works and serves her campus as Miss Junior. She stated that prayer is what has helped her through the storm. "Mentally, I've been kind of overwhelmed… balancing school with a job and being Miss Junior is a job too," she stated.
For the remote semesters of Spring 2020 and Fall 2020, the Royal Court led their roles 100 percent virtually. This meant there was little to no in-person contact with their constituents, or their student body. However, CAU held an in-person coronation on Oct. 17, 2020 where they all finally joined together. Being surrounded by her peers and finally receiving her crown was when Cannon had the "ah-ha moment" that she was really serving as Miss Junior.
"It's kind of been hard to really process [the win] and feel the people," she said. "But that was really when I realized it; in that moment."
Other than serving as Miss Junior, Cannon has previously held multiple titles on campus. To name a few, she was the 2019-2020 Sophomore Class secretary where she was able to learn the SGA aspect of things, an Orientation Guide, and Miss Integrity for the social justice based organization Breaking the Cycle. She believes that all of her previous positions have prepared her to flourish in her current role as Miss Junior.
"[Previous roles] helped me become the panther queen that I am today. It helped me get to know my peers because I can't be Miss Junior without knowing my peers," she stated.
Cannon has brought several enriching events and panels such as Keep it Real and Black Girl Magic Mondays. She also teamed up with Mister Junior Derrick Daniels on the We Care, Care Package. They sent out a care package full of items from class of 2022 student businesses. 
One of Cannon's most successful projects so far is her Cannon Radio podcast, fashioned after the style of rap legend, Nicki Minaj's, Queen Radio. The podcast is meant to showcase "dynamic panthers who are 'finding a way and making one' throughout this pandemic." She's even highlighted HCCAU's very own president and campus correspondent, Miranda Perez and then social media director, Kiana Stevenson. 
"It's really highlighting Black excellence during this pandemic," Cannon stated. "If you're a Panther, shoutout to you, and I want you on my show!"
Although CAU is a co-ed university and women make up the majority of the student body population, men have historically held higher titles such as SGA president far more often than women. However, CAU has cultivated amazing women that have changed the world in their own respects. Cannon was asked what she thought a Clark Atlanta woman was, and here's her response:
"When you see a Clark Atlanta woman, she's different. She's a woman of power and strength. A Clark Atlanta woman to me is just a queen who thrives. She goes to CAU! She reps that red, black and grey all day," Cannon stated.
Kaleila Taylor: 2020-2021 Miss Sophomore 



Photo by Kaleila Taylor



The fall semester has been a trying and overwhelming time for many students including Kaleila Taylor, Clark Atlanta University's Miss Sophomore. "This pandemic has definitely taken a toll on my mental health at one point where I just had to take a step back and breathe. I knew I needed to stay strong in order to keep my class uplifted during this trying time. I realized that I really need to buckle down, way stronger than I did when we were on campus," Taylor said in an interview with Her Campus CAU.
The sophomore student expressed that she using Zoom as an online learning tool, hasn't been the best experience thus far. Taylor also felt that there is a disconnect between students and events due to online events not being as effective as in-person events. Taylor would like to put on an event called Night At The Apollo. "This is just a fun event to get everyone engaged and show their talents. This event will also mimic the actual actions of the Apollo, so of course people will get booed but that is what's going to make it fun," she said. 
As Taylor reflected on her reign during the Fall 2020 semester, she highlighted one of her favorite events being Hope and Healing. This was one of her first events of the semester which included empowerment speakers that focused on domestic violence among young adults. As the semester continues on, Taylor knows that there is more to be done with the sophomore class, and she's determined to find out what it is.
Shekinah Burden: 2020-2021 Miss Freshman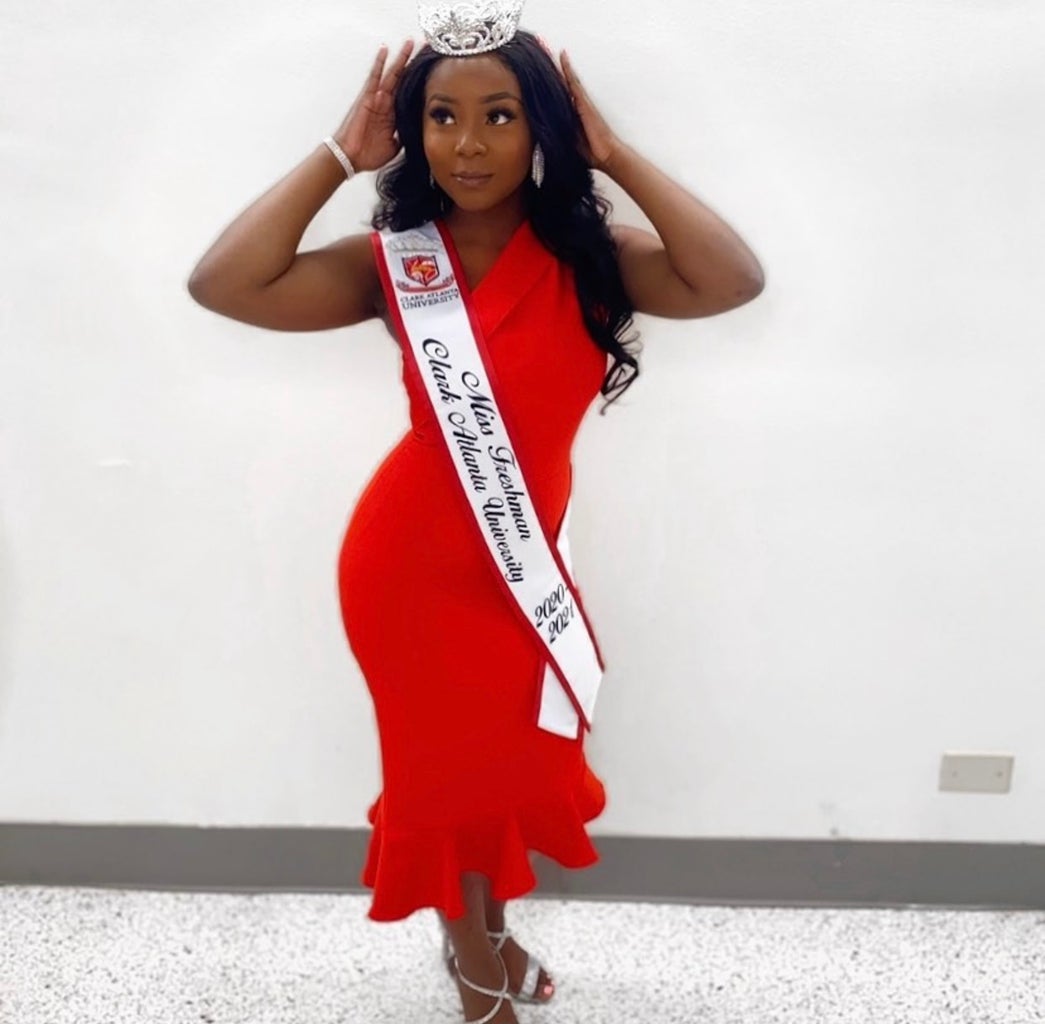 For Shekinah Burden, the 2021-2022 Miss Freshman of Clark Atlanta University, leadership has been in her bloodstream. She recounted her earlier years and what helped to build her to where she is today. "Growing up, I have always known I was a leader in high school. I always stood out from the rest of my peers and was also very much the trailblazer of my class," she stated. "My father was also military, so his leadership spirit has always been instilled in me. I have always been a compassionate and loving person throughout my high school years. I would always show love no matter what the other person would show. In high school, I was involved with SGA as secretary and was also cheer captain as well, so those moments helped me in a way of what was to come. But God overall was my preparer, the prayers and words spoken over my life is definitely a major impact."
This is her first year as a college student and she has had to deal with many changes. With her position now being partially virtual and in-person, she spok about how she handles it. "The first thing I do is that I pray. Without God me being here wouldn't be possible, so having God at the center of it all make ways much easier. With it being virtual it is challenging for the class to be together and become closer, so I always make sure I have patience and understanding and to always put their needs first and make sure it is done. Most importantly remain positive with all the dark in the world i have been told to be the light so I try to keep remaining positive and always put out that positivity to my class, because the class of 24 have a huge impact in helping each other and working to push everyone forward so without them I would literally cry, they are the best motivation anyone could ask for," Burden stated. For Miss Freshman, what keeps her excited about the title is that she is now able to be a part of the change, present and future. 
Burden also talked about the emotions she felt on the night she was elected. "I knew how bad I wanted this position so in my head I was just praying and praying and I would continually repeat to myself 'It's in Gods hand' and 'Whatever happens, it's in Gods will'," she said.
Another obstacle she was able to overcome was getting the hang of campaigning. Although in-person it may be easy, online was a whole other ball game for Burden. She recounted some of her most hectic but trivial moments. "I know this opportunity was nothing but God because the same week of campaign week was also the same week of my brother wedding and the wedding [was] in Arizona which is four hours behind where I'm from, which is Alabama. So, having to balance the plane rides, posting on social media, going to events and the wedding event — I was always compromising and getting creative so that I [could] be at two places at once. I can say that my campaign team, the Dream Team, played a huge role into my campaign season… without them I couldn't have accomplished everything I wanted to," Burden stated. 
When it comes to holding the title and doing her schoolwork, she takes everything a day at time. This situation that she was put in was a blessing in disguise because she had grown from trying to be forward in the future to living in the moment. This change has also led her to be more excited about things, but also helped to find a deeper sense of purpose of things and herself. 
Burden views her fellow CAU kings and queens as family and would have that no other way. "Be called from God, stay in your own lane, and know yourself," she stated, when asked about advice for students wanting to be a part of the royal court. All of those are true and important when wanting to represent the university and student body. 
Burden left us with wise words for the Class of 2024, who seemed to have such a hard transition. "All things work together for the good, Romans 8:28. Despite troubles I love you and I'm always a text and phone call away," she stated.
Christina Williams: House of Delegates At-Large Representative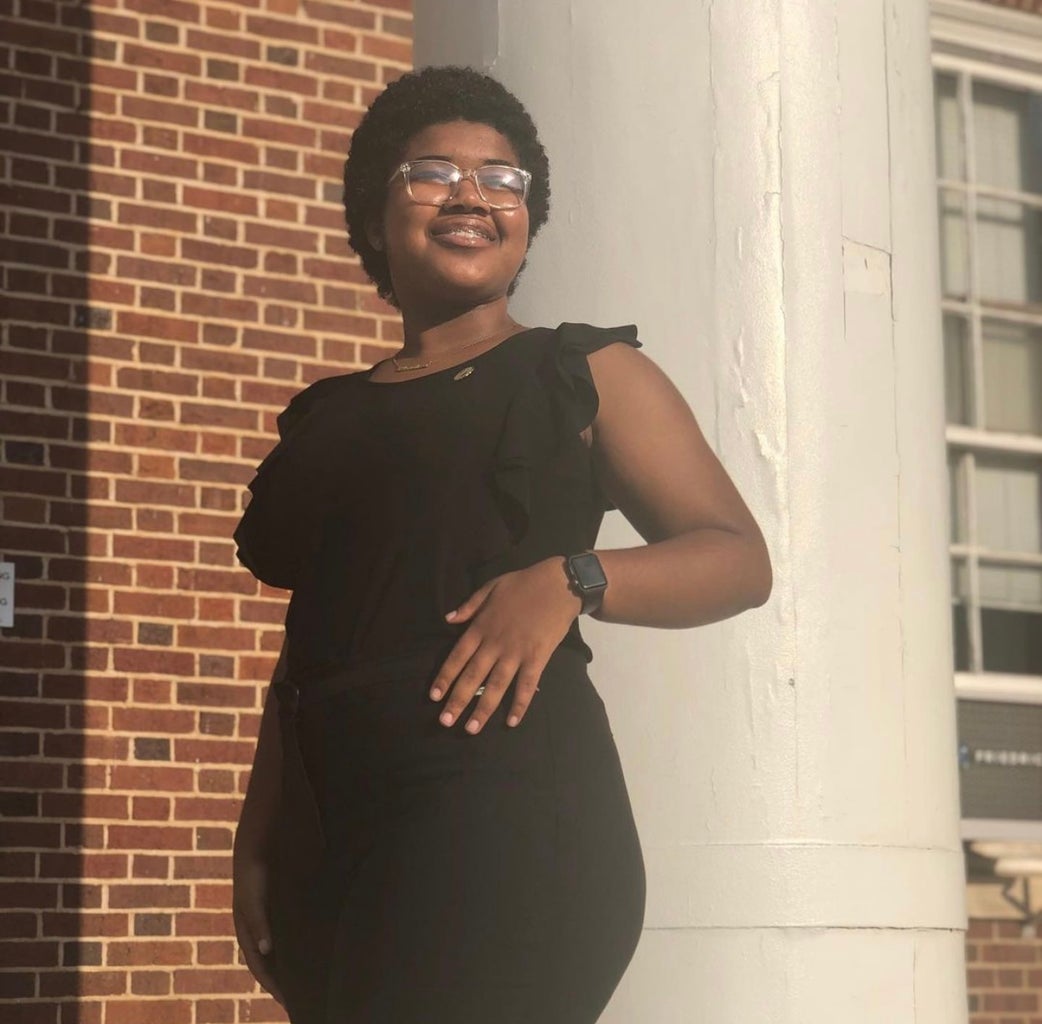 Finally, HCCAU staff had the pleasure of speaking with House of Delegates At-Large Representative Christina Williams who did an IG live interview during the spring campaign season. Williams ran on the platform of L.E.A.D. — Listen, Engage, Advocate, Do — and won the second available seat as she serves with fellow representative, Tyler Lambertson. 
For many students, HoD and what exactly they do is a complete mystery. "HoD is basically the legislative branch of SGA. What that really means is that we exist to hold the executive branch accountable. HoD is one of the more low-key areas of student leadership, but it's also actually one of the most powerful. We have the power to approve the SGA budget, make amendments to the Constitution and write and approve proposals on behalf of the student body," Williams stated.
The reopening of dormitories Bumstead and Ware was in large part due to the authority of HoD. Some other initiatives that stemmed from the advocacy of the At-Large Representatives were the mental health day that every student received on Election Day 2020, and the implementation of the Pass/No Pass grading system that was approved by faculty for the spring and fall 2020 semesters.
"While I wish they would have come sooner, I'm glad that we got them," Williams stated in regards to these policies.
Other than serving for the HoD, Williams is involved in a plethora of other organizations. As a junior political science major, she serves as the president for the CAU Political Science Organization and IGNITE at CAU. She is also the secretary of the CAU Pre Law Chapter of Phi Alpha Delta Law Fraternity International and involved in a number of other organizations. Williams feels as though her involvement in these organizations has prepared her immensely for her HoD role.
"I think that the main skills I've acquired from all of my other involvements have been learning how to balance, delegate, prioritize and communicate. As you can imagine, my days can get very busy and very hectic… but as long as I'm doing those four things, it makes everyone's job a lot easier," she stated.
Other than being involved on campus, Williams has been an advocate for Black women in the field of law through her brand Future Lawy[h]er. Her brand follows her journey to becoming an attorney, while simultaneously providing tips and resources for other Black women who aspire to be attornies. "Only five percent of lawyers are Black, and an even smaller amount are Black women. Yet, Black people as a whole make up 38 percent of the U.S. prison population. That math just doesn't add up," Williams stated. "We need to be represented and defended by people that look like us and can comprehend our unique experiences as Black women in America."
The At-Large Representative position is a very powerful role that is oftentimes overlooked during campaign season. It is also a very difficult and meticulous one. However, Williams stepped up to the plate and decided to serve her school when no one else would. She didn't do it for the glamour or the "clout," she did it to serve the very institution that serves her day in and day out.