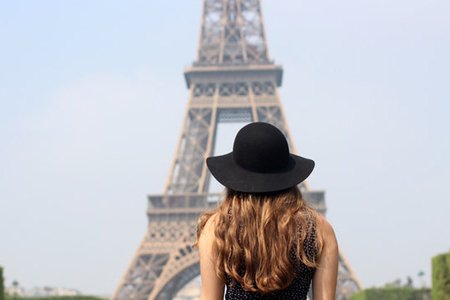 Kellyn Simpkin / Her Campus
The "Sex In The City" Of This Generation? Find Out Everything About The Fashion In "Emily In Paris"
If you watched Netflix's new release "Emily In Paris", you already know it's a very fun and endearing series getting a lot of fans around the world. You probably also noticed the touch of fashion that seems familiar, and to understand it, you need to know a little more about the series.
Emily Cooper (Lily Collins) is a publicist from Chicago that gets a job in Paris and moves to a country where she doesn't know the language and it's not adapted to the culture. She has some difficulties to make new friends, adapt to the new city and "fit in". 
The production was created by Darren Star, who also created "Sex And The City", a very successful 2000s TV show well-known for its fashion and glamour content. On his brand new Netflix project, he also made sure to bring along to his team Patricia Field, who was costume designer for "Sex and The City" and another fashion movie, "The Devil Wears Prada".
Emily is always trying to fit in the city, and that can be observed not only through her actions but also by the way that she's dressing. She's an American that knows that Paris is the universe of fashion, so she's always trying to look like an "it girl" as everyone else around her. To understand the style of the show - and also its criticisms, we talked with Camille Cocato, a 22-year-old Brazilian fashion student from FMU FIAM|FAAM. 
She kicked off the interview by saying "The main idea of this series is that women from anywhere can get into their own closets and reimagine their clothes, mix some old pieces with news ones and pull it off in ways never thought before". 
Field even said something about it in an interview to PopSugar, when she told that she took something classic like Channel and put it on Lily (Collins) - who's a tiny person - reimagining it as "oversized", giving it a younger interpretation.
1.

Outdated or 2000s trend?

Cocato pointed out that people who watched the show saw Emily's looks as tacky and outdated. They are typical for an American fashionist from the early 2000s that are not suitable for today because fashion moves too fast and people cannot keep up with it. 

While she talked about Emily's style, she started by saying: "In the series, they use a lot of urban style on their main character. And Emily has a fanciful look over the city and that reflects on her outfits, so people call that outdated. But she's always wearing designer pieces such as Channel, Michael Kors, Marc Jacobs, Dior, Christian Louboutin, Dolce and Gabanna. And instead of using those brands' classical looks, she's always investing in extravagant designs, but with classical shapes, vibrant colours and flashy patterns".

2.

Accessories are the main piece

Emily is always wearing bucket hats, berets, luxury bags, and even her phone case is an accessory - Patricia Field's favourite one, as she said in an interview to the New York Post. It's always her final touch and even Pierre Cadualt, a very famous fashion designer, noticed it and called Emily "ringard", or "basic" in English, which leads to a very funny scene where both of them mention Gossip Girl - another TV show from the 2000s known for their fashion visuals.

The costumer design Patricia Field said on a press release that "Emily's black tulle skirt in Episode 102 is a homage to Carrie's tulle skirt in the series finale of Sex and the City". She also said to PopSugar that both leading ladies were very collaborative and had that fashion sense in common. So Emily's style is very close to SATC's Carrie Bradshaw, which creates a narrative link between both shows.

"Paris is Paris. It's a dream for any young gal to find herself in Paris — first Carrie Bradshaw, now Emily Cooper. Paris is a fashion dream, and I think that women who love fashion can feel that in the city", said Field.

Camille also pointed out another character, Mindy, who turns out to be Emily's really close friend. She's also a foreign woman and she's always looking extra with a lot of patterns and overlays. 

"The impression both friends give the public is that they are not from there and are trying to fit in, and they show it through their outfits that even though they are extravagant, they still aren't as classy and chic as the Parisians - they are sophisticated, at least in the series", said Cocato.

The fashion student also mentions Camille - who she shares the name with - to show how a French girl can be elegant with a lot of tailoring, vintage jackets, combat boots. She brings this version of contemporary French, a little reckless on her choices.

And for last, she says that another character that catches her attention is Emily's boss, Sylvie. She wears a lot of outfits - especially dresses - that mark her silhouette and are asymmetric, which are very interesting.

7.

Old and new: the battle

The series brings the discussion between the old fashion world with sophisticated designer pieces and the new modern fashion, showing how they conflict on today's meaning of high couture.

Cocato said: "I really liked that Pierre Cadault, who's a successful high couture designer and oftenly called outdated, ends up surrendering to the new fashion and bringing up new strategies considered disruptive to his brand, all with Emily's help. It was very unexpected".
Emily in Paris is now available worldwide on Netflix and it will for sure make you fall in love with France, and maybe will get you a little more interested in the fashion world!
-----------------------------------------------------------------
The article above was edited by Gabriela Sartorato.  
Liked this type of content? Check Her Campus Casper Libero home page for more!