7 Movies To Watch If You Liked "The Kissing Booth"
Romantic comedies are a wild genre with many ramifications. The Kissing Booth fits in the "teen angst, nerdy girl falls for the jock" category, which, let's face it, it's a classic.
If you're already a "rom com" expert, you definitely know these movies and are about to take a stroll down memory lane with me. If you're a newbie, buckle up! Here are seven must see romantic comedies:
1. She's All That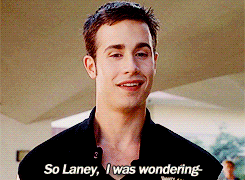 GIF Source: GIPHY
Zach (played by Freddie Prinze Jr, the king of 90's "rom coms"), a senior and the most popular boy in school, just got dumped by his also popular "soon to be prom queen" girlfriend Taylor (Jodi Lyn O'Keefe), who's now dating an actor.
He's understandably upset and his best friend Dean gets him to enter a bet with him: pick the weirdest girl in school and make her prom queen material. The chosen one is Laney Boggs (Rachael Leigh Cook), the resident introverted artist. But, of course, Zach didn't expect to fall for her.
If Freddie Prinze Jr isn't reason enough for you, then the most iconic scene of the movie will be. Picture Laney climbing down the stairs to the sound of Kiss Me by Sixpence None The Richer while Zach waits for her downstairs completely shook.
2. A Cinderella Story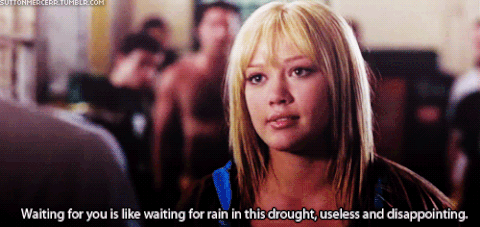 GIF Source: GIPHY
Sam (played by our beloved Hilary Duff) is an orphan living under the tyrannical rule of her stepmother, Fiona (Jennifer Coolidge), and her stepsisters. Besides school, she has to take care of house duties and work at Fiona's dinner. Under the username PrincetonGirl, she also exchanges love letters (at least that's what her friend Rhonda (Regina King) calls then, even if Sam insists they are just texts) with the mysterious Nomad.
Little does she know, Nomad is actually Austin Ames (Chad Michael Murray), the most popular guy in school and also a quarterback in the school's football team. Sam is a bit anxious, but Nomad convinces her they should meet in the Halloween school dance, which she attends. In disguise.
This movie has everything: internet pen pals, angst, a kiss in the rain and fate. Also, one of the greatest quotes in cinematic history.
3. The D.U.F.F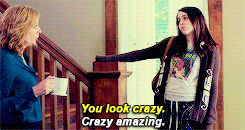 GIF Source: GIPHY
Bianca (Mae Whitman) just found out she's the D.U.F.F., or the "designated ugly fat friend'. And who told her? Wesley (Robbie Amell), of all people, her neighbor, the star on the school's football team and her former childhood friend. Now she's seeing the world with a whole new set of eyes. And she's pissed because, according to him, she is the less popular person of her social group and is being used for others to get popularity. 
To "get over" this title she makes a deal with Wesley: Bianca will help him pass chemistry and he'll help her climb up the social ladder so she can finally go on a date with Toby (Nick Eversman), the cutest, most sensitive guy in school. And he also plays the guitar. I think it's safe to say things don't go exactly as they planned.
The comedy in this movie is spot on, there are some priceless moments, Allison Janney is in it and Mae Whitman is great. I don't know what else to tell you, go watch it!
4. Sixteen Candles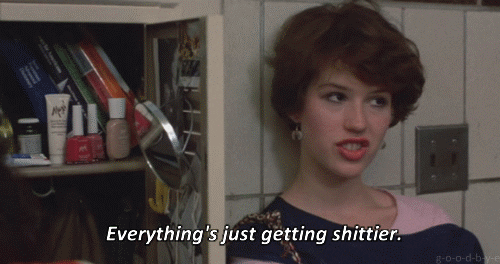 GIF Source: GIPHY
It's Sam's (Molly Ringwald) sixteenth birthday, but apparently her entire family completely forgot about it. This day already sucks, but on top of it all, she's still a loser, there's a freshman (a FRESHMAN!) hitting on her and Jake Ryan (Michael Schoeffling), the most popular senior in school, still doesn't know she exists. Or does he?
Well, turns out he thinks she's very cute and spends the entire movie trying to at least talk to her.
Okay, first of all, Molly Ringwald plays Sam and we all know she's still the reigning queen of "rom coms". Second, it's a John Hughes movie. And third, you you can't stop watching it, cause you really want Jake and Sam to officially meet. It's comedy gold and very sweet.
5. The Princess Diaries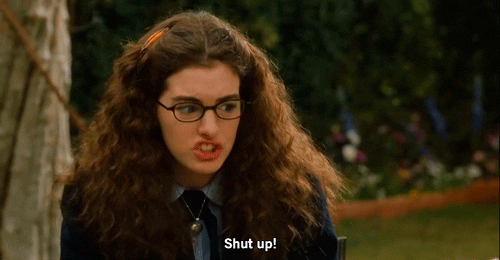 GIF Source: GIPHY
Mia (Anne Hathaway) is very happy being invisible in school (and life), thank you very much. The only downside is that she has a huge crush on Josh Bryant (Erik von Detten), who's super popular and so out of her league. So meeting her grandmother for the first time and finding out she's a princess and heir to the throne of Genovia changes absolutely everything.
She gets a makeover, gets assigned the best bodyguard/limo driver ever, Josh takes her on a date, she has to take "princess lessons" and the press is obsessed with her. It's really hard to balance everything and maintain her friendship with Lily (Heather Matarazzo) and her brother Michael (Robert Schwartzman) — who secretly has a crush on Mia — and she's pretty sure she's a human disaster first and a princess last.
This movie has been a classic since it's debut in 2001. Julie Andrews is already royalty in real life, so of course the role of Queen Clarisse Renaldi could never be filled by anyone else. Besides that, it's just really wonderful to see Mia grow as a person (and a princess) throughout the movie.
6. The To Do List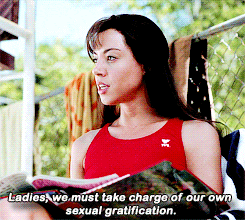 GIF Source: GIPHY
Brandy (Aubrey Plaza) is nothing if not determined, but still very socially awkward. And there's only one thing she wants to do before going off for college after summer: to learn everything she can about sex and lose her virginity to Rusty Waters (Scott Porter), a super hot college guy she crushed on after they "accidentally" made out.
She asks for advice from her older sister, her two best friends and her mom and deems necessary to makes a list of everything she needs to do to achieve her goal. Wanting nothing but success, she approaches it like an assignment. But when her actions hurt her best friends, she ends up learning that things aren't as simple as she thought they were. Because FEELINGS!
This is a movie about sex from a teenage girl's perspective. Aside from the amazing performances by Aubrey Plaza, Bill Hader, Andy Samberg and others, it's got a clever and funny story, give it a try!.
7. Easy A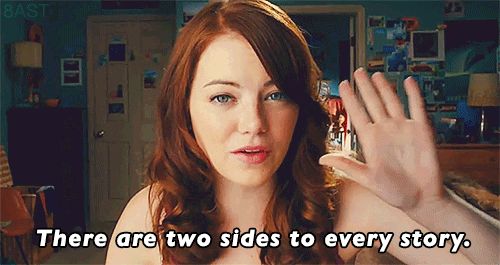 GIF Source: GIPHY
Gossip spreads like wildfire. That's what Olive (Emma Stone) learned when she lied to her best friend Rhiannon (Alyson Michalka) saying that she had lost her virginity to a college guy during the weekend. Another girl overhears Olive dropping that bomb and that's all it takes for the whole school to know about it.
Later, in order to help a friend stop being bullied, she lies about sleeping with him as well. More boys come asking her for help and that's how she ends up getting the reputation of being a "slut". Enraged, Olive decides to embrace it and, in the best Scarlet Letter reference, starts wearing a red letter "A" as a badge on all her clothes. And then she gives everyone a lesson about slutshaming.
This movie has some great references to John Hughes' movies and Emma Stone, who's flawless as Olive. And, aside from the great jokes, it teaches you stuff! What else would you want in a movie?