"I'm Mexican and gay, this is my inside voice!" says Matt Cornett as the Webinar room roars into laughter with his pick of his favorite High School Musical: The Musical: The Series (HSMTMTS) quote.
The actor, who plays E.J. on Disney's hit show, was joined by fellow cast members Dara Renée (Kourtney), Frankie Rodriguez (Carlos), Julia Lester (Ashlyn), Joe Serafini (Seb) and Larry Saperstein (Big Red) to celebrate the release of HSMTMTS' season 2 soundtrack. Invited by Her Campus, Her Campus Cásper Líbero's team mingled with fans and stars alike on an exclusive Q&A hosted by °1824, and got to see – through Zoom, naturally – a snippet of the behind the scenes of the beloved TV series back in August.
1. JUMPSCARES ARE A THING Bts
"Coming into the show, I was like, everyone is the same age as me, that's so cool", recalls Dara Renée on the early days of the show. But, before she was ever over everybody's house knocking to let her in (and bearing croissants, according to Frankie), Dara reveals she was as excited as ever. But also, she was scared. After stalking the ensemble's social media, "I was like, they are talented talented." 
However, though acting along such a gifted group was initially a source of worry for her, having everyone shine with their own individual voices was later what Dara would truly love about the second season of HSMTMTS. Besides, of course, being with the "sweetest" people.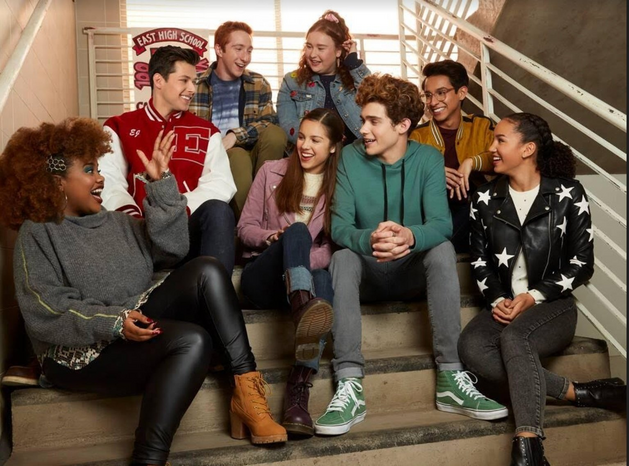 "A lot of times we'd go back to a piano [on set] to hang out, and everybody would stop and just play different things and start singing", adds Matt Cornett on the cast's friendship, which bloomed in between takes. Some of his favorite memories are at that piano. And of scaring people. There are a lot of videos on Matt's cell phone of both, he tells, although Frankie Rodriguez protests he ever scared someone since Matt is, in Frankie's words, "like, the tallest person ever".
2. FRANKIE LOOKED UP TO DISNEY CHARACTERS… BEFORE BECOMING ONE
Music, as expected, also builds up a special bond in HSMTMTS: "after working on the show and having so much music surrounding my life now, I realized how important it is on every level", continues Matt. Within the series' universe, music holds meaning beyond the songs too, Larry Saperstein says. He highlights how the songs from the musicals they do onscreen are applied to the story, matching what the characters are going through at the time.
Joe Serafani's sentimental cover of the iconic The Climb, by Miley Cyrus, is an example and, to the actor, it represents just that. A powerful piece about the rocky road of discovering yourself, "it's a beautiful song to begin with", says Joe. With his character Seb, he feels "he's talking more about figuring out sexuality and who he loves and who he admires. It's a big anthem for him."
"So much of finding myself came from music" carries on Frankie Rodriguez. Being an "artsy kid" in a small city, he says he looked up to things like Disney channel to find more confidence, so he finds that "the fact that getting to be 100% our authentic selves is the best". Inspiring people, that now look up to him and Carlos, feels like returning this old favor.
3. THEIR FAVORITE SONG WAS BE OUR GUEST
On the other hand, Frankie's favourite song to perform on season 2 was Be Our Guest, from the classic Beauty and The Beast soundtrack. With a tiny Lumière on his Zoom background, Frankie explains that he was excited to join the musical this season. Be Our Guest was a popular choice among the cast. Larry and Joe, however, advocate for Something In The Air: "that song was lit!".
But picking favourites between the season 1's High School Musical (HSM) musical and season 2's musical seems harder to the group: to Joe Serafini, the comparison is tough because, while HSM had nostalgia, Beauty and The Beast had magic. Belle's story definitely didn't strike any nostalgic chords with Matt though, who reveals he didn't see the original movie until a month before shooting.
4. KOURTNEY AND CARLOS ARE BEYHIVES
Yet, their character's playlists sound a little different aside from East High's musicals:
Dara thinks Kourtney's mix would have Beyoncé, Whitney Houston and Doja Cat;
Frankie says Carlos would also be part of the BeyHive;
E.J. is a "little softie", so he would listen to romantic songs, claims Matt (while the chat tells him E.J. would be a One Direction fan);
And Ashlyn lives by Sarah Bareilles, says Julia Lester. That's actually something the actress shares with her character, since Julia is a big fan and was even encouraged to audition for her role with one of Bareilles' songs. The love for musical theater is another similarity between the two: "just to be able to share this and see her grow and expand and find her love the way I found mine is wonderful."
5. MATT WOULD LOVE a feat WITH SOFIA
Ashlyn is very driven and dreams big, adds Larry while contrasting this to her romantic interest, Big Red. "The show creator wanted to pass along the message [through Big Red] that not everybody has to want to be on Broadway or to be president", he explains. "It doesn't matter what you want as long as you are going after your own happiness". Staying true to his roots, Larry continues, is a big part of Big Red's character.
As for the E.J. and Gina (known by fans as "Portwell") arc, Matt thinks there is a "big, open book. There is a lot to explore there", adding that E.J. is the happier version of himself with Gina – and that he'd love to do a song with Sofia Wylie (Gina) at some point.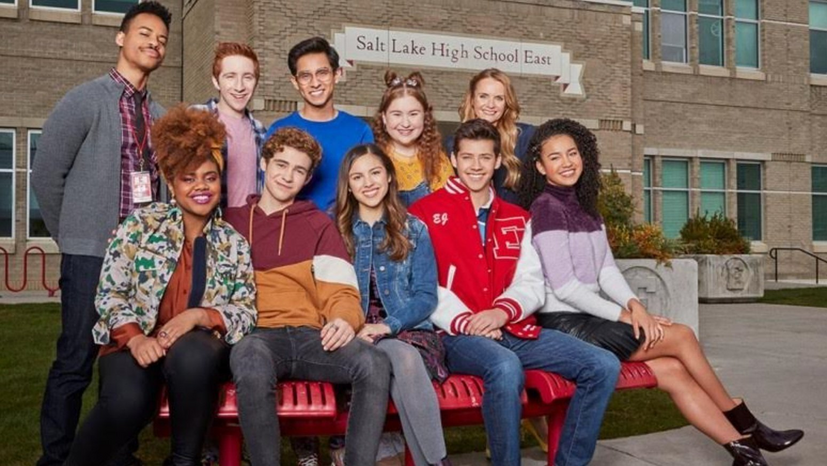 When asked how they would prize themselves if they could hand out Alan Manken awards like in the show, Frankie says they would win for best ensemble. As a 1 hour spectator of the real life HSMTMTS, it's easy to see how their friendship bleeds through their roles and that Frankie's statement holds true.
Julia Lester goes the other way, though: she'd give Mr. Mazzara an award, saying that "he deserves something!"