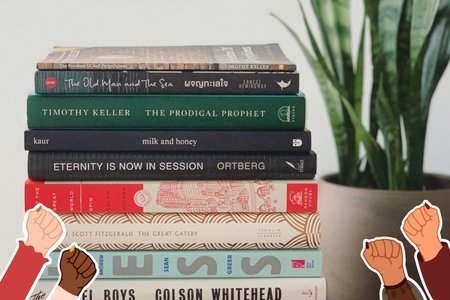 15 Inspiring Female Writers To Read During Quarantine
It's clear already and everyone is talking about it: we are all bored and looking for things to do while staying home. With that in mind, here are 15 female writers that might inspire you in some way. 
Starting off with my personal favorite, Rupi Kaur is a Indian-born Canadian, 27 year old poet and illustrator. With the publication of her debut book Milk and Honey in 2014, Kaur, who was 22 years old at the time, received great notoriety. In that work, she explores themes such as silence, abuse, family, womanhood, connections and power. The book is divided into four parts: hurting, loving, breaking and healing, which mirrors experiences and growth gone through the poet's life. 

Kaur's second book was published in 2017 and it's called The Sun and Her Flowers. Her amazing work deals with relationships, immigration and sexual trauma, it was widely recognized and led her to be named on the BBC's 100 Women in the same year. Besides that, the poet was named Writer of the Decade by The New Republic in 2019, at only 26 years of age. 

The writer also publishes part of her work on her Instagram account: @rupikaur_ 

This one might be a little unexpected, since a lot of you probably know her as "Bill Gates' wife", but she is definitely a lot more than that. Besides being one of the most recognized philanthropist nowadays, Melinda Gates debuted as an author with her book The Moment of Lift: How Empowering Women Changes the World, in 2019. Her work brings to light the lack of acknowledging women's unpaid work. 

For the last twenty years, Gates has pursued a mission, as co-chair of the Bill & Melinda Gates Foundation, to find solutions for people with urgent needs. Throughout that time, she came to the realization that to lift society up, you should invest in women, and that's what her book is all about. 

In her great debut work, Melinda takes all efforts to ensure women should have access to all kinds of jobs, to encourage men to share equally the household work, and to end gender bias in all forms. It is a great and refreshing book, very well written and, with no doubts, really inspiring.

Duffy is a British poet and playwright, appointed Britain's Poet Laureate in May 2009, when she was 55 years old, being the first woman and first LGBT poet to hold that position. Her works have received a number of awards, such as Scottish Arts Council Awards and the Whitbread Poetry Award. 

Her poems address important and timeless subjects as oppression, gender and violence. Since they were written in an easier language, they have been made popular in schools, which is certainly very relevant and helps teenagers to learn about those delicate themes and realities.  

Carol ann Duffy is an extremely important writer, representing minorities and gaining awards that gave her more notoriety, bringing those subjects to light.

Lucia Perillo was award winning poet and Pulitzer Prize finalist. Perillo received a MacArthur Foundation "genius", for her honest and raw poetry. 

When in her 30s, the writer was diagnosed with multiple sclerosis and talks about her experiences with the disease in her works. In her collection of essays, she explores themes such as suffering, mortality and loss, since those were circling her mind at the time. 

Besides the collection of essays, she also published seven volumes of poetry and a book of short stories. It's amazing but also painful to read her works, since they are so genuine, and I guess that's the beauty of it.

Hillman is an American poet, who wrote ten collections of poetry, including award winnings Practical Water, Seasonal Works with Letters on Fire and Extra Hidden Life, among the Days. 

She is known for exploring themes as the environment, politics, geology, family and spirituality. Her poems usually bring elements of document, personal meditation and observation and literary theory. 

Hillman has earned her space by showing how great of a poet she is and winning great prizes for it. Her writing is amazing and different from everything out there. 

Naomi Alderman is an English novelist. Her work The Power led her to win the Baileys Women's Prize for Fiction in 2017. The novel explores a world where women have the power instead of men, and by doing so, it also brings to light how men have abused their power for centuries. 

The book contains the narrative of four characters and discuss, mainly, two subjects. The first one is suffering, since all those characters experience it in some form, being it physical, sexual or emotional. The second theme explored by Alderman is, as you can imagine, power. The main idea approached by the story is the advocation of women's rights and gender equality, done by the exploring of that second subject. 

Carter was an English novelist, poet, short story writer and journalist. She is best known for her work The Bloody Chamber, published in 1979. In 2008, Carter was ranked 10th in the The Times' "The 50 greatest British writers since 1945" list. 

Angela Carter was known for exploring subjects considered tabus in the time she published. She would write feminist, magical realistic works, and is considered one of the most original voices in the 20th century English literature. 

Is crazy to see that, in a time when women didn't have much voice and subjects such as feminism were not brought up, Carter had the power to approach them and gained great recognition by doing so. Truly inspiring.

Maya Angelou was an American poet, singer, memoirist, and civil rights activist. She is best known for her seven autobiographies series, which tells stories of her childhood and adult experiences. 

The writer was considered a respected voice for black people and women, and defender of black culture. Her works explore subjects as racism, family and identity. With those, she received  more than 50 honorary degrees.

Her works are used in a variety of schools and universities worldwide and is so powerful that there has been attempts to ban her books from libraries over the years.

Margaret Atwood is a Canadian poet, literary critic, teacher, novelist and activist who, since 1961, has published a vast number of works, including 18 poetry books, 18 novels and small press editions of poetry and fiction. 

Atwood has received numerous awards and honors, such as the Booker Prize (twice) and the National Book Critics. Recurring themes that appear in her works are feminism, animal rights and political involvement. With the help of those subjects, the writer always focused on women seeking their roles in the world and dealing with their relationships with other individuals. 

You might know her most famous work, that brings up her feminist perspectives, The Handmaid's Tales, since it has recently been adapted into an award winning tv show.

Wollstonecraft was an English writer and advocate of women's rights. Nowadays, she is seen as one of the first feminist philosophers, being often talked about by other feminists for her important work.

She spoke about rights when women had none, back in 1792, when she published her best known work A Vindication of the Right of Woman, in which she points out that men are not superior to women, but that they received more education than females back then. 

Her works are certainly inspiring, considering the time when she thought them through. To see a woman stand up for herself in such a obscure scenario is truly invigorating.

Clarice Lispector was a Brazilian novelist and short story writer. She went to law school in Rio de Janeiro, in Brazil, and began publishing her work while still there, gaining notoriety by the time she was 23 years old, with the publication of Near to the wild heart (Perto do Coração Selvagem), her first novel, considered revolutionary in Brazil, for it was written as an interior monologue in a completely new style and language. 

Her novels and stories usually focus on the lives of women in a society that has clearly defined female roles. The characters created by her often struggle with their limitations and besides that, Lispector also gives a woman's perspective on existential anxiety and fears. By doing so, the writer also exposed her social and political concerns.

Lispector's most famous stories include Family Ties (Laços de Família), the mystic novel The Passion According to G.H. (A Paixão Segundo G.H.) and the masterpiece Água Viva. 

Alcott was an American novelist and poet mainly known for her novel Little Women(1868) and its sequels Little Men(1871) and Jo's Boys(1886). In her most famous works, the writer explores the struggles between love and personal growth faced by women in that time, a reality that can easily reflect in today's society. 

The book has become a number of adaptations, the most recent being a movie, released in 2019, starring artist such as Saoirse Ronan, Timothée Chalamet, Emma Watson and Meryl Streep. It certainly is one of the best book adaptations there are. 

Little Women is one of the most amazing stories out there. It deals with complicated themes in an emotional and sensitive manner making it really enjoyable and interesting.

Woolf was an English writer and one of the most important 20th century authors. She was one of the first to use consciousness as a narrative device. It's clear to see that all her women characters seem to be uneasy with the way they live life, as if things were not how they were supposed to be. 

The writer was one of the first women to really stand up for her rights through her work, being one of the few who brought up feminist ideals and perspectives in the time. Besides that, she also talked about almost every social and political problem going on, something completely revolutionary for a woman to do back then.

The way Woolf created her characters makes us all imagine how she might have been placing herself in the shoes of those. She would use imagination in almost every aspect of her works, which made her different from those around her.

Woolf's most notorious works are Mrs Dalloway and To the Lighthouse. 

Jane Austen is also one of my personal favorites. She was an English novelist mainly known for her six major well recognized novels, which are critiques to the British scenario at the end of the 18th century. 

Her stories explored the dependence of women on marriage while pursuing favourable standards and economic security, portraying the sexist vision impregnated in the british society at the time. 

Austen would often use irony, humour and social commentary, elements which led her to claim popularity amongst critics, scholars and society as a whole. Her most famous works are Sense and Sensibility, Emma and my favorite Pride and Prejudice. As Little Women, previously mentioned, Jane Austen's works have also received great movie adaptations.

Last, but definitely not least, Malala Yousafzai, also known as Malala, is a Pakistani Pashtun writer and activist. She is the youngest Nobel Prize laureate and is recognized worldwide for advocating human rights, especially for the education of women and children. 

Her most famous work is I Am Malala, in which she talks about the power of education, family, religion, honesty and freedom, while telling her own story.

On her 16th birthday, Yousafzai spoke at the UN, event later named as the "Malala Day" and on 10 October 2014, she was announced as the co-recipient of the 2014 Nobel Peace Prize, at only 17 years of age, for her work against the repression of children and her fight for the right of children and women to education.
I could go on and on about all these incredible women. After all, there's no bad time to admire strong women such as these, especially when we find ourselves merged into a time when many governors act in repressing ways towards our most basic rights. 
Hope you enjoyed it and that you can also feel inspired by the fights and conquests made by these writers.