Last month I went to Toronto on an impromptu trip to visit some friends. I hadn't planned anything, and I was looking for something fun to cap off my weekend. I had already been to the Hockey Hall of Fame, done laps around Eaton's Centre and shopped on Queens street. I wanted to do something that was unique to Toronto; finally, my search for a fun and frugal activity led me to Toronto's Museum of Illusions. 
With over 70 mind-bending illusions to discover, the Museum of Illusions advertises itself as where you can "experience the impossible." The museum is open to all ages and is accessible for people of all abilities, (apart from one illusion which you must enter on a bridge platform).
This is not your typical museum. It is a relatively small, one level building that is manufactured to flow and fit people and exhibits very well. The museum is full of teal illusions and salutes to Albert Einstein including a giant quote of his as soon as you walk into the main area. 
With over 70 illusions, there is a ton to explore. My favourite illusion was definitely the Jastrow illusion. I spent ages trying to figure this one out and I am still stumped to this day. What apparently is going on here is that when two curved shapes of the same proportions are placed together, one will automatically appear larger than the other. Look, I'm no physicist but this sounded ridiculous to me on first glance. Luckily, the museum provides a piece of material that allows you to play along and attempt to "solve" each of the many optical illusions they have on display.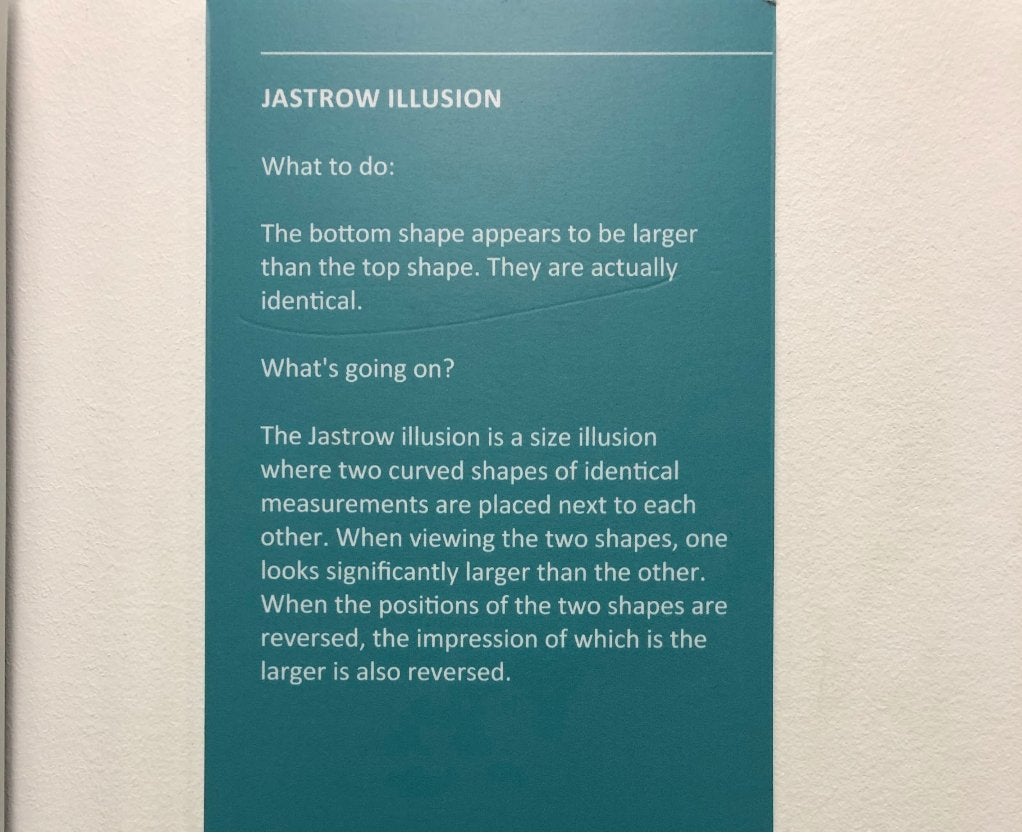 Think you can't be fooled? Try looking into this one further. Photo by Belle Riley Thompson.
Of course, a place like this is ideal for photo ops. The 'Reverse Room,' is perfect for such endeavours; it'll make you look like you're standing on the ceiling! This illusion isn't as intellectually disheartening as the latter one since they have essentially flipped a room upside-down. It sure is cool, though!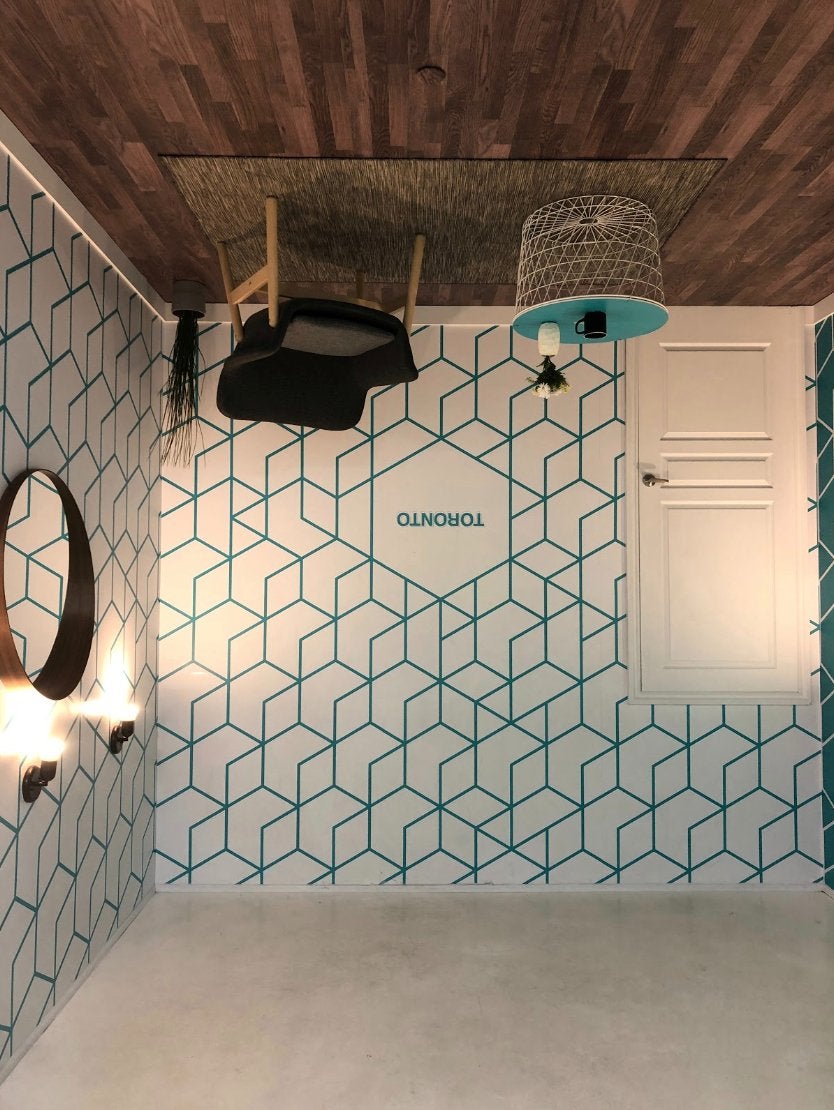 Photo by Belle Riley Thompson
A final highlight of this trip was "The Vortex Tunnel." According to the museum's description, "the Vortex tunnel will drive you mad and make you try really hard simply to make a step forward through a rotating cylinder – on a completely stable and flat surface." I don't get phased easily and I consider myself fairly coordinated, so I was shocked when I entered the tunnel, I could barely keep my balance at all!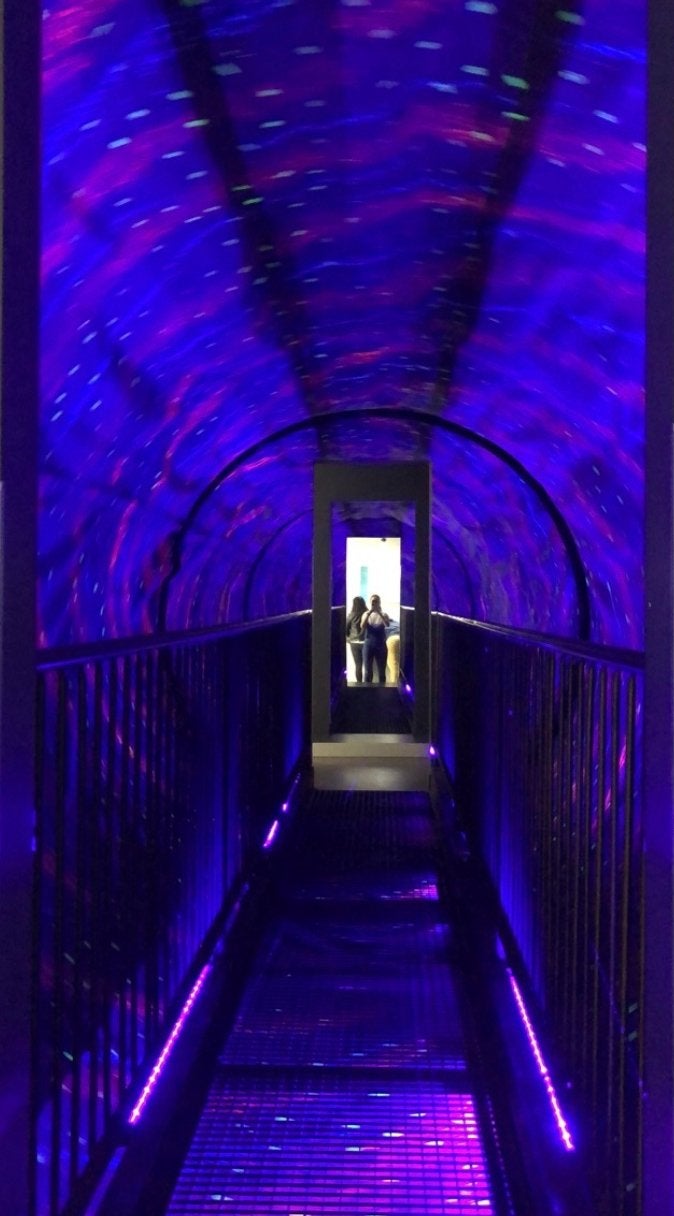 This photo isn't actually blurry, the room is just spinning! Photo by Belle Riley Thompson.
Next time you're in Toronto and looking to do something out of the ordinary, I suggest visiting the Museum of Illusions. Not only is it aesthetically beautiful with vibrant colours and silly photo-ops, it genuinely activated a different part of my brain that is used to reading books and studying for tests. This just goes to show that stepping out of your comfort zone and trying something new every once in a while is important and can definitely be fun too!