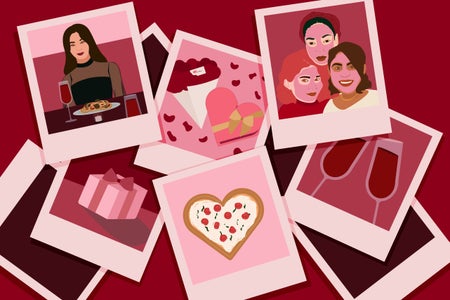 Why Galentine's Day and Malentine's Day should become the new norm in February
We all have had the dreaded feeling of Valentine's day coming up and having no one special to spend it with. However, this idea is only valid because we have believed for so long that Valentine's day is only for couples. February is the month of love, but for some reason people the love we feel for friends is not valued/celebrated as much. There is a pressure to spend the holiday with your partner or quickly find someone to spend it with. some even find a complete stranger because they want to experience romance on the day and feel less alone
Valentine's day cuts off more than half the population because they are single. According to the 2016 US census 45.2 percent of all U.S. residents age 18 and older are partnerless. In today's modern age, being part of a couple is not a priority for many people and some people even prefer to be single. According to a 2020 study by the Pew Research Center, "50 percent of single people are not interested in a committed romantic relationship and they are not even interested in a date." So if so many people are single and aren't interested in a relationship, why is Valentine's day so discriminatory towards half the population?
Recently, people have realized that Valentine's day should not just be for couples but for other types of relationships too. In 2010, Leslie Knope, from Parks and Recreation, a popular TV show, invented Galentine's day, opening up the "holiday of love" to gal pals and girl friends alike. Shortly after, malentines day was made for boys and their best friends, including even more of the population into the festivities. These new holidays are great for celebrating your relationships with your closest friends, but even so, they do not celebrate all loving relationships. What about familial relationships or friends groups of all genders? 
Valentine's day should be open to anyone who wants to celebrate their love and dedication in any types of relationships they might have; it is after all the month of sharing love. Valentine's day is about letting those in your life know how special they are to you, no matter if they are your boyfriend, girlfriend, mom, dad, or best friend. The connotations of Valentine's Day have stopped so many people from sharing the holiday with friends out of embarrassment or out of a need to conform and get a date. Sharing love with those around you and being romantic with your friends and loved ones is what Valentine's day is really about. In elementary school, we used to bring valentines to the whole class, no matter if they were our friends, our crush, or someone we barely knew; it was all about inclusivity. So let's break these valentine's Day norms and share romance with all.
We need to normalize giving out valentines to strangers to make their day and spread some love. We need to normalize going on dates with your friends on Valentine's Day. We need to normalize tables of ten, not just tables for two. We need to normalize spending Valentine's day with your parents and siblings because they have shown you love your whole life. February is the month of love, and love has no boundaries, so neither should the holiday Valentine's Day.