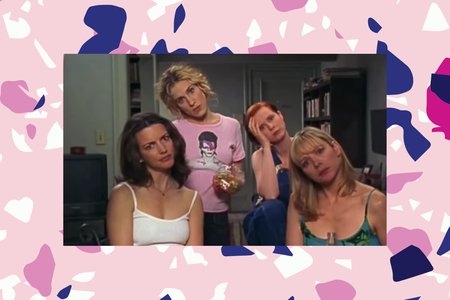 An Early 2000s Guide to Halloween Costumes
While some might cringe looking back at fashion choices and trends from the early 2000's, there is no doubt this era did bring us some of the most iconic looks. From double denim, to low waisted jeans, to Paris Hilton's unforgettable 21st birthday dress, early 2000's pop culture never gave us a boring outfit. And what better way to remember the era of bold and timeless fashion than a Halloween costume? 
This 2004 film not only gave us one of the best rom com storylines of the early 2000's, but also Jenifer Garner in the most chic outfits. There is no better way to describe the fashion in this movie than "30, flirty, and thriving." The most iconic look from the movie might be the babydoll dress from the dance scene. What you'll need to recreate: any bold colored babydoll style dress, a statement necklace piece (she wore a butterfly necklace in the film), and fun earrings. The hair is a classic early 2000's look that can be recreated by doing a high ponytail with loose pieces sticking out and butterfly clips.

If the rock-n-roll era is more your style, Kate Hudson in Almost Famous, is the look for you. While the movie and style is more 70's, it is a classic 2000's film that is a perfect throwback for Halloween. Hudon's character, Penny Lane, sports an iconic fur coat look that can be easily recreated. What you'll need to recreate: bell bottoms or flare jeans, any simple white top, round frame sunglasses, and of course a faux fur or any vintage coat. This costume can also be fun to go thrifting for.

Elle Woods is the girl boss of our dreams, and her iconic lines and outfits never disappoint. From the courtroom to the classroom, any Legally Blonde inspired look is going to require one thing: a lot of pink. One easy way to recreate Legally Blonde this Halloween is to copy her own costume from the movie and do the classic pink bunny costume. If you want to get more creative and really channel your inner Elle Woods, two looks come to mind. For the first, any hot pink leather outfit paired with a handbag and sunglasses will do the trick. For the second you'll need a sequin triangle top, fun fuzzy jacket, and any pair of pink pants. These looks are great to recreate with your pet too, and your pup can channel their inner Bruiser Woods.

Always wanted to be a cheerleader for Halloween? Here's your chance with its own early 2000's touch. Whether you're on team Torrance or Isis, their cheerleading looks from Bring it On are fun and easy to recreate. This can also make a great duo or group costume. For this costume you can find the exact cheer outfits online and sport your own Clover or RCH spirit, with any early 2000's inspired hairstyle (butterfly clips or a high ponytail are perfect). This costume has also been done with a scary twist by making it a vampire cheerleader look, which is also very Megan Fox in Jenifer's Body.

This girl group was a staple of early 2000's pop culture and is a fun look to recreate with a group of four. The most iconic Cheetah Girls outfit is probably the sweat suit look. The first thing you'll need to decide in your group is who is who because colors are very important for this costume. The colors are pink, blue, purple, and orange. Once you've decided who's going to sport which color all you'll need to recreate is a sweat suit and headband in your color (easy to find online), cheetah print top, and the classic early 2000's hoops.