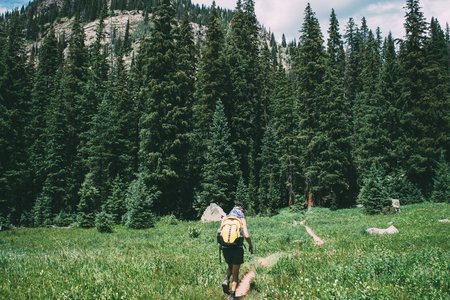 Cameron Smith / Her Campus
Why You Should Work at Girl Scout Camp This Summer
As the end of the semester gets nearer and nearer, us college students have a lot on our minds. Between homework, formals, trying to soak up the warmer weather, and dealing with the fact that finals will be here before we know it, there are a ton of things to think about. And for many of us, that includes thinking about a summer job.
The past two summers, I worked as a camp counselor at a Girl Scout camp in western North Carolina, and I'm here to tell you why working at camp is truly one of the best decisions you can make in your life.
1.

It's a great resume builder

A lot of people don't consider this when they think about camp counseling. Some may think that counselors aren't much more than glorified babysitters and that there are better experiences to add to a resume. But the skills you build at camp are some of the most valuable skills an employer can look for: teamwork, communication, interpersonal skills, problem-solving, and many more.

Teamwork is one of the most essential parts of being a GS camp counselor. The staff members in each unit, or group of campers, must create plans for resolving potential problems, divvy up responsibilities, and always be on the same page. Being able to cooperate with coworkers and establish positive relationships with them is something that will always look good to future employers.

Camp also teaches you how to effectively communicate with all kinds of people; at my camp, I worked with children as young as 6 and as old as 14, and I learned how to adjust my communication based on these different groups. Interacting with parents courteously and professionally is another important part of communication.

Camp builds interpersonal skills as well, as you learn how to connect with campers and help them with conflict resolution, confidence, etc. Problem-solving is a big one too - let's face it, things don't always go as planned, so if it starts thundering right when your campers are scheduled to swim in the pool, you have to be creative and flexible to keep them busy and having fun.

There are so many more professional skills camp can teach you, from attention to detail, to responsibility, to organization, but you'll learn much more than just workplace skills.

2.

You'll gain some awesome talents

I learned a lot of cool things at camp. I was required to get certified in First Aid, CPR, and use of an AED, which is obviously useful in any environment. But I also got certified in fun, unique things like archery instruction and small craft (boating) safety. Archery and small craft training were provided by the Girl Scout council, so it was all just a part of normal staff training. You can also earn a belaying certification, which means managing the rope of a climber on a climbing wall. Many others become trained lifeguards through Girl Scouts as well.

It was really amazing to have the opportunity to learn all these things, but don't feel intimidated and like you have to be a master at all of this. For example, I wasn't comfortable with belaying, so that wasn't something I was forced to do. But the chance to learn just one of these things shouldn't be missed out on

3.

You'll make lifelong friends

There's no bonding experience quite like being on staff at Girl Scout camp. Trading friendship bracelets, sneakily roasting leftover marshmallows after the campers have gone to sleep, chilling in the break room, comparing Chaco tans, seeing each other at our most stressed, dirty, and bug-bitten...all these things create a friendship like no other. Some of the most kind, incredible, hard-working people I've ever met, I met at camp, and sharing such a unique experience with them only makes the friendship that much stronger. At the end of the summer, after all the kids have left, we hold a staff campfire that is always filled with tears as it fully sets in that we won't be seeing each other every day anymore. But we always say that camp friends are forever, and it holds true even when we go back to our normal lives.

4.

You'll meet people from all over the world

Some of the friends you make on staff might just be from another country! Many Girl Scout camps hire international staff for the summer. This was one of my favorite things about camp both as a kid and a counselor. I've met people from England, Ireland, Hungary, Australia, New Zealand, South Africa, Brazil, Venezuela, South Korea, the Netherlands, and more, and I never would've met any of them without camp! 

5.

You don't have to have any Girl Scout or camp experience

Girl Scout camp is a place for everyone, whether you've known how to pitch a tent since you were a Brownie or you've never been to summer camp in your life. It's not required for campers to be Girl Scouts to attend GS camp, and it's not required for staff to have been Girl Scouts, either. (Though in my council, and likely everywhere else, it is required that you register as a member of the organization once you're hired.) I worked with counselors who had never been to any type of camp before, even as a kid, and they still fell just as in love with camp as those of us who'd been going for years.

I truly believe that Girl Scout camp helps you become a better person in every area of life. Helping girls with their problems, from homesickness to fear of the dark, has taught me to be more patient and empathetic. Interacting with campers and staff from all different walks of life has helped me understand the value of diversity. Living in the woods for the summer has helped me appreciate nature and time without a screen in my face. Dealing with the difficulties of this job - because it can be really, really hard - has helped me realize I'm capable of so much more than I thought I was. That's one of the most amazing parts of the camp; there will be moments that push you so far out of your comfort zone you're not sure you can handle it, but then you do. And that helps you understand just how strong and resilient you actually are.

7.

You take part in a rich history

Girl Scouting is a movement that is over 100 years old, and it comes with its own history, culture, and traditions. Helping girls earn badges, learning the Girl Scout Promise, making campfire treats like "walking tacos" or "fairy rings", and singing songs that have been passed down for years and years are all just some of the traditions you might experience at camp. Probably my favorite tradition is the camp name - every staff member goes by a nickname, like Minnow, or Polka-dot, or Artemis. At my camp, we keep our real names a secret from the campers until the day they leave, and it's always very exciting when they finally learn our names after a whole week of guessing. These traditions connect millions of Girl Scouts around the country, and it's really cool to be a part of it. Plus, most camps will have their own individual traditions. For example, at my camp, girls who've attended for at least four years get inducted into a secret society. Every camp has its own unique culture, but they're all united through Girl Scouts.

8.

You make a real difference

The best part of this job is waking up every day knowing you're doing something that matters. Summer camp, and especially Girl Scouting, can have such a huge impact on girls. Many campers say that they feel like they can be themselves at camp more than anywhere else. For kids who struggle to fit in at school, camp is often the place where they find a family. And just like I benefited as a counselor from being pushed out of my comfort zone, the girls benefit, too. Some of my best memories on staff came from seeing scared campers conquer the climbing wall, sing onstage in front of the whole camp, or overcome their homesickness to have an amazing time. Girl Scouts teaches kids to be brave, kind, helpful, responsible and empowered. Being a role model to my campers and helping them reach their potential is definitely one of the most rewarding things I've ever done. Some of the most bittersweet moments are when campers tearfully tell the counselors that they'll miss us. It's sad, but it also makes us happy to know we've made a difference in some way.
Girl Scout camp has been such an important part of my life, and I'll never regret any of the years I spent there. It may sound daunting to work in the woods for a summer, but I guarantee it'll be one of the best summers of your life. So take the plunge and apply! GS camps around the country are in the midst of hiring, so now is the time. If you're interested, you can use the Council Finder on the GS website to see what council you're a part of (for example, I live in western NC when I'm not at college, so I fall under the council Girl Scouts Carolinas Peaks to Piedmont) and if they have any jobs available. It's hard to explain the magic of camp with just words. But once you experience it, it's something you'll never forget.