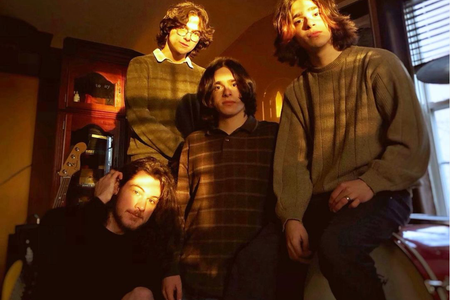 Woah, local to Charlotte, NC, has been rapidly gaining popularity on social media platform TikTok, and for good reason. If you're a fan of other artists such as Wallows, Clairo, and Current Joys, then you need to check out Woah immediately. Lead singer Mikey Gomez says fans would describe their music as indie or dream pop, and he tends to correlate it with indie coming-of-age movies because of the nostalgia it inspires in listeners. Newest member and guitarist Jackson Martin believes their use of snares is what gives their music that nostalgic touch. They admire artists such as Death Cab For Cutie, U2, and The Strokes, but Mikey says he tries not to focus on any one particular sound when it comes to creative influences. When it comes to writing music, "Whatever comes out, comes out" he says. Their most popular song right now, "It's Not A Movie," has over 215,000 streams on Spotify. 
If you're wondering how Woah got their name, bassist Zac Tice ("Not Rice!") offered a very interesting story. He said that they got their name through a collective dream the four shared about a man who walked in and simply said "Woah." Mikey Gomez revealed that it was a lot less interesting of a story than that, but I like Zac's take better, as did the rest of the band. 
Their creative process is all over the place, but that makes for the best, rawest music. Ruben Gomez, who is on drums as well as vocals, and his brother Mikey are responsible for writing the songs. Jackson says that once they have written the basis of it, all four get together and work on melodies before sending it back to Mikey and Rueben at the end.    
Like many other things, the COVID-19 pandemic took a toll on the music industry. With the inability to gather, house shows were stripped away. All four members of the band caught the virus, but have recovered just fine, with the exception of Jackson who sadly still cannot smell! They are hoping to possibly do a mini-tour up the East coast this summer if everything starts to return to normal. All four members agree that the state of the world regarding COVID-19 needs to improve before they begin playing shows again. Mikey says they hope to begin playing bigger spaces such as theatres soon. You can bet I'll be heading to one of their shows! 
At the end of the interview, I asked them if there was anything they wanted me to include in this article for their fans. Ruben commented "Stop Asian Violence," a reference to a very prevalent human rights movement that has taken the media by storm since the beginning of the coronavirus pandemic. Mikey and Jackson agreed and said there were a lot of things they wanted to tackle since they are a left-leaning band. "Donate to any communities you can," Jackson said. I have linked some charities below to go check out! 
Make sure to check out their new single, "Valleys," which was released on March 18th and is available on Spotify! If you like what you hear, you can follow them @woahtheband on Instagram and Tiktok. You can also check out their website, http://www.woahtheband.com 
Charities
Feed The Movement CLT
Instagram: @feedthemovementclt
Website: linktr.ee/feedthemovementclt 
Stop Asian Hate: Asian Americans Advancing Justice 
Website: https://secure.donationpay.org/aajc/