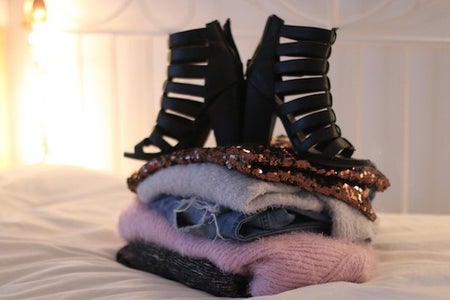 Everyone loves sweatpants and comfy sweatshirts but seriously, who wants to spend hundreds on them?! 
One of my favorite brands Boohoo has the comfiest loungewear without the huge price tag...Some of my faves are:
Basic Sweat Jogger
Normally these are $25 but Boohoo currently has a 50% off sale so the discounted price is $12.50
These basic joggers are super soft and comfy. These can be worn everyday with a basic tee or hoodie. These have become my go to outfit when I'm headed to class!
https://us.boohoo.com/basic-sweat-jogger/DZZ02859.html
Mock Croc Leather Look Jogger
$23.00 normally $46
This leather look is perfect for a chill night out but with an added chic edge. I recommend these joggers to the girls that wanna look cute and stylish yet comfy.
https://us.boohoo.com/mock-croc-leather-look-jogger/FZZ71552.html
Her Embroidered Crop Hoodie Tracksuit
$56
This tracksuit is perfect for matching your man in style. This burguny tracksuit can be paired with the matching men's tracksuit for a cute picnic or movie date.
https://us.boohoo.com/her-embroidered-crop-hoodie-tracksuit/MZZ18785.html