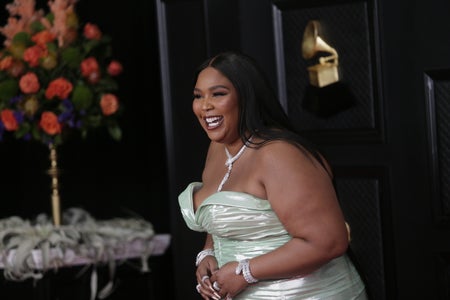 Photo by Francis Specker / CBS
My Top 5 Favorite Looks from the Grammys 2021!
     There were so many iconic looks at the Grammys, but I have narrowed down a list of my top five favorite fits!  In case you missed the show, here's a little fashion recap:
     I absolutely love the colors pink and gray together on this outfit!  They compliment each other so well.  Every piece is from Gucci, and even her nails and mask match!  It is very much out there, but isn't that what the Grammys are all about?  I also love the intricate black lining on the suit, I think it all ties together very nicely.

     This dress is absolutely stunning and so elegant!  I love love love this shade of orange on Megan, even the heels match.  Her shiny jewelry matches perfectly, and I love her up-do style with the two strands out in front!

  H.E.R.'s outfit was phenomenal!!!  I love this dark shade of purple and her hair looks stunning.  She paired the fit with these tinted purple shades which really ties it all together.

     This fit is so chic and powerful!  I love the pointed shoes and the jewelry.  The diamonds (I am not 100% sure what kind of jewels are on them) going down the front are a game-changer!  I really love the one-color look, especially with this almost cream white color.

     I'm living for the glittery iridescent vibes here!  Dua Lipa also matched her makeup with her outfit, going for a purple glittery lid look.  She looked like a godess walking down that red carpet! *chef's kiss*
     Those are my top five for the Grammys 2021 fits!  Everyone looked absolutely beautiful, and I cannot wait for next year's!