5 Not-So-Basic Group Halloween Costumes
The Buffalo Fall is finally upon us with that wonderful temperature drop to a crisp and sunny 65 degrees! The beginning of October marks the countdown to fun, spooky, and creative Halloween costumes. Here are some ideas that not only match the cool Buff Halloween night, but will also impress your friends with innovative and cute outfits:
1. 80's Ski Girls
What better way to pay tribute to Buffalo's famous snowfall with neon puffy pants and outrageous hair? Imagine how cute you'd look in this outfit while doing a shot-ski with your gal pals.
2. Mean Girls
Quick, cheap, hot, and easy. Cut those two little holes in a white tank, throw on some heels and pink skirt, then you'll almost look as good as Queen Regina George herself.
Comfy colored cheetah leggings, a track zip-up, AND you get to wear those cool thick 2000's headbands. My roommates and I already color coordinated these outfits and you best believe we will be taking that iconic car picture...
5. Hot Sauce
This is Buffalo. I'd bet there's some people here who put hot sauce in their coffee. This DIY mini dress is perfect for that big group of girls who love crafting together and know they just have to look amazing on Halloween night.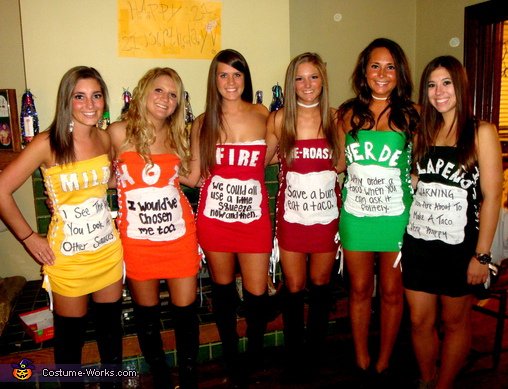 Stay safe but party hardy on this years Halloween night!