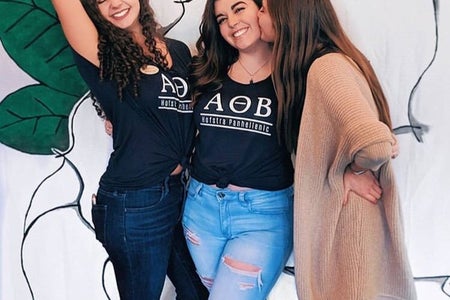 My Experience with Sorority Recruitment on Zoom
Coming to college, I was uncertain whether I wanted to join Greek life. I knew that there was a Greek life presence at Boston University, but I also knew that it was not the whole identity of the social scene. I have always been passionate about volunteer work and giving back to the community, and the idea of finding a family in my home away from home convinced me to at least give recruitment a shot. And boy, am I glad I did.
There are ten sorority chapters here at Boston University, and I was fortunate enough to have great conversations with each one of them throughout the course of two weekends. I was initially nervous to see what the recruitment process would look like on Zoom, but it was clear that each chapter put a significant amount of time and effort into making it as smooth as possible. The schedule was this: day one, "go Greek" round; day two, "philanthropy" round; day three, "sisterhood" round; day four, "preference" round; and day five, bid day. The biggest piece of advice I learned, starting the first day, was to take notes for each room I joined and to keep an open mind. This was extremely helpful as the days progressed, as I could look back to see who I talked to, what we talked about, and how I felt about my connection with each chapter each day. While it was unfortunate that I couldn't meet everyone in person, Zoom proved to be a good alternative, especially since it meant that I got to wear sweatpants all day and didn't have to run around campus. As long as I looked put together from the shoulders up, all was well.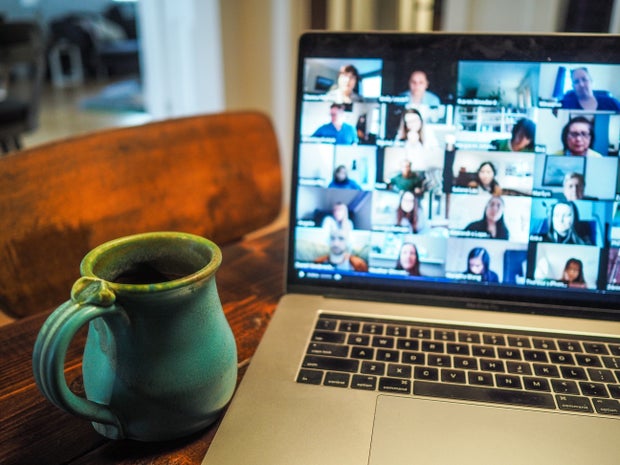 Photo by Chris Montgomery from Unsplash
Day one was the longest day, where we had 15-minute conversations with each chapter. Depending on the sorority, I met one or two sisters individually. Each brief conversation gave me a general idea about the sorority and what they valued. I'm not going to lie, my face hurt at the end of that day from smiling so much. After all ten meetings, I chose my top eight favorites, but I did not have to rank them. The process is mutual selection, so I would choose the chapters that I wanted to see again, and the chapters would do the same for us.
On the second day, each chapter told us a little more about their philanthropies. Since I spent a lot of time volunteering in high school, I was excited for this day, simply because I wanted to know more about the causes each chapter felt passionate about, and find which I had the strongest connection to. The maximum a potential new member (PNM) could go back to meet with was eight sororities on this day. We were given our schedules about 30 minutes before the meetings started, so it was nerve-wracking to open the email, as I hoped that the chapters I felt I connected most to had felt the same. Each meeting on this day was 25 minutes, so I was able to have deeper conversations with each chapter as we were given more time to talk. At the end of the day after all my meetings ended, I chose my five favorites out of the eight I met with, again not ranked. This is when decisions started getting hard, as I had to decide which chapters I felt the strongest connections to. But, having notes helped to look back since conversations could get grouped together in my memory or I would forget something that was discussed.
The third day consisted of 40-minute conversations with a maximum of five chapters. We were sent our schedules about 30 minutes before our meetings, so the suspense during the week after the first two days was stressful, as I was impatient to know which sororities I would be seeing again. For me, this day was what really solidified how I felt about my connections with each chapter. We discussed the sisterhood side of each sorority and how they have stayed connected, especially during the pandemic. This day was important to me, because in going through recruitment, finding a sense of family was super important. I thoroughly enjoyed getting to know more about each chapter and learn about the personal experiences of the members that I spoke to and share mine as well. At the end of the day, I picked my two favorite chapters, not ranked. This decision was one of the most difficult decisions because I had five amazing sororities to choose from, yet I could only pick two. Here again, my notes from each day allowed me to reflect on my experiences with each chapter as a whole to make my decision.
I think I was most nervous for the fourth day. I could only hope that the two chapters that I chose felt a mutual connection with me. For "preference" day, I could meet with a maximum of two chapters, each for 55 minutes. On this day we would dress in formal attire and learn some of the special things about each chapter. For me, this meant a dress with sweatpants underneath, since I would be sitting at my desk all afternoon. We started later that day, and I was anxiously awaiting my schedule all morning; I could barely sleep that previous night. Once I got my schedule though, I was so excited. I was lucky enough to have my two favorite chapters on my schedule, so I knew that my final decision later that night would be tough. I really enjoyed talking to both chapters again, but after both my meetings, I felt sure about which would be my top choice. For this round of decisions, we would rank our top two chapters as which we would prefer most to receive a bid from.
Finally, I had made it to the last day of formal recruitment: bid day. We were scheduled to receive our bids around 4:30 p.m., so I spent most of the day doing homework leading up to the reveal. Everyone going through recruitment met on a Zoom call right before we received our bids to hear closing remarks and find out what sororities the recruitment team and panhellenic council were a part of, since that was kept a secret the past two weekends. It was fun to try and guess which chapters they were a part of, and I did get a couple right. We all stayed on Zoom as we received emails with our bids, and it was fun to see everyone's reactions and how happy they were. While I couldn't physically open my bid card as I had imagined, I received a virtual image of the card I would've received, and I think that's special because I can look back and still see it years from now, since it is saved in a folder in my computer. Then, we were able to join a new Zoom meeting with our chapter where I instantly felt welcomed. We went into break-out rooms to talk with other members as we waited for a special guest, which was a really fun surprise. I was able to pick up my bid day t-shirt in person at the GSU and meet two of my new sisters for a couple of minutes before I left; the chapter organized a pick-up schedule for new members to grab their t-shirts and say hi for a couple of minutes since we want to follow safety guidelines.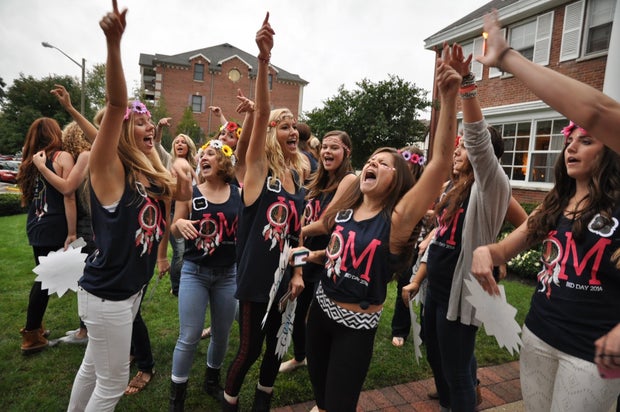 Anna Thetard / Her Campus
Overall, I would say that my experience going through recruitment was probably the best it could've been. I met so many amazing new people, and I gained a new family in the end too. While it could get exhausting to talk for hours over a few days, I can say with certainty that it was all worth it in the end. I'm so grateful for all of the hard work each chapter put in to make the process as seamless as possible, and I'm looking forward to the next few years as a member. 
Want to keep up with HCBU? Make sure to like us on Facebook, follow us on Instagram, check out our Pinterest board, and read our latest Tweets!